Reputation- shaping strategies
Recognised by Chambers & Partners as a top-ranked litigation support firm, DRD has built a senior team, including former practising lawyers, communications specialists and public affairs advisors, with the technical experience and skills needed to provide expert advice and support in complex litigation and disputes.
"Very impressive outfit. Boutique specialists where the quality of leadership is excellent. They are astute, experienced and think outside the box."
Chambers and Partners
We understand both the constraints and the opportunities of communicating during legal processes, enabling us to devise strategies and targeted programmes to anticipate, manage and react to reputation-shaping aspects of a legal matter.
Acting as an interface between the court of law and the court of public opinion, we align our advice with that of the legal team through a thorough understanding of the legal strategy and the communications implications that flow from it.
A top-ranked litigation support firm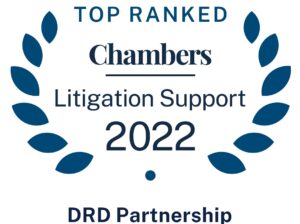 We work across multiple sectors and jurisdictions
Our clients include public and private companies, public bodies, institutions, private equity and hedge funds, representatives of class actions, private individuals and governments.
We work across multiple sectors and jurisdictions, advising claimants and defendants in the UK and internationally on a range of civil and criminal matters including:
Contractual disputes
Collective actions
Employment
Extradition
Family
Fraud & White-Collar crime
Investigations & Inquiries
Media & defamation
Personal injury
Privacy & Confidentiality
Professional conduct
Trusts
Crisis & Reputation Management
11 Aug 2022
Michael Rose joins DRD
DRD Partnership is delighted to welcome Michael Rose as a Senior Associate, joining our growing Liti...
READ MORE
ESG
15 Jul 2022
ESG & Litigation: Where will…
In this article, DRD Partner, Lawrence Dore, discusses the ways in which ESG might develop in an atm...
READ MORE