The DRD Snapshot
10 Dec 2021
Source: The Telegraph
THE WEEK THAT WAS
Secret Santa and secret parties: Arguably the biggest story of the week, or possibly the year was the revelation of the Downing Street Christmas parties in 2020. ITV News leaked the video of Boris Johnson's then spokesperson Allegra Stratton remarking that there was "definitely no social distancing" when asked about one of the parties during a run-through questions session with members of Johnson's team. Albeit Stratton has now resigned, more questions arise as more details come to light: will there be a leadership challenge?; and how will the Government move on? Indeed it is unlikely that a leadership challenge will take place, but Paul Goodman has suggested this week that a vote of no confidence in the PM could take place instead.  The Government is expected to struggle on in the wake of the video, but will be aiming to relaunch coming into the New Year by publishing the Levelling Up White Paper, making sure Michael Gove is front and centre of the launch, while the PM continues to clean up the end-of-party mess.
PLAN B: Stay at home, don't stay at home, go to work, don't go to work: After a politically volatile week, our Prime Minister triggered Plan B. Face masks are once again compulsory, the NHS Covid Pass is mandatory in specific settings and people are being asked to work from home if possible. This is to stop the spread. However, which spread is more important to the Prime Minister? The spread of party rumours, or the new COVID-19 variant, Omicron? Parliament will debate this newly induced measure next week, with votes to take place on 14 December. Hardly a successful start to the festive season. The consequences of these new restrictions are currently being predicted. One possible outcome is that the Bank of England will raise its interest rates next week, leaving borrowing costs at record lows of around 0.1%.
Transatlantic trade talks: International Trade Secretary, Annie-Marie Trevelyan and Culture Secretary, Nadine Dorries travelled to New York and Washington this week to strengthen the UK-US trading relationship. President Biden has made clear since his inauguration that a bilateral free trade agreement (FTA) with the United Kingdom is not a priority for his administration, forcing the UK to pursue smaller agreements to remove specific trade barriers. Discussions honed in on steel and aluminium tariffs imposed by the Trump Administrations, with consultations to continue on the topic in January 2022 when Commerce Secretary Gina Raimondo visits London. January will be crunch time to make material progress on this matter as Trevelyan expressed her determination to find a mutually beneficial outcome to avoid any need for retaliatory tariffs on US industries. Safe to say the hard work starts now for Trevelyan and her team of ministers, including rising star Ranil Jayawardena. Additionally, Nadine Dorries and Gina Raimondo held positive talks on deepening the UK-US partnership on international data sharing to tackle global challenges such as climate change and the Covid pandemic.
THE WEEK TO COME 
Judgement Day 2.0: The North Shropshire by-election is set to take place next week, following the resignation of Owen Paterson, the Conservative MP who breached parliamentary lobbying rules. Traditionally a Conservative safe seat which Patterson had held since 1997, recent Conservative controversies have put this into question. The infamous and ongoing sleaze scandal which led Patterson to resign, as well as Wednesday's leaked video of No. 10 staff joking about a 2020 Christmas party has left the Liberal Democrat candidate, Helen Morgan as favourite to win. Morgan has focused her campaign on local constituency issues, and it would mark the second time this year the Liberal Democrats have enjoyed a by-election gain. The Conservative candidate,  Neil Shastri-Hurst is a Birmingham born barrister who many fear does not know enough about the local area. Nevertheless, all will be decided next Thursday,  when North Shropshire will revealed to be either a  safe seat or another loss for the Conservative party.
A safe pair of hands: Next week sees Professor David Miles in front of the Treasury Select Committee as he provides evidence following his nomination to the OBR's Budget Responsibility Committee by Rishi Sunak. Miles is a former Bank of England interest rate-setter and is currently a Professor of Financial Economics at Imperial College Business School. His current research focuses on policy issues connected with financial stability, the housing market and the setting of monetary policy. The Office for Budget Responsibility gives independent and authoritative analysis of the UK's public finances and is an executive non-departmental public body. If approved by the Treasury Committee, Miles will start a five-year term in the role on Jan. 1 to replace fellow economist Charles Bean who is stepping down after taking on the role in 2017.
Break time: With the excitement ramping up within Westminster it seems typical that the Christmas recess is only around the corner. Parliament is due to rise on Thursday 16th Although, this could come sooner than expected as rumours have circulated SW1 that the Government is considering to bring recess forward by two days. This would see Parliament rise on Tuesday and PM Boris Johnson would have many motivations behind this. The first being that his wife, Carrie Johnson, has just given birth to a baby daughter and an early recess would give the couple time to look after the newborn. Whilst this certainly tugs at the heartstrings, realistically the PM would like to avoid a very difficult PMQs session given the Covid party revelations this week. Most importantly however, an early recess would reliably minimise plotting within the Conservative party, as it would mean MPs are no longer congregating in Parliament. For the time being, MPs have been reassured that there are no plans to do this but keep an eye out Tuesday for potential developments in the Government Covid saga.
WHAT YOU MIGHT HAVE MISSED
Cash for answers: Earlier in the week BBC research revealed that MPs are earning up to £350 an hour to take surveys for polling companies such as Ipsos Mori and YouGov. Firms such as these frequently question MPs to get answers for charities, businesses and campaign groups. The research revealed that since the 2019 election, 123 MPs have earnt more than £116,000 carrying out 1,040 surveys which took them a total of 695 hours. While this is not breaking parliamentary conduct rules if the earnings are declared properly and has been a long-held tradition in Westminster, it comes amid additional earnings by MPs being questioned in Westminster. Of the MPs who took part in the survey 60 were Conservative, 46 were Labour, 12 were from the SNP and there was 2 MP from the Liberal Democrats, the DUP, the SDLP, Alba and Independent respectively.
IN DEPTH
One to Watch
Rachel Hopkins MP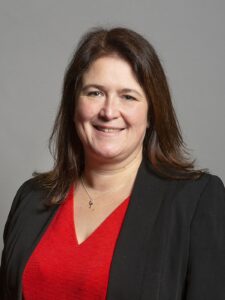 Rachel Hopkins is the Labour Party MP for Luton South. She was elected in the 2019 general election following Gavin Shukur's move to Change UK. Interestingly, Hopkins was selected not by a vote of the local membership, but was instead picked directly by a selection panel. Prior to being elected she had been on Luton Borough Council since 2011, and served as the cabinet's executive member for public health.
Prior to her political career Hopkins studied at the University of Leicester. Her first full-time job was at TSB Bank. She later studied part-time for a master's degree from the University of Bedfordshire. Hopkins also previously worked at the Electoral Commission and the Human Fertilisation and Embryology Authority. Her father is the former Labour MP for Luton North Kelvin Hopkins who was considered to be on the left of the Party.
She is an active member of Parliament, currently sitting in 6 Committees including the Levelling Up, Housing and Communities Select Committee. Alongside this she is the Vice Chair of numerous APPGs including the Council Housing APPG.
Early into her parliamentary career Hopkins was appointed PPS to Marsha De Cordova as Shadow Secretary of State for Women and Equalities. She resigned from the position later that year in October 2020 to vote against the proposed Covert Human Intelligence Sources (Criminal Conduct) Bill, disagreeing with the Labour whip to abstain.
Earlier this month Hopkins joined the Shadow Cabinet as a Shadow Minister in the Cabinet Office taking over from Jack Dromey MP. Following the announcement of her new role Hopkins wrote in her local newspaper promising to put Luton "at the heart of everything"  she does in Parliament.
Considering this commitment to the people of Luton South it will be interesting to observe Hopkins' potential political direction change now she has a role in the Shadow Cabinet. The child of a famously left-wing former MP joining a more centrist Cabinet would definitely evoke memories of the late Tony Benn and his far less left-leaning son Hilary for many people in political circles. Only time will tell if history repeats itself…
WORTH A READ 
The Spectator – Will the public take Plan B seriously?
New Statesman – Timeline: all the lockdown breaches by politicians and government employees so far
The Economist – How Bolivian lithium could help fight climate change
Politico – Chinese wind farm investments stoke concerns in Sweden
STAT OF THE WEEK
Levelling Up EU style?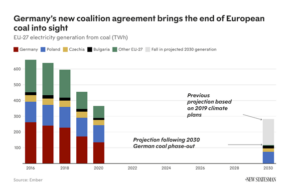 Source: New Statesman