The DRD Snapshot
12 Nov 2021
Source: Salisbury Journal
THE WEEK THAT WAS
The People's Priorities: MPs have spent the week debating themselves again, following last week's self-inflicted scandal around the Owen Paterson affair. This time, former Attorney General Geoffrey Cox was in the spotlight, refusing to acknowledge any wrongdoing over his extracurricular jobs on top of being the MP for Torridge and West Devon. To outsiders, the debate seems ridiculous. Of course being an MP should be a full time job.  It's not a hobby-horse or a CV-box-ticking exercise.  It's a demanding, serious and consequential job – or at least it's supposed to be – and should be remunerated as such.  But alongside a clear need to overhaul the rules, Dominic Raab was – shock, horror – on the money with one thing this week, questioning why voters continue to re-elect MPs who only turn up in their constituencies once every five years. As with most things, the voters must take some responsibility. As for the MPs? Pull the other one.
Hunger strike: The painful story of Richard Ratcliffe continues to pull on the heart strings of the world. Following the detention of his wife, Nazanin Zaghari-Ratcliffe, in 2016, Mr Ratcliffe has unceasingly fought to get her back. Mr Ratcliffe's wife is not the only British national imprisoned in Iran; there are many who have been detained following the UK's refusal to reach a deal to pay a £400 million debt to Tehran. This debt dates back to the 1970s and is a prerequisite for the release of Mr Ratcliffe's wife. Mr Ratcliffe has been camped outside the Foreign Office in Whitehall for almost three weeks and will soon arrive at the twentieth day of his self-imposed hunger strike. Despite the various talks that have been held between the ministers from the UK and Iran, it looks like Mr Ratcliffe might be camping out for a while longer.
Sleaze Watch: The endless list of sleaze claims against the Prime Minister and the Conservative Party have dominated the press this week. Lobbying, second jobs and Boris Johnson's own private affairs, have worked together to raise the question: is our government corrupt? However, this is not the first occasion this government has received these allegations. This time the catalyst is Owen Paterson. Parliament's sleaze watchdog found that Mr Paterson had breached lobbying rules. No consequences to begin with, as Tory MPs blocked an immediate suspension of Mr Paterson. However, following the decision the government faced an aggressive backlash. On Wednesday, Andrew Bowie, the Tory party vice-chair became the first Tory party member to stand down, choosing moral conscience over blind ignorance. This all arises amid COP26, the UK's most important international event this year. Instead of creating an image representing the global green hub of the world, the UK is being tarnished with corruption.
THE WEEK TO COME 
Monday Motion Madness: The Owen Paterson 'sleaze' saga continues. On Tuesday, Labour MP Chris Bryant tabled a motion to rescind the November 3rd resolution and approve the standards committee report which found Owen Paterson guilty of "paid advocacy". Ahead of the November Parliamentary recess, the Commons was engulfed in controversy as members of the House criticised the amendment that was forced through by the PM. Now, as MPs return on Monday, the government will have to face the music and undo the Leadsom amendment. Some members of the government will be all too relieved to see this motion put forward as it was revealed that many backbenchers were heavily whipped to vote the amendment through. Even Sajid Javid announced in an interview with Sky News that he regretted the outcome, saying, "it was wrong of me to conflate the Owen Paterson case, with the right of an appeal". Keen political spectators can expect more revelations of this case to arise next week.
How much?!: New rates are expected to be announced for almost 9,000 businesses in the UK as Living Wage Week commences on Monday 15th November. Now, how does this rate differ from all the other types of UK wage rates? The real Living Wage is a voluntary wage rate that aims to meet the everyday needs of employees. It factors in weekly shops and unexpected spending on things such as dentist appointments. The rate is based on the cost of living—calculated from a basket of household goods and services. It currently sits at £10.85 per hour, about the price of two pints in a central London pub (if you're lucky). However, the announcement next week is expected to see this rise and will eventually land in employees pockets by 15th May 2022. Events are scheduled all over the country and people who would like to learn more can do so here.
Levelling Up: On Monday, the House of Lords are set to ask the Government when they will publish their 'Levelling Up' white paper. This comes two years after Boris Johnson campaigned on incessant promises of the same rhetoric, assuring those of Northern and Welsh towns that they would be at the centre of his premiership. Over the past year, those promises have borne some fruit. £1.7bn has been allocated to over 100 small scale infrastructure projects in the UK to 'level up' by tackling regional equality. Whilst some towns, such as Workington, are already seeing the benefits of the agenda, others have questioned its substance. Articles pointing to past comments made by Conservatives are unfortunate, but perhaps what is more damning is raising taxes and cutting Universal Credit, moves which will disproportionately impact poorer communities. This is just one of the unanswered questions leaving many hotly anticipating the publication of the paper in the not-so-distant future.  
WHAT YOU MIGHT HAVE MISSED 
Greener pastures or gross rivers?: Two years after it was initially introduced, the Environment Bill was officially passed into law. The Bill is particularly important in re-affirming the UK's commitment to the environment post-Brexit and marks a momentous occasion as the first environment bill in England for 26 years. It awards the Government with powers to set new binding targets for air quality, water, biodiversity, and waste reduction, as well as reforming the way we deal with waste and deforestation overseas. However, the passing was not all smooth sailing. Last month the House of Common's blocked amendments from the House of Lords which would offer greater environmental provisions and protections, notably an amendment which would place a legal duty on water companies to reduce sewage discharge into rivers. Whilst the Government supposedly reached a compromised agreement on Monday, many were disappointed their stance was not tougher against sewage pollution. Nevertheless, the bill was a momentous passing which many hope is only the start of the Government's climate ambitions.
IN DEPTH
One to watch: Louise Haigh MP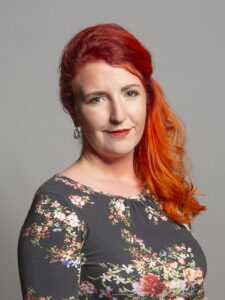 Louise Haigh was elected as the Member of Parliament for Sheffield Heeley at the 2015 general election, as the youngest Labour member of that parliament. She currently serves as the Shadow Secretary of State for Northern Ireland.
Prior to being elected in 2015, Haigh worked for her local council youth service. After this, she began working in Parliament where she was the co-ordinator of the All Party Parliamentary Group on International Corporate Responsibility. After leaving her role in Parliament, she went on to work for Aviva as Public Policy Manager, responsible for corporate governance and responsible investment policy, before her election.
She has risen quickly in Westminster, Joining Jeremy Corbyn's shadow cabinet as the Shadow Minister for Civil Service and Digital Reform in 2015. Following on from this she was promoted to Shadow Minister for the Digital Economy and then moved into the role of Shadow Policing Minister. Under Keir Starmer she was appointed to her current role as Shadow Secretary of State for Northern Ireland.
Haigh has made herself one to watch as the second woman after Mo Mowlam to serve as the Shadow Secretary of State for Northern Ireland. She visited Ireland in this role in August 2020.
Brexit Minister Lord Frost will meet his EU counterpart Maroš Šefčovič later today, to assess whether any progress has been made in negotiations on the Northern Ireland Protocol. Haigh has made herself heard, warning the government against triggering Article 16 of the Northern Ireland Protocol, saying it would provoke "poisonous instability" during a speech earlier this week in Belfast. Haigh said invoking it "would not end this dispute or this uncertainty – it would prolong and deepen them both". Given the ongoing Northern Ireland political saga, it's safe to assume that we will be hearing a lot from the Shadow Secretary of State for Northern Ireland in the weeks and months to come.
STAT OF THE WEEK
The week becomes even worse for the Tories as Labour move up in the polls…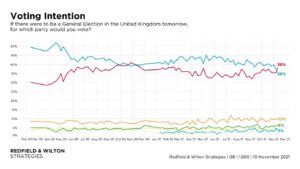 Source: Redfield and Wilton Strategies