The DRD Snapshot
17 Dec 2021
Source: The Independent
THE YEAR IN REVIEW 
The NHS, GPs and pharmacies to the rescue: In January 2021, the NHS kicked off the vaccine rollout scheme, identifying vulnerable groups and key NHS and social workers as the first in line to receive the jab. A controversial decision to delay the second dose of the vaccine, was not at first followed by other countries. However, the UK stated that it was prioritising administering first doses to ensure that as many people as possible were at least partially protected against Covid-19. Ultimately, the success in the scheme was beginning to show by the end of January 2021 when almost 9.5 million jabs had been administered, with almost 600,000 people a day receiving their vaccination at the end of the month.
Hands, face, space: In what seemed to be taken from an episode of Armando Iannucci's 'The Thick of It', the British public lay witness to a rocking scandal that revealed one of the first instances of government hypocrisy over lockdown rules. Matt Hancock, the serving Secretary of State for Health and Social care since 2018, had been caught by a retina-searing CCTV recording "embracing" Gina Coladangelo, his aide, in his Whitehall office. In doing so, the Secretary of State had broken his own social distancing guidance which said, "where possible you should keep people 2 metres apart". Hancock had been a public stickler for the rules and subsequently resigned, saying "those of us who make these rules have got to stick by them".
The loss of a good man: On October 15th, 2021, Sir David Amess, the Conservative MP for Southend West died following a horrific attack at his constituency surgery. The murder sent out shock waves across Parliament and the country, and reignited the debate surrounding politicians' safety. Subsequently, the Home Secretary increased the threat level against MPs and asked the police to review MPs security arrangements . In the days following his death, Amess was time and again described as a kind man, entirely dedicated to the people of Southend West, to the vulnerable and to animal welfare. At his funeral, where hundreds of constituents attended, a neighbouring MP described him as 'a bit of a legend really… Whatever the weaknesses of Parliament, David Amess was the living embodiment of all its strengths… he really was a jolly good fellow.'
QUOTES OF THE YEAR
"In any sensible rational government, it is completely crazy that I should have been in such a senior position, in my personal opinion. I'm not smart. I've not built great things in the world. It's completely crackers that someone like me should have been in there, just like it's crackers that Boris Johnson was in there." – Dominic Cummings on Dominic Cummings
"Peppa Pig World is very much my kind of place. It has very safe streets, discipline in schools, heavy emphasis on new mass transit systems. Even if they're a bit stereotypical about Daddy Pig."- Boris Johnson's infamous improvisation while giving a speech to the CBI…
"Levelling up is both a moral obligation to make sure people from every background have the same opportunities but it is also good for the economy of the country overall." – Michael Gove on Levelling Up
"Tory Scum" – Angela Rayner on members of the Government, which led to an ongoing conversation about the power of language in British politics.
"No one was dreaming of a Zoom Christmas, turkey dinners for one, gifts exchanged at service stations but the virus was out of control. 489 people died of Covid on the day of the Downing St party so the British people put the health of others and followed the rules. Isn't the PM ashamed that his staff in Downing Street couldn't do the same?" – Keir Starmer on the Downing Street Christmas parties
Gove will tear us apart, again
With Parliament entering recess yesterday and the Liberal Democrat candidate winning the North Shropshire by-election this morning, DRD Partner Jon McLeod looks to the year ahead and asks – will 2022 see the fracturing of the United Kingdom?
In the midst of the news foam that was partygate, it was the Tory Grandee, Chris Patten, who called out Boris Johnson's Conservatives as not Conservative at all, but a sort of 'English Nationalist Party'.
A little odd-sounding at first, it was, in fact, a sharp reminder of the efficiency with which the Party, under Mr Johnson's leadership, had ripped through Labour's so-called 'red wall' seats, with an uniquely English populism, that appeared, and still appears to have little to say to voters in Scotland, Wales and Northern Ireland.
2022 will see increased pressure on Nicola Sturgeon to make a constitutional showdown with Westminster Tories over 'IndyRef2' inevitable. There will soon be echoes of the Catalan secessionists 2017 unofficial independence ballot, which triggered a constitutional crisis, political violence, trials and imprisonments, in what was a serious wobble for what is still a relatively young Spanish democracy.
To read more click here.
WORTH A READ 
The Spectator – 'Politics exacts a very high price': an interview with Michael Gove
New Statesman – Could Valérie Pécresse be France's first female president?
The Economist – Liz Truss declares an end to the age of introspection
The Week – What are plans C and D in the government Covid response?
STAT OF THE WEEK
Brits are choo-choo-choosing not to take public transport following the rise in Covid infections…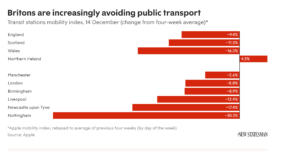 Source: New Statesman