Sport Snapshot
14 Jan 2021
Beyond the headlines
Cancel culture
English professional football looks on shaky ground this week as the nostalgia and magic of the FA Cup brought shocks, drama, and – in a sign of the times – COVID-19 scandals and existential crises. Scenes from giant-slaying victories at Chorley and Crawley showed wild celebrations in changing rooms, with players hugging and rejoicing and altogether not looking very socially distanced at all. At Marine AFC [more on that below], hundreds of fans swarmed outside the ground ahead of their clash with Spurs while numerous breaches by players at Premier League clubs including Spurs, Fulham, Crystal Palace, West Ham and Manchester City have led to cancellations and quarantined squads.
Government Ministers are said to be less than impressed. While there is an understanding that televised sport plays a role in keeping people at home, they have politely encouraged football authorities to get their act together and remind players of their responsibilities. Professor Chris Whitty, the Chief Medical Officer (and it's never good when he gets involved), says that allowing team sports to continue is a "balancing act." EFL Chief Executive, Trevor Birch, sent clubs a letter on Tuesday urging them to do everything they can to "avoid another drastic suspension of the season" and warned of "extreme governmental pressures" if the rules continue to be flouted.
Into the Lions' den
It's all bad news coming out of Rugby Union these days too, where seemingly everything's being cancelled. Now, it looks as though the British & Irish Lions summer tour of South Africa, which many fans viewed as a beacon on the horizon, is also in doubt. Covid-wise, the three nations are not good bedfellows. With Britain closing ranks to fight soaring infections and a scary new strain rampant in South Africa, things aren't looking good for the scheduled 24 July start-date. Now, the lack of a concrete vaccination programme in South Africa has left organisers rummaging for the contingency plans.
It might seem that the obvious solution is to play behind closed doors but since last year, South African Rugby has been unequivocal that rugby without fans is "not commercially viable" and, therefore, off the table. Despite the 'Boks being world champions (let's not dwell on that), South African news outlets report that the lack of sport caused by the pandemic has left SA Rugby "staring down the barrel of financial ruin." The authorities have had to implement drastic cost-cutting measures in 2020 just to keep the game afloat.
The Lions Board is holding regular crisis talks throughout January and a decision is expected in the coming weeks. One of the two options being considered is staging the tour here, where it's hoped that the vaccination rollout will guarantee a safer environment. Meanwhile, nobody appears to have asked the South Africans, many of whom are downright furious at the prospect. When you consider that a Lions tour would be worth hundreds of millions for SA Rugby and the tourist economy, you begin to understand why. But the alternative of moving the tour is by no means an easy feat given that some nations have already arranged their international fixtures for next year. No easy answers here.
The National (League) Lottery
Last week, a number of National League clubs wrote to Culture Secretary, Oliver Dowden asking him to launch an investigation into alleged conflicts of interest over the £10 million rescue package announced last November. The money was designed to help clubs affected by Covid-19 and was to be based on clubs' lost gate receipts. However, the National League board decided its own distribution formula based on a flat rate, leaving some clubs with hundreds of thousands of pounds less than expected.
After initial criticism, the National League commissioned David Bernstein, the former FA chairman, to lead an independent review of the financial distribution. His findings were not shared with clubs. Bernstein sent an open letter to the National League Chairman, Brian Barwick before Christmas expressing his unhappiness at the failure to share his report and noting that he had not received a response to his concerns about conflicts of interest and poor governance. Yesterday, two former sports ministers, Helen Grant MP and Tracey Crouch MP, signed a letter to Barwick asking for the findings of the review to be published immediately. Watch this space!
Drop it like it's hot…
Trump has become corporate America's hot potato in the aftermath of the shocking riots at the Capitol. As impeachment proceedings gather pace, businesses are scrambling to drop links to the Donald. While the President's loss of his beloved Twitter is perhaps the most symbolic coup fatal, cutting ties with Trump-associated businesses is in vogue – just ask Deutsche Bank, Shopify, Marriott, or GoFundMe. Everyone from Coca Cola and FedEx to Wall St's JP Morgan and Goldman are reconsidering political donations and tech trio Amazon, Apple and Google have all pulled the plug on "alternative" social network Parler.
That said, it is the PGA of America's decision to drop Trump-owned Bedminster golf resort as host of the 2022 PGA Championship that will be a particular kick in the teeth for a President more at home on the putting green than the Oval Office. Never a bastion of fact or truth, it's unsurprising that Trump's 2016 promise that "I'm going to be working for you. I'm not going to have time to go play golf" hasn't stood the test of time – according to www.trumpgolfcount.com (worth a visit), over a fifth of Trump's days in office have involved a visit to a golf course, at an estimated cost of $140m to the taxpayer. A shame, then, when Seth Waugh, CEO of PGA of America announced that cutting ties was the "only real course of action" to protect their members, brand, mission and the game as a whole.
But as the house of cards comes tumbling down and Trump is left increasingly isolated in the cabbage, you will forgive Snapshot for raising its eyebrows at this sudden moment of corporate conscience. True, there is a sense of justice and undeniable schadenfreude in seeing Trump's toxic brand of politics punished, especially after last week's sickening violence. It's hard, however, to see the corporate world's condemnation of the President as anything other than a token gesture. It's not courageous for companies to cut ties precisely when Trump's influence (at least in Washington) is at its lowest ebb and years of divisive and conspiracy-laden rhetoric are brought to bear. With a new administration to schmooze and ties with Trump truly untenable, everyone from the PGA to Big Tech has suddenly grown a conscience. Businesses and sporting bodies must act proactively and decisively to demonstrate their values and enhance reputation. Pretending that ditching Trump at the eleventh hour is a significant, morally-motivated gesture rather than naked self-interest is an insult to fans, consumers and the wider public perception.
Please, can we have our ball back?
When looking around for (any) uplifting news (at all), look no further than Marine AFC. If we learned anything from the Marine vs Spurs game last weekend, it's that you should always dare to dream. Even if that dream only lasts for 24 minutes – it's worth every second. On a dark, miserable, lockdown Sunday night, Spurs travelled to Crosby to take on the mighty Marine FC, the only club in the country who take their name from a pub rather than a locality, 161 places below their Spurs rivals in the league structure.
Far from the empty, plastic mega-stadiums and fake crowd noise, the match at Marine AFC was warm and familiar – backing onto small pitch were supporters' family homes. Spectators sat on sheds. Numbers were stuck onto the fence around the ground, telling the ball boy/girl whose door to knock on to get the ball back.
Spurs showed Marine the ultimate respect by fielding a decent side and the result wasn't surprising. But that didn't really matter – the match secured Marine's future. After Coronavirus restrictions limited ticket numbers, Marine, with the support of Spurs managed to sell 30,697 virtual tickets, raising enough money to keep them going for 20 years. The virtual ticket campaign, endorsed by Tottenham's Club Ambassador Gary Mabbutt, also saw some supporters take matters into their own hands. Tottenham fan Matt Bridle set up a GoFundMe page raising over £8,000 – the proceeds of which will be donated to Marine in February. At last, some good news!
Snapshot
Chorley Groundskeeper, Ben Kay, sleeps on his pitch overnight rather than leave it unattended and at risk of frost for their FA Cup tie against Derby County. At one point they were pouring kettles onto it. Temperatures dropped to -2°. Chorley won 2-0.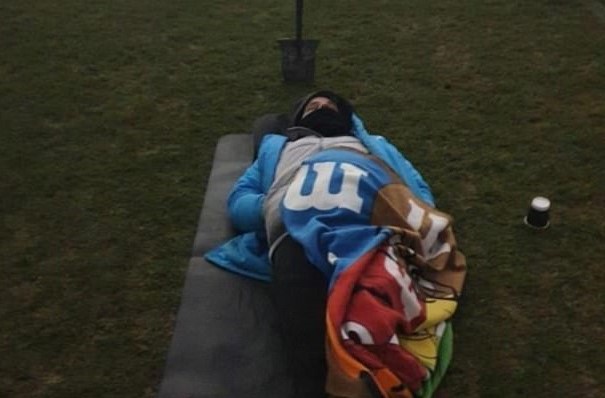 Worth a read
The Times (13.1.21) – Dr Ann McKee: Rugby is ready to explode. Children should not be playing it
The Guardian (13.1.21) – Colin Graves insists rich IPL owners willing to invest in the Hundred
Wales Online (12.1.21) – Six Nations set to go behind paywall as Wales gets £50m from historic CVC deal
BBC (10.1.21) – Excel Esports: What is life like inside a professional esports team?
The Times (10.12.21) – Ungrateful, distasteful, disgusting – isolated India deserved more than this
The Guardian (09.1.21) – Super-clubs lack patience for rookies like Arteta and Lampard to learn on job
Financial Times (31.12.21) – US investment firm ALK Capital buys Premier League team Burnley
What DRD's been watching
Living with Lions (1999)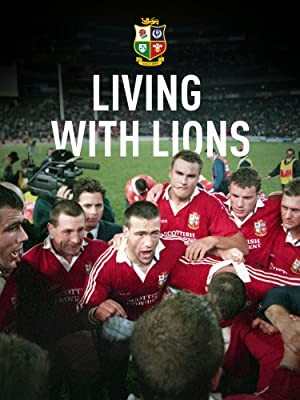 If the Lions' tour of South Africa does indeed get shunted this Summer, you might want to line up this classic lo-fi documentary instead, which follows the infamous 1997 tour of South Africa, a landmark moment in the modern game.
Filmed by a skeleton film crew and handheld video cameras, it follows the entire six-week schedule of the trip, from the team building in England to the last Test against the Springboks in Ellis Park.
This tour was probably the last of the long, old-fashioned formats, reminiscent of when a trip by boat to the Southern Hemisphere had to be worth it. At 2 hours 45 minutes, it's long… but… that's what makes it so good.
There is no music throughout, just chronological footage from the dressing room, hotel and sideline. The result is engrossing: a slow burning fuse to a terrific final explosion. It is raw, it is honest (sometimes a little too much so) and most of all, it is intense. So intense. Few documentaries offer such a bare look behind the scenes at the dynamic of an elite touring party while also providing an unwitting grainy window into sports cultural history.
The tour was a pivotal moment in the history of Rugby Union when the game had just turned professional and the TV money was beginning to talk. Here, the mixture of attitudes from the old amateur era and the young professionals are fusing but both are evident. In this respect, the Lions' 97 squad was balanced masterfully by coach Ian McGeechan, fielding warhorses from the old guard, explosive cross-code Rugby League stars (a novelty at the time) and young mercurial talents who would later go on to define the next decade of rugby.
If McGeechan is Napoleon, forwards coach Jim Telfer is Marshal Ney, the talismanic General. Telfer's barnstorming pre-match speeches will make you want to run outside and take somebody down yourself. Oh, and did we not mention? There's some pretty good rugby in it too.
One thing is guaranteed, you will not leave this film believing that the 2021 Lions tour should be held behind closed doors.
One to watch
Dr Ann McKee, Professor of Neurology and Pathology, Boston University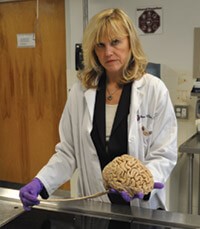 Dr Ann McKee MD might not be known to many people on this side of the Atlantic, but she soon might be. Widely recognised as the world's foremost expert in the field of Chronic Traumatic Encephalopathy (CTE) (see Sport Snapshot 17.12.20), she has confirmed over 70% of the world's cases, and runs a 'brain bank,' the world's largest repository of brains, in Boston.
Dr McKee completed training in neurology at Cleveland Metropolitan General Hospital and fellowship training in neuropathology at Massachusetts General Hospital. She was Assistant Professor of Neuropathology at Harvard Medical School from 1991-94 until moving to Boston University, where she is currently William Fairfield Warren Distinguished Professor of Neurology and Pathology. Amid a long list of honorifics and accolades, in 2018 she was named one of the '100 Most Influential People in the World,' and one of the '50 Most Influential People in Healthcare' by Time magazine.
McKee is best known for providing the ground-breaking research which showed the link between NFL players and CTE. Out of 111 deceased NFL players whose brains were examined, 110 of those were found to have CTE. The research was a key driver in NFL's decision to pay over $1bn in compensation to former players in recognition of the danger they were exposed to. In response, the NFL made a number of rule changes and introduced a stricter medical protocol. McKee however, a football fan, believes that the league "still has a long way to go in terms of making it safe for the players."
This week, in a Times exclusive, she has lent her voice to the debate around brain damage in rugby, recently publicised by the tragic experience of ex-England hooker Steve Thompson, 42, who is displaying early symptoms of brain damage and bringing a lawsuit with other affected players. Considering the NFL's reaction to similar pressure, her intervention could prove decisive in influencing the rugby authorities and subsequent legal cases:
"Rugby is just another sport waiting to explode… I think it will crack open. There is a lot more to this than we know right now. It poses the same dangers as American football and I would encourage kids not to play… "We have about a dozen rugby brains, some with very severe CTE, all the classic features… all the indications of the disease itself look identical to what happened to American football players 'Äî the same constellation of pathological findings, very similar symptoms." [From The Times, 13.1.21]
Good week / Bad week


Look out for…
The fourth and final Australia vs India test begins on Friday, with the series finally poised at 1-1, and England take on Sri Lanka in the first test at Galle today
The Masters Snooker is underway and runs until Sunday, 17 January
The Premier League continues throughout the week, with Liverpool vs Manchester United the big game on Sunday
DRD Partnership is a strategic communications consultancy focused on building value for our clients and protecting their reputations at moments of challenge and change. If you'd like to know more about us and our consultancy services, including our sports offering, please see our website: https://www.drdpartnership.com/ or drop us a line sport@drdpartnership.com. We'd love to hear from you!