Sport Snapshot
19 Oct 2020
Your essential guide to all things sport – from a slightly different perspective…
Beyond the headlines
Failing to see the bigger picture…
If you've been anywhere near the sports pages recently, you will not have avoided the drama surrounding 'Project Big Picture' (PBP).
The brainchild of Manchester United and Liverpool, PBP was vaunted as an ambitious rescue package to the lower leagues (where many clubs, hit hard by the pandemic, teeter on the brink of extinction).
On the face of it, the proposals were brimming with munificence: A £250m rescue package from the Premier League to the EFL, 25% of all future TV deals, £100m for the grassroots. The CEO of the EFL, Rick Parry, gave his full backing, beaming that "this is two of our great clubs showing leadership and exercising responsibility."
Unfortunately for him, literally nobody else in the Premier League thought so. Even the Prime Minister waded in. Perhaps some of them read Henry Winter's comment piece in the Times, who was so furious at the proposals that he refused to address them by name (instead dubbing them 'Operation Avarice').
In return for this rescue package: the Premier League would be reduced from 20 to 18 clubs, the Carabao Cup and Community Shield abolished, smaller clubs would no longer have to run their own academies and a group of nine of the Premier League's largest clubs would have 'special voting rights' on the allocation of broadcast revenue.
It didn't take long for an all-out riot to break out at this perceived land grab. For many this was a barely concealed attempt from two American owners to make the larger clubs untouchably wealthy, with unfettered access to the best talent and freeing up dates for a lucrative European Super League.
In the end, it all went out with a bit of a whimper. Crash helmets were donned at a Premier League meeting on Wednesday but Liverpool and Manchester United offered little defence and the plans were shelved by unanimous approval.
What next?
Instead, a wide-ranging strategic review of the league's structure was agreed and a £50m rescue package was offered to the lower two leagues of the EFL. But the bunfight continues… The Chairman of the EFL has resigned. The rescue package has been rejected as derisory by the EFL. Meanwhile, an American investment company, TPG, says that it was close to agreeing a £375m investment into the EFL (similar in structure to CVC's investment in F1), which was abruptly terminated a few days before PBP was announced.
Meanwhile, Oliver Dowden, Secretary of State for DCMS has pointed out that a league which ran up a $1.25bn bill in the transfer window can hardly be expecting taxpayers to step in if clubs in the EFL need a lifeline – and to just sort it out. Tired of the FA's perceived inability to oversee self-reform (the FA was involved in the early stages of PBP), a group of sportspeople including former Manchester United/England footballer Gary Neville have also waded in and released a manifesto calling for an independent regulator to take charge. The Premier League says its offer remains on the table.
England vs the World
The RFU has ignored a ruling by World Rugby which decided last week that trans women would no longer be allowed to compete in women's rugby. The ruling, the first of its kind by an international sports body, cited scientific evidence which showed a significantly increased risk of injury due to higher body mass and speed. However, the RFU does not agree and says that more evidence is needed, as well as closer engagement with all sides of the debate. While LGBTQ+ groups have applauded the decision, women's groups say that their right to a safe playing environment is being overlooked. Naysayers have warned that the RFU will leave itself open to substantial litigation if the injuries start to mount.
The wrong time to retire?
This summer, a series of distressing and troubling allegations of widespread mistreatment shook the world of British gymnastics. BBC Sport coverage revealed a "culture of fear" in which athletes were physically and mentally abused by coaches, forced to train through injuries and relentlessly shamed for their weight. The testimony of world championship medallists Becky and Ellie Downey described how this cruel behaviour was "so ingrained in our daily lives that it became completely normalised." Olympians Lisa Mason and Amy Tinkler have both accused British Gymnastics of a lack of transparency, an inadequate response to formal complaints, and a wider failure to deal with safeguarding concerns and prevent the mistreatment of athletes.
The extent of the abuse is laid into sharp relief by the fact that a support helpline for gymnasts, launched in July by the British Athletes Commission and the NSPCC, has already registered almost 200 complaints. An independent review led by Anne Whyte QC and co-commissioned by UK Sport and Sport England is making progress in its investigation of the allegations, having closed its Call for Evidence earlier this month
It is amid this tsunami of criticism and allegations of abuse that the beleaguered CEO of British Gymnastics, Jane Allen, last week announced her decision to retire in December. Allen has been allowed to frame the decision as "part of her retirement plan", her own choice. But for those whistle-blowers who showed immense bravery in speaking out, this isn't good enough. For many the board's boilerplate-esque statement congratulating Allen for her dedication felt hollow and misjudged; former British gymnasts reacted with fury, citing a lack of remorse, repercussions, or accountability. Given the severity and extent of the allegations – and the widespread calls for Allen to quit – commentators have rightly questioned the decision-making of British Gymnastics. If two things are for certain, it is that it will not be a smooth path to retirement in December, and her successor will inherit an organisation in disrepute and in need of substantial reform.
Worth a read
BBC Sport – Lewis Hamilton: Cultural icon, activist and musician (11.10.20)
The Telegraph – Meet Mark Saxby – the man who kept England sane in the bubble (19.10.20)
ESPN – Liverpool, Man United failed in 'Project Big Picture,' but English football's problems won't go away (18.10.20)
BBC Sport – Neville, Lewis & Bernstein lobby for independent football regulation to solve 'crisis' (15.10.20)
Financial Times РArsène Wenger on leadership and life after Arsenal (17.10.20)
What DRD's been watching
Drive to Survive
Photo credit: Netflix
(Series 1 and 2 available on Netflix)
This series has kept our team enthralled and binge watching over the past few months. You certainly don't need to be a Formula 1 addict to get a lot out of this look at the rarefied world of F1.
The highs and lows are quite epic and are driven (sorry) by a heady mix of technical successes and failures, individual brilliance or foolhardiness and sheer luck or complete lack of it.
Despite what you might expect, Lewis Hamilton is rarely the star with more focus on the teams striving to break Mercedes' stranglehold. But on the occasional moments when he does feature, Hamilton's reaction to the rare failures give an insight into his supreme competitiveness and quest for perfection.
We are also introduced to some of the charcters working in the paddock who may not be household names for occasional viewers. Gunther Steiner, the team boss at HAAS F1 has emerged as a star of the show after the Netflix cameras capture some of his hilarious outbursts during some testing times at the American-owned race team.
The politics of the driver moves between the teams for eye-watering figures are also fascinating. The behind the scenes of Daniel Riccardo's shock move from Red Bull to Renault in season one is a real highlight.
And if that wasn't enough, Geri Halliwell (Horner) is in it… so what's not to like!
One to watch
Marcus Rashford MBE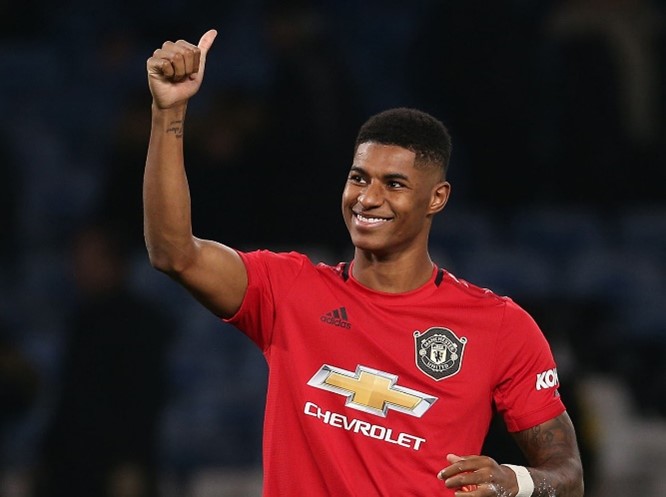 Photo credit: Matthew Peters/Manchester United via Getty Images
At just 22 years of age, Marcus Rashford MBE has achieved more than most people dream of in a lifetime.
Born and raised in Wythenshawe in Manchester, he's risen through the ranks at his beloved Manchester United's since the age of seven. Rashford scored on his Manchester United and England debut becoming the youngest English player to score in his first senior international match. He was also the youngest player at the UEFA Euro 2016 tournament.
In 2020, as the world struggled to deal with the impact of Covid-19, Rashford became a household name, not just because of his actions on the pitch, not just with footballing families but because of the challenge he presented to MPs. Ultimately (and pretty much single-handedly), he forced the Government into (another) U-turn over its decision not to provide food vouchers for some of England's poorest families over the summer.
Rashford wrote an open letter to all MPs where he recalled the familiarity of soup kitchens and foodbanks. He said he and his four siblings often relied on breakfast clubs, free school meals and the actions of kind neighbours – despite the fact that his mum, a single parent, was working full-time.
Rashford's plea wasn't about politics, it was about using his role to be a good citizen, to show compassion and understanding and highlight the needs of others, who wouldn't have the same clout as a Premier League footballer. His campaign resonated with many, not just the 1.5 million families who rely on the free school meals, as evidenced by the Government's U-turn and or the fact that almost 300,000 people have signed Rashford's latest petition, just days after it was launched.
Rashford is showing how the power of sport, and the platform it provides, can be used as a force for good.
Good week / Bad week

 Kayleigh Green

 Virgil van Dijk
Look out for…
The Portuguese Grand Prix is making its Formula 1 return after 24 years away this weekend as the re-shuffled 2020 calendar welcomes another historic event back. The best bit – the new, fast track has never hosted an F1 race…until now. (Sunday on Sky Sports at 13:10).
Following its suspension in March, the Six Nations also resumes on Saturday with Irleand vs Italy in Dublin (ITV, 15:30)
In the Premier League, Chelsea travel to Old Trafford at 17:30 (Sky Sports) before Sheffield United take on Liverpool at 20:00 (Sky Sports).
This year's Italian Open tees off on Thursday. A new venue, Chervo Golf Club in Brescia, will take centre stage. (You can follow the four-day event on Sky Sports from 11:30 on Thursday).
DRD Partnership
DRD Partnership is a strategic communications consultancy focused on building value for our clients and protecting their reputations at moments of challenge and change.
If you'd like to know more about us and our consultancy services, including our sports offering, please see our website or drop us a line sport@drdpartnership.com. We'd love to hear from you!
Headline Photo credit: PA