The DRD Snapshot - 11 December 2020
11 Dec 2020
Brexit negotiations
Tensions rise in Brussels as Messieurs Johnson and Frost are handcuffed on arrival at Le Berlaymont.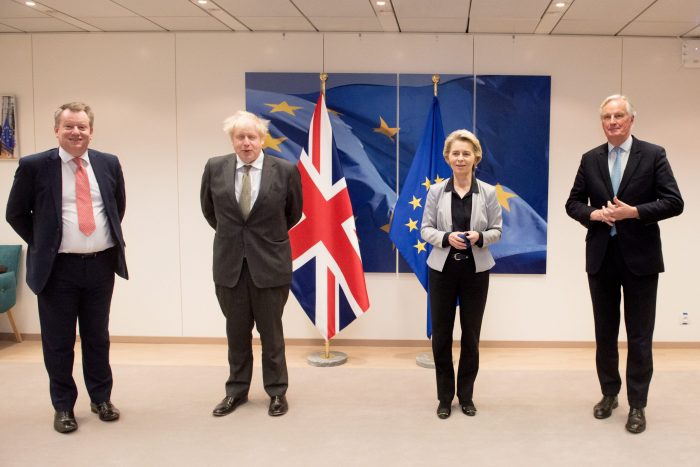 Source: Twitter
THE WEEK THAT WAS
Judgement Day. On Wednesday night Prime Minister Boris Johnson travelled to Brussels for dinner with European Commission President Ursula von der Leyen to try and break the deadlock as both sides seek a Brexit deal. After three hours of discussions over scallops, turbot and pavlova, the negotiators said they could do (and eat) no more and could only restart with a political shift in the mandate. That's happened and both sides have since committed to further talks with a hard deadline of this Sunday. Boris Johnson told his Cabinet that Brussels wants to "punish" Britain for refusing to be linked to EU rules. This morning, Culture Secretary Oliver Dowden said that a deal cannot "come at any price", claiming there is not a "country in the world that has to compromise on its territorial waters" for a trade deal. It mightn't sound hopeful but 48 hours is a very long time in politics.
Who blinks first? We have seen some interesting moves on both the EU and UK sides as every effort is made to come to an agreement on the future trading relationship. Cabinet Office Minister Michael Gove and his fellow co-chair of the EU-UK Joint Committee Maroš Šefčovič agreed this week on how the Northern Ireland Protocol of the Withdrawal Agreement will be implemented. The deal has meant that the Government will now remove all the offending (international law breaking) clauses of the Internal Market Bill, which is seen as a goodwill gesture aimed at helping to secure a broader deal. It also means that the Internal Market Bill can no longer be pointed to by the EU as a reason why a deal could not be done.
V Day. On Tuesday, the NHS began the rollout of the Pfizer vaccine that gained approval from the UK regulator last week. In what was a truly jubilant day for all involved, some elderly and vulnerable patients and some care home staff received the first of their two doses of the vaccine. 90 year old Margaret Keenan was the first person in the world to receive the vaccine outside of clinical trials at University Hospital in Coventry. Not long after her, Martin Kenyon received his vaccine at Guy's Hospital in London before giving a hilarious interview to a CNN reporter camped outside the hospital. It's well worth a watch.
THE WEEK TO COME 
KEEP 'EM COMING! Over a million new doses of the Pfizer vaccine will arrive in the U.K. next week and the remainder of the initial 4 million order will arrive the following week. Vaccinations will continue throughout the country as more and more eligible people will be given their first dose of the jab.
The real breakthrough? The Oxford/AstraZenica vaccine has been sent to the MHRA for approval and the hope is that it too will be approved by the regulator next week. A study of the results of the clinical trials were published in the Lancet on Tuesday to be peer reviewed and the mood music continues to be positive. This vaccine is key if the UK is to return to some sort of normal quickly in the new year. The Government has ordered over 100m doses of the British-made jab which would be enough for 50m Brits.
More tiers to come? The first review of the tiers is set for next Wednesday, 16 December. The Prime Minister has said the allocation of tiers will be reviewed every 14 days from that date and suggested mass testing could make households exempt from restrictions. He also said he would move areas down a tier where there is "robust evidence" that coronavirus is in sustained decline. However, areas such as London risk being upgraded to tier 3 after data showed a rise in the capital city's cases.
School's not out? The House of Commons is due to rise for its Christmas recess on Monday 21 December, but yesterday, Leader of the House Jacob Rees-Mogg refused to be drawn on confirming the specifics. Commons Speaker, Lindsay Hoyle told Sky News that whilst he hoped "that we will all be going up on the date that's expected of the House but if needs be… we can run, as far as I'm concerned, even up to Christmas Eve." Apparently, MPs are growing anxious at the prospect of sitting over Christmas!
WHAT YOU MIGHT HAVE MISSED 
Another sign of dissent in the ranks – Tory MPs led by Kevin Hollinrake, Member of Parliament for Thirsk and Malton, have formed the Property Research Group to campaign for changes to property tax. The PRG takes the number of internal Tory research groups to six – the ERG (European), the CRG (China), CRG (COVID Recovery), NRG (Northern) and CSG (Common Sense) – and no, the last one is not a joke.
IN DEPTH
Talk is not cheap – an update from Brussels
Tamlin Vickers, DRD Partner in Brussels, provides an insight into what's really going on in the ongoing Brexit negotiations, and whether or not we're likely to have an answer by Sunday.
Things are looking bleak in Brussels, and not just because of the freezing temperatures and unremitting drizzle. The dinner earlier in the week between Boris Johnson and Ursula Von der Leyen, the European Commission's President, was not far short of a disaster, with the parties not even being able to agree on a joint statement afterwards.
The atmospherics were disjointed and unconstructive to put it mildly, with the two sides effectively talking past each other. The only positive (clutching at straws here) is that the talks did not break down entirely. So long as they are still talking, there is still a chance of a deal.
To read more, please click here.
WORTH A READ 
The Times – Brexiteers need to make their minds up (Daniel Finkelstein)
The Guardian – For Europe, losing Britain is bad. Keeping Hungary and Poland could be worse (Timothy Garton Ash)
The Spectator – The deal-or-no-deal debate is different this time (James Forsyth)
The Times – Oxford muddled a good vaccine with bad PR (Tom Whipple)
The Independent – Boris Johnson's sweet reason hasn't worked with Ursula von der Leyen – or not yet, anyway  (John Rentoul)
Politico – Boris Johnson must sweat the small stuff to change lives post-Brexit (Rachel Wolf)
The Telegraph – I'm launching the Property Research Group of MPs to fight for reform of outdated property taxes (Kevin Hollinrake)
STAT OF THE WEEK 
Trust the people?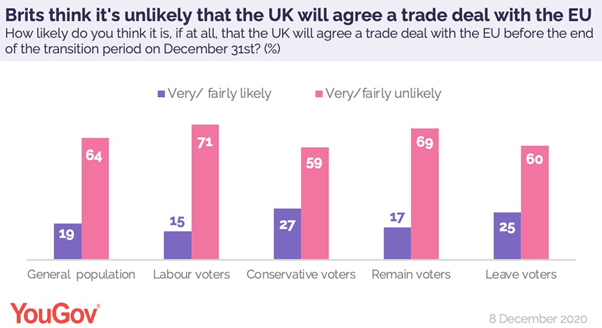 Source: YouGov
Feature photo credit: AFP
DRD Partnership is a strategic communications consultancy focused on building value for our clients and protecting their reputations at moments of challenge and change. If you'd like to know more about us and our consultancy services, including our public affairs offering, please see our website: https://www.drdpartnership.com/ or drop us a line publicaffairs@drdpartnership.com. We'd love to hear from you.
brexit negotiations, brexit negotiations, brexit negotiations, brexit negotiations