The DRD Snapshot - 12 February 2021
12 Feb 2021
Vaccine , Covid, Trump and cladding issues…
Welcome to the DRD Snapshot, your essential guide to what you may have missed this week and what you won't want to miss next…
SNAPSHOT
"Cornwall or Devon… Cornwall, definitely Cornwall"
THE WEEK THAT WAS
Mixed Messaging. Health Secretary, Matt Hancock is spending his "Great British summer" in Cornwall, and he's been sticking to that line (and his plans) since 31 January. So, presumably dear Snapshot readers, we can all follow suit? After all, just 11 days ago, when asked about plans for a "happy and free summer", the Prime Minister was "optimistic". Of course, he said it was dependent on the progress of the vaccination programme, but that all seems to be going well. Odd then that at Wednesday's press conference, the PM seemed to row back on his earlier optimism saying, "I am afraid it is just too early for people to be certain about what we'll be able to do this summer." Perhaps he felt he had no choice since his Transport Secretary had spent the morning broadcast round advising Brits they shouldn't be booking holidays, at home or away right now. However, while the PM was issuing his latest advice, Hancock was confirming to Tory MPs that he'd be heading for the South coast. Clear as mud, then.
An "Unprecedented Intervention". On Wednesday, Housing Secretary, Robert Jenrick, announced a new government funding package for building safety to support new building safety regulation, brought in after the Grenfell Tower tragedy. This will cover the costs of compulsory cladding remediation works for leaseholders of properties over 18 metres. For buildings under 18 metres, the Government will offer a loan to building owners, which will be repaid by leaseholders with a cap on repayments at £50 per month. Jenrick was quick to lay blame for the cladding scandal at the feet of the development industry and previous governments (presumably exempting the Cameron and May administrations and the regulatory environment they oversaw). He reiterated that this was an "unprecedented" and "significant" intervention, but that the construction and development industry should be expected to substantially contribute to any works required to improve safety, and that they were responsible and accountable for unsafe conditions. On this point, there was broad cross-party agreement. Opposition MPs mostly argued that this scheme was too little too late, and that it backtracked on previous promises that no leaseholder would bear any costs for cladding remediation works. Many also pointed out that significant, additional costs being levied on leaseholders by insurers and developers were not covered by government funding.
Holding power to account. On Monday, SNP Chief Executive Peter Murrell (also Nicola Sturgeon's husband) appeared before the Committee looking into the Scottish government's handling of harassment complaints made against Alex Salmond. Murrell was accused of misleading MSPs over what he knew about the matter, with Scottish Labour Deputy Leader, Jackie Baillie, claiming he had obstructed the Committee's work and was "dancing on the head of a pin" with his evidence. Former First Minister, Alex Salmond, who was due to appear before a Scottish parliamentary inquiry on Tuesday, pulled out due to the committee's refusal to discuss evidence he claims supports his case. However, a Salmond appearance appears to be back on the cards after the Spectator Magazine approached Scotland's second most-senior Judge, Lady Dorrian, requesting that she amend a court order she imposed on what could be reported about Salmond's criminal trial. This morning, the magazine's chairman, Andrew Neil, tweeted to say "Among the Scottish parliament's many crucial roles, there is none more important than its ability to scrutinise government and hold it to account. The same is true of a free press. Both are at their best when they hold power to account on behalf of the public". Sturgeon is up before the Committee next week.
Protocol progress? There's nothing quite like a good steak dinner for smoothing out diplomatic tensions, particularly when it's washed down with a good gin (even better, and more appropriate, if it's Northern Irish gin – and yes, that exists). Michael Gove and his EU counterpart Maroš Šefčovič met last night to discuss the Northern Ireland protocol, and issued a joint statement agreeing to "address all outstanding issues" and hold a full joint committee meeting, no later than 24 February. The two sides agreed to work in a spirit of "collaboration, responsibility and pragmatism" which should come as a relief to all sides, particularly those in Dublin, who have called on "the bigger beasts of Europe" to "cool it" and "move away from" unnecessary arguments with the UK.
Thumbs up. On Wednesday, Scientists advising the World Health Organization (WHO) issued an interim recommendation for the use of the Oxford/AstraZeneca vaccine for all adults, regardless of age – take note, Monsieur Macron. In another boost for the UK's vaccine strategy, the WHO also endorsed the principle that the second booster is best given between 8 and 12 weeks after the first. As if the Welsh didn't have enough to be joyous about (your Snapshot author isn't at all bitter about Sunday's Six Nations result) Wales will, later today, be the first UK nation to have offered the top four priority groups a Covid vaccine, reaching the mid-February target a few days early.
Trumpeachment. On Tuesday night, the Senate voted to proceed with the second impeachment of Mr. Trump. Notably, only six Republicans voted with the Democrats to advance the impeachment process. As 17 GOP senators would need to support it, this effectively means the impeachment is doomed to failure. Most Republican Senators argue it is unconstitutional to impeach a president once they have left office. The real answer of course, is that they are wary of the Trump base turning against them in the next election cycle. However, Democrats are determined to push on and ensure that Trump is held accountable for his actions. The prosecution even put together a graphic 13-minute montage of the storming of the Capitol building, linking it directly to Trump. GOP officials believe that the Democratic party's main objective is to try and remove Trump from politics once and for all. As one Congressional source told Snapshot the "Dems are obsessed with impeaching Trump … so much for uniting the country and healing the wounds."
THE WEEK TO COME 
"An uneasy compromise." From Monday, anyone arriving in the UK who has been in a country on the Government's travel ban list (in the previous 10 days) will be required to purchase a quarantine package, costing £1,750 per person. To ensure compliance, fines ranging from £5,000 to £10,000 for failure to quarantine in a designated hotel have been put in place. Alternatively, non-compliance might land you a prison sentence (of up to 10 years)! Also confirmed this week, everyone arriving in England from a non-red list country will be required to undertake 2 mandatory Covid tests, on day two and day eight of their 10-day quarantine. The Institute for Government's verdict on the new policy is not good: "What [the Government] is poised to deliver is characteristic of much of its pandemic response: an uneasy compromise between ministers prioritising health outcomes and others concerned about the impact on the economy, but which risks achieving the objectives of neither." Ouch.
Diverging rules. As expected, Scottish First Minister, Nicola Sturgeon has toughed up travel restrictions. Unlike the rest of the UK's 'red list', all passengers who fly into Scotland will have to enter managed quarantine in hotels from Monday. Heath Secretary, Matt Hancock said the Scottish government's plan to detain all arrivals without exception was disproportionate as it would detain travellers from countries with no recent cases, but Scottish Health Secretary, Jeane Freeman said the UK government risked repeating the mistakes of summer 2020.
The EU is listening. Following his meeting in London last night, Maroš Šefčovič will head to Northern Ireland next week to meet with business leaders and hear their everyday struggles with the protocol. The visit can't really come soon enough. There are genuine concerns that the EU has failed to understand the risk of moderate unionists turning against the deal. As part of a campaign against the protocol, DUP politicians have started to boycott meetings involving officials from the Republic of Ireland, claiming that it won't maintain a "north-south" dialogue while there's a border in the Irish Sea, undermining "east-west" relations.
An unlock framework. Save for a few committee sessions, Parliament will be in recess next week. While MPs enjoy half-term, the Prime Minister will no doubt be rushing to finalise his much-anticipated unlock framework, which he'll unveil on 22 February. There was some commotion overnight when Downing Street suggested the plan would come in "the week of" the 22nd but after some panic and a fair bit of backlash, No. 10 sources were quick to clarify that the plan will be announced on Monday week.
WHAT YOU MIGHT HAVE MISSED 
On the Case. Cabinet Secretary, Simon Case, is dealing with a slightly tricky problem after it emerged that Education Secretary, always-in-the-news-for-the-wrong-reasons Gavin Williamson had appointed a close friend (and former MP turned Tory peer) James Wharton, as the new Chair of the Office for Students. The role might only involve working two days a week, but it pays a pretty hefty £60k. Peter Riddell, the Commissioner for Public Appointments has accused the Government of "packing" the selection panel to rig the outcome. Shadow Education Secretary, Kate Green, has written to the Cabinet Secretary demanding he looks into how this role was appointed and how conflicts of interest were managed.
IN DEPTH
One to Watch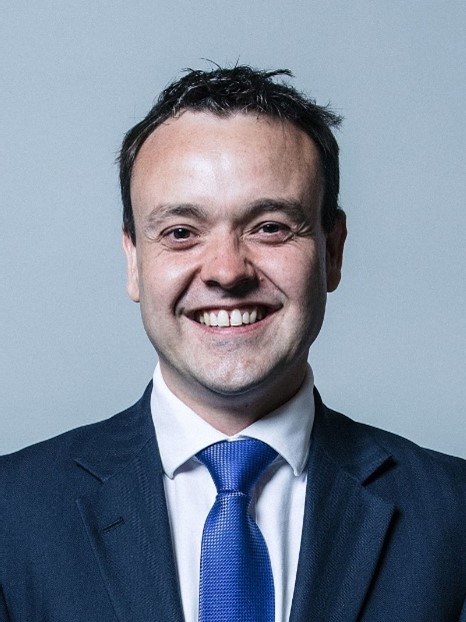 Stephen McPartland MP
Stephen McPartland is the Conservative MP for Stevenage, a seat he has held since 2010. He is currently Chair of the Regulatory Reform Committee and is also a member of the Liaison Committee. Prior to entering parliament, he was Director of Membership for British American Business and held a number of positions within the Conservative party.
McPartland has sometimes made the headlines for the wrong reasons. During his election campaign, he stated that he would be a "full time MP" but came under fire in May 2015, after it emerged that he had been receiving substantial additional income from second jobs, including at a furniture company and through his own consultancy work.
He's been back in the news this week, but this time, for speaking out against his own party (and others) in relation to its handling of the ongoing cladding crisis. On Wednesday, Stephen McPartland MP voiced his frustration at "incompetent" Housing Secretary, Robert Jenrick over the ongoing cladding calamity.
McPartland is one of the leading Tory rebels on this issue and has tabled a number of amendments to the Fire Safety Bill, which is currently at the "Ping Pong" stage. If passed, these amendments would prevent remedial cladding costs from being passed onto leaseholders.  In an online rant he stated that leaseholders had been betrayed, he does "not at all" trust Jenrick to solve this crisis and has demanded the PM to intervene personally. Stay tuned, McPartland's not likely to go quietly.
WORTH A READ
New Statesman – Robert Jenrick's narrow cladding plans are "a betrayal" of Tory MPs and leaseholders alike (Anoosh Chakelian)
The Spectator – What a record GDP slump means for economic recovery (Kate Andrews)
The Guardian – Keir Starmer to kick off policy blitz in move to head off Labour critics (Jessica Elgot, Heather Stewart)
The Times – Covid expert Neil Ferguson says infection rates falling faster than expected (Steven Swinford, Oliver Wright, Rhys Blakely)
Financial Times – Travellers to England face jail for hiding trips to high-risk countries (Jim Pickard, Anna Gross, Alice Hancock, Mure Dickie)
The Independent – Brexit trade deal to swipe £45bn from UK economy over two years, EU analysis finds (Rob Merrick)
The Times – Covid in Scotland: English travellers face checks at border in battle over quarantine (Mark McLaughlin)
STAT OF THE WEEK 
The financial impact of no pub pints?   
Bank of England Chief Economist, Andy Haldane, isn't too concerned. He reckons there is "enormous amounts of pent-up financial energy waiting to be released, like a coiled spring." Let's hope he's right.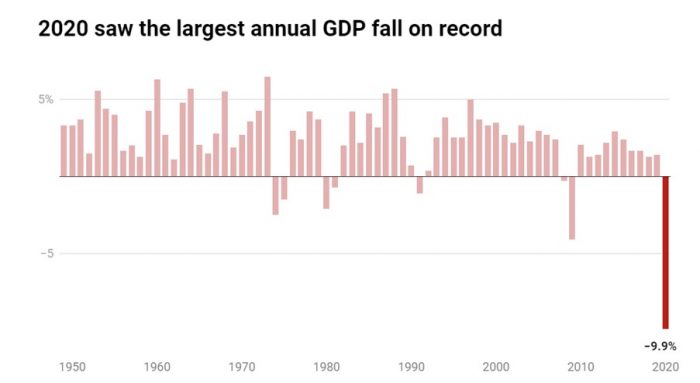 DRD Partnership is a strategic communications consultancy focused on building value for our clients and protecting their reputations at moments of challenge and change.
If you'd like to know more about us and our consultancy services, including our public affairs offering, please see our website: https://www.drdpartnership.com/ or drop us a line publicaffairs@drdpartnership.com. We'd love to hear from you.
vaccine trump cladding, vaccine trump cladding, vaccine trump cladding, vaccine trump cladding, vaccine trump cladding, vaccine trump cladding