The DRD Snapshot
12 Mar 2021
(Well, we had to reference it somehow… ) Tory divisions and Boris Johnson.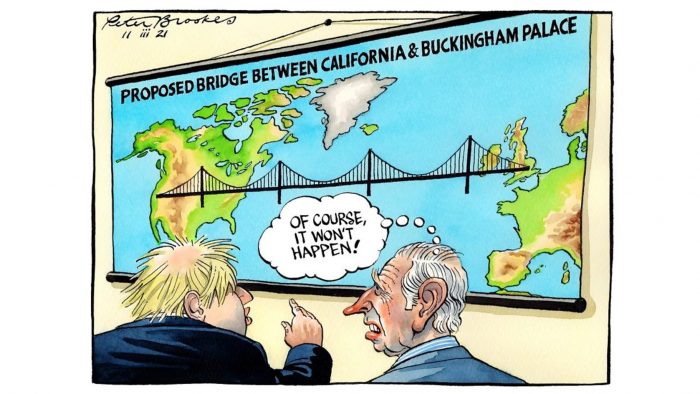 THE WEEK THAT WAS
Tory divisions. The Governmenthas some very frustrated Northern Tories in its ranks, after announcing a public inquiry into plans for a new deep coal mine in Cumbria. Communities Secretary Robert Jenrick initially claimed the project was in the hands of local officials but, after increasing controversy, the Government stepped in. The Prime Minister now faces a backlash from a number of Conservative MP's, particularly the Northern Research Group (NRG), who believe the plant offers solid investment to the area and will provide thousands of jobs. According to The Sun, Mark Jenkinson MP told colleagues that the Communities Secretary had "bowed to climate terrorists." However, as hosts of the UN Climate Change Conference later this year, the Government must be particularly mindful of promoting its green credentials, both abroad and at home. It could yet decide to approve the mine, but given the amount of anger it's caused, that seems unlikely, at least until after the November Conference.
SNP Shenanigans. Avoiding any platitudes about 'a week in politics,' it must have felt like a very long one for the embattled SNP. With the Salmond Inquiry continuing to stoke controversy at the highest levels, across the border in Westminster another scandal hit. On Thursday, the SNP Chief Whip, Patrick Grady, stepped down after being accused of groping two SNP staffers at a Christmas party in 2017. Given the timeline of the allegations, and rumours that a number of complaints made at the time were swept under the carpet, all eyes have turned to the leadership. All the while, the increasingly toxic row between Sturgeon and her predecessor, Alex Salmond rumbles on. Allegations that Sturgeon breached the Ministerial Code by misleading Parliament have, unsurprisingly, not played out well with voters. Polls show that a third do not believe her and a similar proportion believe she should resign. The relentless negative headlines are beginning to have an attritional effect on party support, and its Scottish Parliament majority is looking increasingly shaky with elections just around the corner. Crucially for the SNP, support for indyref2 is also waning. Polls suggest that a combination of recent scandal, cautious lockdown easing, and the UK Government's successful vaccine rollout could be tipping the balance away from independence. Smelling blood, the Scottish Conservatives are in talks with Labour to form a coalition, which could yet deliver the coup de grace to Sturgeon's wounded administration.
Not exactly a glowing reference. A Public Accounts Committee (PAC) report, released on Wednesday, found there was "no clear evidence" that the Test & Trace scheme had made a significant impact on containing the Covid-19 pandemic, despite a "staggering" £37bn being spent on it. The PAC report highlighted its "sub-standard performance," overreliance on expensive consultants, lack of public health experts at senior levels and the way it "ignored" councils and NHS primary care bodies. Ouch. The Prime Minister was quick to defend the programme, saying that it had meant that "schools and the economy can reopen, and people can restart their lives."
Happy Centenary… ? Northern Ireland is celebrating the nation's first hundred years, and to mark the occasion, the Government has unveiled a package of measures, including a £1 million fund for community projects. Belfast City Council will host an event at the City Hall marking the 100th anniversary of the opening of the Northern Ireland Parliament, and every school in Northern Ireland is to be presented with a native tree to plant in their grounds (that's nice). But, before anybody breaks out the champagne, there are still significant issues to resolve. The fallout over the Northern Ireland Protocol continues to rage – on Monday evening, Sinn Féin accused DUP leader Arlene Foster of "colluding with loyalist militants". Foster, in return accused Sinn Féin of "harboring terrorists in its ranks". Not quite party time just yet then.
So much more to do. Yesterday'sInternational Women's Day debate was made all the more emotive after the discovery of human remains in the search for missing woman, Sarah Everard. As a result of the case, more than 200 women have signed an open letter calling on the Government and police to take more action to tackle violence against women and girls. Jess Phillips, Shadow Minister for Domestic Violence and Safeguarding, read out the names of 118 women killed by men – roughly one every three days, since last year's debate. Dozens of female MPs spoke about their experience of harassment and called for tougher action from the Government when the Police, Crime, Sentencing, and Courts Bill returns to the House of Commons next week [more on that below]. The Government is yet to publish a long-promised strategy on tackling violence against women and girls, though a spokesperson for the Prime Minister said the "hope" was that this would come by the end of the year. Home Secretary, Priti Patel, has an article in The Sun today saying, "I will continue to do all I can in my role as Home Secretary to protect women and girls. Every single woman and girl should be free to walk our streets without the slightest fear of harassment, abuse, or violence. And I will not rest until that is the case."
A dose of happy news. Encouraging news from US firm Novavax yesterday – its jab is 96.4% effective against the original coronavirus strain and 86% effective against the UK variant. The firm is now a step closer to regulatory approval and its Chief Medical Officer, Filip Dubovsky, confirmed they're still "planning to file for authorisation" in the UK in the coming months. Health Secretary, Matt Hancock tweeted that the trial was "really encouraging news" and the UK has ordered "60 million doses" to add to an already healthy vaccine stockpile.
THE WEEK TO COME 
All eyes on the Commons. The Police, Crime, Courts and Sentencing Bill is back in Parliament next week. The Home Office Bill proposes a wide-ranging overhaul of the justice system, incorporating a number of longstanding government commitments, from police powers and sentencing to offender management and road traffic offences. Key aspects include an expansion of child abuse laws, with proposals to toughen sentencing and expand the definition of jobs which constitute a 'position of trust'. However, proposals allowing police to restrict any protests which might cause "serious public disorder, serious damage to property or serious disruption to the life of the community" have been fiercely criticised in some quarters, which view this as a removal of the right to protest. The Home Office says that these proposals "enable police to better tackle unauthorised encampments, and safely manage protests." The Bill has its second reading on Wednesday and Thursday.
Committee Corridor. Next Tuesday will see the return of former Chancellor, George Osborne, who will give evidence to the International Relations Committee as part of its inquiry into the UK's security and trade relationship with China. In government, Osborne was a key supporter of developing relations between the UK and China and once said the two countries should "stick together and make a golden decade for both our countries." Clearly things have changed since 2015 and UK relations with China are strained to say the least. Huawei, Uighurs, and the situation in Hong Kong are all likely to feature. The biggest question the UK faces is whether to potentially give up a US FTA in favour of closer relations with China. A senior aide on the powerful US Senate Committee on Foreign Relations warned Snapshot, "China is the biggest geopolitical threat the US & UK will face this century… we need to act together."
Stay home. Stay Local. First Minister of Wales, Mark Drakeford, has announced an easing of lockdown restrictions from tomorrow. As the penultimate weekend of the Six Nations approaches, and with Wales on course to become champions, maybe Drakeford wanted to provide some further public cheer. From Saturday, "stay local" guidance will replace "stay home" and this means that Welsh citizens will be able to play a round of golf and meet friends in a garden (perhaps to watch the rugby). Further good news is that hairdressers will re-open from Monday. Snapshot suspects there might be some border hopping!
Save the Union. The Scottish Conservatives gather (virtually, of course) for their Spring Conference this weekend. The highlight will be the Prime Minister's speech on Sunday. Already widely briefed in the media, Boris Johnson will confirm that regardless of the outcome of the May elections, there will not be a second Scottish independence referendum. And in light of the recent shift in polling (in favour of the union), the UK Government is keen to encourage that trend. Forget about Brexit and Megxit – this is all about preventing "Scexit". Money talks: to encourage further support for the Union, expect to see a lot of spending north of the border. There's also talk of the House of Commons sitting in each of the devolved parliaments. Perhaps unsurprisingly, the DUP's Westminster leader, Jeffrey Donaldson MP said it would be a "terrific & wonderful" for MPs to sit in Northern Ireland during its centenary year.
WHAT YOU MIGHT HAVE MISSED 
Build Back Better. Lots of connectivity news this week.On Wednesday, the Department for Transport (DfT) published Sir Peter Hendy's Union Connectivity Review interim report which looks at the current state of transport connectivity within the UK and the case for future investment (Irish Sea bridges, anyone?). The report provides a breakdown of current road, rail, air, and sea connectivity, and sets out the economic context for better connectivity. In response, the Prime Minister set out his vision to build back better by boosting transport connectivity across and between the whole of the UK. Improved transport infrastructure is at the heart of the Government's levelling up agenda. He confirmed the Government will consult on cutting Air Passenger Duty (APD) on internal flights and will commit £20 million to develop plans for upgraded rail, road, sea, and air links. Hendry's final report will be submitted to government in summer 2021.
IN DEPTH
Is it all doom & gloom for Sir Keir Starmer?
Local elections are coming up. Ooooh, the excitement! As the first set of elections since the December 2019 General Election, they will be a testbed of national sentiment for all politicians, but particularly Sir Keir Starmer. DRD Partner, Pete Bowyer investigates…
This year's elections are fast upon us. On 6 May 2021, less than eight weeks' away, millions of voters across the country will go to the polls to elect new Parliaments in Scotland and Wales, Mayors in London and twelve other English metropolitan areas, local councillors in 124 boroughs as well as 39 Police & Crime Commissioners.
To read more, please click here.
WORTH A READ
New Statesman – On austerity, Labour is winning the small arguments but losing the big one (Ailbhe Rea)
The Times – Nurses may be offered pay rise of more than 2% to defuse row (Steven Swinford, Eleni Courea)
The Guardian – Boris Johnson comes under pressure to make UK safer for women (Heather Stewart, Jessica Elgot)
The Spectator – Scottish independence isn't inevitable (James Forsyth)
The Times – 'Rishi Sunak was the main person responsible for Covid's second wave' (Jonathan Calvert, George Arbuthnott)
The FT – UK exports to EU slump as Brexit hits trade (Chris Giles, Valentina Romei)
STAT OF THE WEEK
Support for Scottish Independence weakens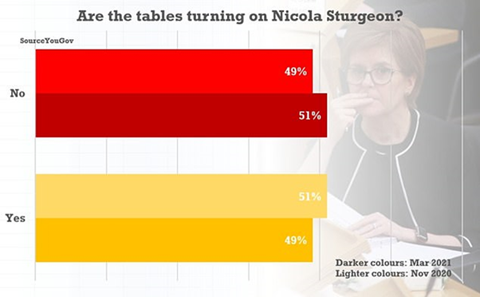 DRD Partnership is a strategic communications consultancy focused on building value for our clients and protecting their reputations at moments of challenge and change.
If you'd like to know more about us and our consultancy services, including our public affairs offering, please see our website: https://www.drdpartnership.com/ or drop us a line publicaffairs@drdpartnership.com. We'd love to hear from you.
Visit our website or LinkedIn page for more information about DRD Partnership.