The DRD Snapshot - 13 November 2020
13 Nov 2020
Cummings and Goings. Lee Cain quits Downing Street this week but when will Dominic follow?

THE WEEK THAT WAS
Pfizer Chiefs – News of a Covid vaccine that has a 90% effectiveness rate broke this week, offering hope to both people and markets. The UK has already ordered 40 million doses of the vaccine in development by German biotechnology company BioNTech and American multinational pharmaceutical company Pfizer. Health Secretary Matt Hancock has said that if the vaccine is approved, the NHS will be ready to begin a large-scale vaccination programme from next month. Hallelujah.
Classic Dom – A day many thought would never come, Dominic Cummings will likely be leaving Downing Street by Christmas. The news comes days after fellow advisor to the Prime Minister, Lee Cain, signalled his impending exit from No. 10. In an apparent attempt to jump before being pushed, Cummings told the BBC that rumours of him threatening to resign were invented, and referred back to a January blog he posted, in which he said he wanted to make himself "largely redundant" by the end of the year.
Carrie Vs. Cain – No. 10's Director of Communications, Lee Cain announced he would step down on Wednesday night after ministers and advisers including Boris Johnson's fiancée, Carrie Symonds, are said to have protested over his planned promotion to chief of staff. Cain, due to depart next month, is Johnson's longest serving aid in No. 10 and very close to Dominic Cummings. As insiders tell the BBC "how much of a mess it is," the rivalries and disquiet within No. 10 appear significant and may well rumble on behind the scenes for weeks to come.
Almost there – Michael Barnier and his team have been in London this week hammering out the final details of a potential Brexit deal. It was briefed by Downing Street at the start of this week that they expect talks to last no more than ten days as the EU Parliament and Member States will need time to ratify any deal that is agreed. Rumours in Whitehall suggest the current text is over 300 pages long and will no doubt make for riveting reading if it is ever finalised, agreed and published.
PR disaster – The Sunday Times reported that the Vaccine Taskforce chair Kate Bingham spent £670,000 of taxpayers' money on public relations advisers. Bingham, a venture capitalist married to Treasury Minister Jesse Norman, is also facing questions around whether she stands to benefit from a £49 million UK taxpayer-backed investment into a fund run by her private equity firm. This follows news that she disclosed sensitive information about potential targets for the Government's vaccine push at a $200-a-head private conference. Bingham one, taxpayer nil.
THE WEEK TO COME
Finish line? Brexit talks should come to a conclusion next week. All sides, including 27 individual Member States, need time to ratify the deal but this would not be the first time that a deadline has slipped in this process.
Northern Ireland will emerge (partly) from their Lockdown 2.0 restrictions next Friday. A few chaotic days in Stormont full of briefings and counter-briefings led to a last-minute extension of restrictions that were meant to end today. Coffee shops and hairdressers can join non-essential retail and reopen on the 20th and pubs will be allowed to serve takeaway drinks too. Hospitality such as restaurants and pubs will be allowed to reopen fully on the 27th.
WHAT YOU MIGHT HAVE MISSED
The Government, as part of Boris Johnson's Obesity Strategy, published its consultation on banning online advertising of 'junk food' earlier this week. The measures are extremely strong and go even further than originally billed in the summer.
Of course, this is just a consultation at this stage and the measures could be refined but the ban would cover all online advertising of food considered to be unhealthy. Not only will this impact those big fast-food chains – wedding cake businesses, sellers of avocados and even local bakeries will all be banned from promoting their products online if this goes ahead unamended.
Expect this to be watered down considerably over the next few months but even still, the UK will soon have the most restrictive food advertising rules in the world. Quite the volte-face from the once libertarian Boris Johnson.
IN DEPTH
SHIFTING SANDS – HOPES AND FEARS FOR A NEW CLIMATE AGREEMENT
DRD Partner Pete Bowyer, a veteran of four COPs, writes this week on the impact a President Biden could have on COP26 in Glasgow next year.
It is often remarked that politics is circular. Elliptical, however, may be a better description. Like the orbits of the planets, issues burn bright for a while at their perihelion then slowly fade before returning to the light once again.
So too for the UN Climate Summits, the annual COP ('Conference of the Parties') negotiations which, only once every five or six years or so, really matter. This year's COP, scheduled to be held in Glasgow, was slated to have been one of those years, like its predecessor conferences in Rio (1992), Kyoto (1997), Copenhagen (2009) and Paris (2015). Had it not been for the coronavirus pandemic we would currently have been halfway through the two week marathon inter-governmental talks and heading towards what might have been another landmark agreement.
To read more, please click here.
WORTH A READ
The Spectator – Inside the Downing Street power struggle (Katy Balls)
The New Statesman – How Labour can win the coming argument over tax and spend (James Meadway)
The Guardian –The Covid-19 blunders drive home a harsh truth: the state has failed us (Larry Elliot)
The Telegraph – How Lee Cain's departure exposed the tensions at the heart of Boris Johnson's administration (Camilla Tominey)
The Times – Middle class facing £14bn capital gains tax raid on investments (David Byers)
STAT OF THE WEEK
Driving home for Christmas..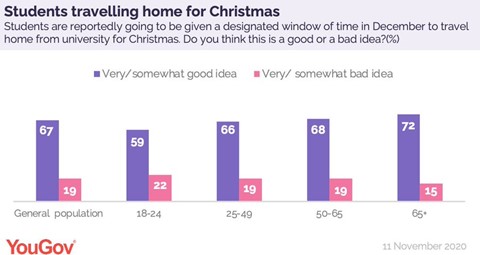 Source: YouGov
DRD Partnership is a strategic communications consultancy focused on building value for our clients and protecting their reputations at moments of challenge and change. If you'd like to know more about us and our consultancy services, including our public affairs offering, please see our website: https://www.drdpartnership.com/ or drop us a line publicaffairs@drdpartnership.com. We'd love to hear from you.
Dominic Cummings, Dominic Cummings, Dominic Cummings, Dominic Cummings, Dominic Cummings