The DRD Snapshot - 14 May 2021
14 May 2021
Like many others who heard the Queen's Speech, one of the Yeoman was struggling to see a clear path ahead…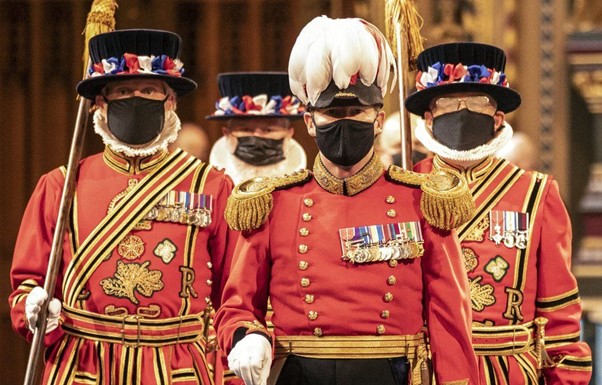 THE WEEK THAT WAS
Bills, bills, bills. Once again, there was widespread underwhelmment (yes, it's a noun, don't look it up) at this year's Queen's Speech. The pared-back ceremony seemed light on both pomp and circumstance, with the Queen turning up in a Range Rover (has she no decorum?) and many of the bills already trailed ahead of time. Among the 31 proposed pieces of legislation, the Planning Bill was probably among the most controversial, which seeks to speed up or simplify planning applications but will be met with staunch criticism from countryside campaigners. Honourable mentions go to the Police, Crime Sentencing and Courts Bill, which is drawing fierce debate for a perceived assault on the right to protest, and plans to make voters show ID when they vote. Nestled in there was also a pledge to "restore the balance of power between the executive, legislature and the courts." But this Queens Speech was as much about what was included as what had been left out; the absence of an Employment Bill, for example. With the future of work now at the forefront of minds as recovery from the pandemic continues, its exclusion seems amiss. And, as predicted, there were only nine words devoted to social care, a woolly passage that "proposals for social care reform will be brought forward." Given that, two years ago, the PM boasted of a "clear plan we have prepared," there is a growing view on all sides of the house that when these do appear, they had better be good.
WhatsAppened Dave? Out of the designer shepherd's hut in the garden and into the fire – yesterday was not a "chillaxed" day for David Cameron. Snapshot grabbed some popcorn for the beleaguered former PM's death-by-select committee and was rewarded by what can only be described as total humiliation. While DC did defend his Westminster WhatsApp frenzy – claiming his lobbying for Lex was in the UK's (and not his current account's) best interest, deploying the oddly familiar "time of extraordinary crisis" excuse (Boris, Dyson anyone?) – the spotlight was really on which MP could land the best hit. Harriett Baldwin won plaudits for questioning the ex PM's unusual texting style (no "love DC" for Gove) and Rushanara Ali went for the jugular: "your reputation is now in tatters, Mr Cameron." So, what did we learn? Not very much. But it was a field day for the press, Twitter worked itself into a frenzy, and it was quite a sight to see Cameron, once famed for his smooth charm, only waffle and squirm as former colleagues lined up to take swing after swing.
Oh Keir. It was one of those slow Mondays after a big weekend for Sir Keir this week. Having suffered setbacks in the local elections and Hartlepool by-election, the Labour leader went on the offensive in a botched shadow Cabinet reshuffle which only resulted in an emboldened deputy in Angela Rayner. If the grand plan was to distract from the election results, he succeeded: the outcome was a torrid few days of headlines only prolonging the hangover. Curiously, the Corbynistas' critique of Labour's results shifted a bit: having been lambasted for the party's poor showing at the polls, Sir Keir then spent the next few days being accused of not trumpeting Labour's apparent electoral success enough. It was all a bit hard to follow, which probably sums up internal Labour Party politics. The bigger lesson though is twofold: firstly, what happens in Westminster is largely irrelevant to ordinary voters and second, Labour needs to learn who its voters are and how to talk to them. Having a Leader and Deputy Leader on talking terms would be a good start…
THE WEEK TO COME 
New legislation, new controversy. Parliament is open for business once again, with the Queen's Speech on Tuesday setting out the Government's agenda for this parliamentary session. As the pandemic has revealed the strains on the social care system, the promises in the speech to provide additional funding and bring forward legislation to empower the NHS will be worth following. The debate on plans for the NHS and social care is scheduled for Wednesday and is sure to generate discussion regarding vaccine rollout and plans to 'level up' the NHS as we return to the new normal. However, the Queen's Speech did not mention detailed plans for long term reform, prompting some MPs to urge the Prime Minister to follow through on his promises of a Health and Social Care Bill. Another thing worth following this week is the General Committee on the Police, Crime, Sentencing and Courts Bill. The bill has generated significant controversy in recent weeks, with 'Kill the Bill' protests occurring around the UK. With a new programme of legislation, comes new controversy, some of which (particularly around planning reform) is likely to come from the PM's own backbenchers.
Inching towards freedom? From Monday, England will enter the third phase of the unlock roadmap! Groups of 30 will be able to meet outside, with groups of six able to enjoy a pint or meal indoors and overnight stays are back on the "green list." Spirits have been somewhat dampened in recent days, however, with the rapid rise of yet another "variant of concern". Scientists (along with uncontroversial superforecaster Dominic Cummings) have called for Monday's plans to be postponed. Yesterday, the PM was adamant this wouldn't happen, but a press conference has been scheduled for 5pm tonight, and it wouldn't be the first time we've seen a last minute change of direction (Christmas, anyone?). Even if Monday does proceed as planned, there are questions over the final phase of reopening scheduled for June 21. This morning, Vaccines Minister, Nadhim Zahawi, warned that the final lockdown restrictions may not be eased next month if the spread of the Indian variant drives up infection rates. According to the Times, there are plans to bring forward second doses in a bid to prevent the variant halting the end of restrictions. If the June 21 date does slip, expect some serious outrage, and not just from Steve Baker's lot. Fingers will, once again, be pointed at the Government for its slow response in adding India to the travel "red list". Elsewhere, and in anticipation of Cummings' upcoming select committee appearance, the PM also confirmed that an independent public inquiry into the Government's handling of the pandemic would begin… next Spring, meaning it's very likely the General Election will come and go before the inquiry reaches a conclusion.
Moving on DUP. At 5pm tonight, either Edwin Poots or Jeffrey Donaldson will be named the new DUP leader, after a secret ballot of the party's MPs and MLAs takes place this afternoon. The 36 elected members, who are the only people that can vote, will meet (virtually, of course) this afternoon to hear a last-ditch pitch from each man before making their decision. Last night, Agriculture minister, Edwin Poots, standing under a banner of "strength and experience to lead" said he had a plan to "reinvigorate unionism" and reform the party. Setting himself apart from Poots, DUP leader in Westminster and the party's longest serving MP, Sir Jeffrey Donaldson, said he would contest the next assembly election, due in May 2022, which would enable him to serve as First Minister (provided the DUP is returned as the largest party). Either way, the result will have huge consequences, not just for people in Northern Ireland but for relations with both the UK and Irish governments.
WHAT YOU MIGHT HAVE MISSED 
Judgement day. As eight figure sums were rattling around the former Prime Minister's Select Committee hearing, the current premier was plunged into financial crisis. Private Eye revealed yesterday that the PM had an outstanding County Court Judgement against his name and an "unsatisfied" fine of £535. The plot thickened as it was later revealed that the claim was for an accusation of "committed repeated defamation" by… an Alpaca-owner in Leicestershire. The revelation raised the interesting prospect that, as the County Court website made quite clear, bailiffs could soon be dispatched to No.10 to recover the money. Unfortunately, we were not treated to the sight of burly men removing the seats of power in Whitehall (or ¬æ roll of gold wallpaper) and after some hurried enquiries were made, the claim was struck off as "vexatious."
IN DEPTH
One to Watch
Jill Mortimer MP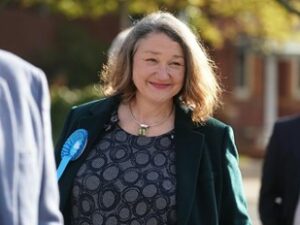 Following last week's by-election, Jill Mortimer was elected MP for Hartlepool and in doing so, turned the seat blue for the first time in its 47-year history. Good for the Tories yes, but Mortimer's victory also signifies something much larger: Labour's ongoing identity crisis.
Mortimer, a farmer, and district councillor on Hambleton Council in North Yorkshire, was the Conservative candidate in Leeds East at the 2019 election but lost out to Labour. She says the heart of her campaign is helping Hartlepool to "build back better" (where have we heard that before?). Providing a bit more clarity than the PM on exactly how she'll do that, she claims she will "make sure that our town is at the centre of the post-pandemic recovery by creating more jobs and attracting extra investment to the town".
However, a week into the job, Mortimer has already come under fire. She spent around a decade living in the Cayman Islands, leading to many opposition MPs, including Shadow Chancellor of the Duchy of Lancaster, Angela Rayner, to suggest there needs to be clarity of the link between Ms Mortimer and tax havens. Rayner later quipped that Mortimer had "more connection with tax havens than Hartlepool town centre". The Conservatives responded that their newest MP did not gain any tax advantage, insisting that she moved there as a result of her ex-husband's job. Nonetheless, this may not be the last we hear of it and the next few weeks could well be a taxing (sorry) start for the new incumbent.
THUMBS UP / DOWN

 Anum Qaisar-Javed MP

 Prince Michael
WORTH A READ
The Times – Nimbyism will cost the Tories new voters (James Forsyth)
The Telegraph – Gordon Brown urges 'middle Scotland' to stick with UK (Daniel Sanderson)
New Statesman – As Tony Blair warns that Labour could die under Starmer and the "woke left", is he planning a return? (Harry Lambert)
The Spectator – Inflation fears grow (Kate Andrews)
The Guardian – Last hope over climate crisis requires end to coal, says Alok Sharma (Fiona Harvey)
STAT OF THE WEEK
A rising "variant of concern"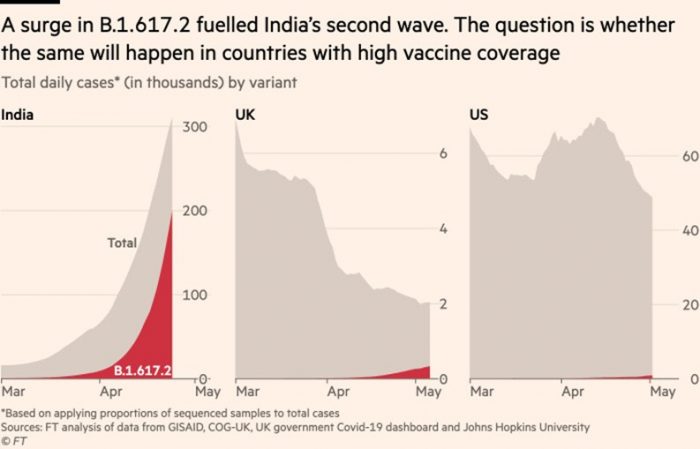 DRD Partnership is a strategic communications consultancy focused on building value for our clients and protecting their reputations at moments of challenge and change.
If you'd like to know more about us and our consultancy services, including our public affairs offering, please see our website: https://www.drdpartnership.com/ or drop us a line publicaffairs@drdpartnership.com. We'd love to hear from you.
Visit our website or LinkedIn page for more information about DRD Partnership.