The DRD Snapshot - 15 January 2021
15 Jan 2021
Welcome to DRD Snapshot, your essential guide to what you may have missed this week and what you won't want to miss next… such as travel bans in the UK.
SNAPSHOT
"Honestly, sometimes it's even bigger than this."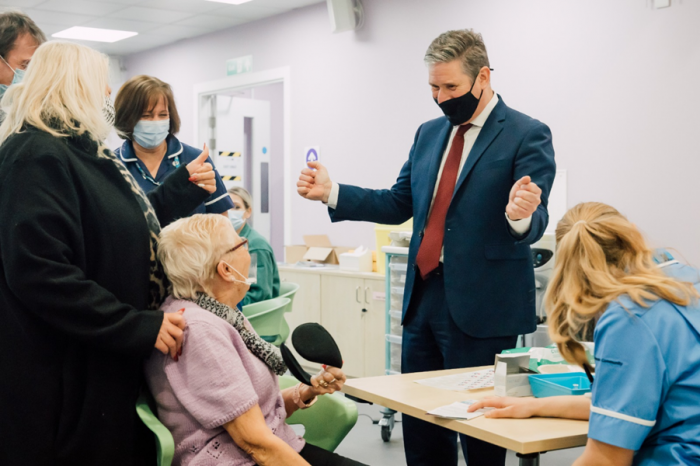 THE WEEK THAT WAS
Fronteiras Fechadas. Not one, not two, but three confirmed variants of Covid-19 have been identified in the UK with the latest originating in Brazil. It was unsurprisingly a hot topic at Wednesday's Liaison Committee, in which Boris gave evidence on the Government's handling of the pandemic. Chair of the Home Affairs Select Committee, Yvette Cooper, gave the PM a grilling about tougher border measures. She spoke for the wider public when questioning why stronger quarantine checks and rules hadn't been put in place. Cooper' s cross-examination seemed to have done the trick with UK-bound arrivals from South America, Portugal and Cape Verde banned from 4am today. As with the government's decision-making since this time last year, Snapshot fears it might be another case of too little, too late…
Broader questioning of the Government's management of UK borders continues to cause headaches for our beleaguered Transport Secretary. Still reeling from the abject failure of Test to Release's launch, Grant Shapps announced on Wednesday that the requirement for International arrivals to have a negative Covid test  scheduled to kick off today had been postponed until Monday morning. Another weekend of travellers entering into the UK without a negative test is exactly what the country needs right now. Feliz Ano Novo!
Freedoms down, Sturgeon up. In Scotland, Nicola Sturgeon further tightened lockdown restrictions from Saturday, limiting "click and collect" services, takeaway food, and banning outdoor drinking outright. In doing so, she has (again) stolen a march on the UK Government, with rumours swirling that similar restrictions could soon be afoot in England.
On Wednesday night, relations between Holyrood and Whitehall soured further. Sturgeon published a vaccine delivery plan which included details of how many doses the UK was expecting up until May. Within moments, the UK Government scrambled to reassure vaccine manufacturers that all was in order. Still the release of the confidential number is extremely embarrassing – according to a government source, "everyone in the world wants these vaccines, and if other countries see how much we are getting they are likely to put pressure on the drug firms to give them some of our allocation." After a remote ticking off from Michael Gove, the stable door was hurriedly closed but with the numbers already littering Twitter, the horse was long gone.
Sturgeon could have done with an emptier plate this week. She is at the heart of an inquiry into her Government's bungling investigation into sexual assault allegations against her predecessor, Alex Salmond. An unfavourable Judicial Review decision cited "apparent bias" and left Salmond in receipt of £512,000 of taxpayers' money for legal costs. Solero-inclined Salmond came out swinging, claiming Sturgeon "repeatedly misled" parliament during the investigation, made "wholly false" statements and breached the Ministerial Code. Ouch. Even Sturgeon's husband is facing suspension. Despite this somewhat 'eventful' week, an Opinium poll shows that Sturgeon is the only one of the four main UK party leaders with a positive approval rating! Snapshot thinks this says more about the competition…
When will it end? While the PM doesn't appear to be in a hurry, this week at least, to tighten any restrictions for England, the hope of a lockdown let-up by mid-February seems entirely unrealistic, even if the vaccination programme goes to plan. In the short-term, there's likely to be a tightening up on the stay-at-home message and according to Katy Balls, a draft advert being considered for publication reads along the lines of 'grabbing a coffee can kill.' Lovely. Scientific experts have, once again, stepped in to fill the silent void from No.10 on potential dates to look forward to. Deputy Chief Medical Officer Jonathan Van-Tam suggested the lockdown could remain in place well into spring while Professor Neil Ferguson reckons the measures could be in place until the autumn. Steve Baker and other CRG members are going to start shouting a lot louder in the days ahead.
Pulling no punches. Ahh, long gone are the amicable days of propping up the Conservative Party – on Wednesday, the DUP's Sir Jeffrey Donaldson secured an Urgent Question on the disruption to food supplies and other goods to Northern Ireland. Exchanges were heated to say the least. Ian Paisley brought questions to a close by pointing his order paper at the green benches opposite, and asking "what did we do, what did we do to members over there, to be screwed over by this protocol?" Yikes!
He was of course referring to the post-Brexit Northern Ireland protocol, which means that Northern Ireland is still bound by EU customs rules. To make matters worse, CEOs of six of Britain's top supermarket chains predict  "unworkable" supply issues for NI outlets if the full range of import checks goes into force on… April Fool's Day.
Groundhog Day? On 13th January, President Donald J Trump yet again made history for the wrong reasons. This time it was for achieving the unenviable award of first President to be impeached twice. The Donald now has 50% of all impeachments in US history – another one for the trophy cabinet. A sign of the times, this was the most bipartisan impeachment in history, with 10 Republicans joining the Democrats in the House. Nancy Pelosi must now decide when to deliver the articles of impeachment, but with the Senate out until 19th January and the 20th the date of Biden's inauguration, time is running out…
THE WEEK TO COME 
Return of the Rashford. Labour is expected to use Monday's opposition day to put pressure on the Government over free school meals, which shouldn't be difficult given the intervention of alternative PM Marcus Rashford earlier this week. He's one of a list of signatories who have written a letter to the Prime Minister calling for an urgent review of the free school meals policy. And that's not all. Labour is also set to push the Government to extend the emergency £20 weekly top-up to Universal Credit and Working Tax Credit payments, which is due to end in March. A government amendment to Labour's opposition day motion says the increase was only ever "temporary" and "just one of a range of measures the Government has taken to support vulnerable families." Does Snapshot sense another U-turn coming?
Worth a watch. Another very Northern Irish affair coming up – more fiery exchanges expected at Northern Ireland Questions on Wednesday, shortly followed by the NI Affairs Committee which is taking evidence on the work of the Secretary of State. Another committee session definitely worth a watch is the Treasury Select Committee which is taking evidence on the economic impact of Covid-19. In light of this morning's latest ONS stats, it's unlikely to be a particularly uplifting session.
Still a Special Relationship? On January 20th at 5pm (UK time), Joseph Biden will be sworn in as the 46th President on the United States. President Trump will not be attending. Westminster will be watching anxiously. Frequent comparisons and a perceived cosying up between Boris and Trump have sowed seeds of mistrust in the Biden Administration. On a personal level, Biden is outspokenly pro-EU, a united Ireland man and, to make matters worse, a Democrat-controlled Congress also has more pro-Irish and anti-Brexit leanings. British influence in the Capitol has further diminished due to the retirement of Rep. George Holding, who led the US-UK Caucus on the Hill and had strong links with the Republican Congressional leadership.
Snapshot heard from a British lobbyist in Washington who aims to promote US-UK ties, "I have no confidence of a US-UK trade deal getting through Congress… under Biden we are back of the queue." Congressional sources further told snapshot that the "elongated Brexit process had made Britain a laughing stock amongst political leaders and policy makers in Washington." Boris needs to rebuild a relationship with Washington and fast, as it becomes clear the UK continues to grossly underestimate its decline in influence. Tough times ahead!
WHAT YOU MIGHT HAVE MISSED 
Former health minister, Steve Brine MP told the Telegraph earlier this week that MPs and core house staff should be considered for priority in the vaccine queue after the most vulnerable have received it "so we can get our democracy back." Snapshot should state that Brine is pushing for teachers to be included in the priority group, but, even so, Brine's desire for MPs to be up next just might not be quite in touch with public opinion.
IN DEPTH
Labour troubles – key challenges for Starmer in the year ahead
In the second of our looks ahead for the party leaders, DRD Partner and former Labour adviser, Pete Bowyer takes a look at the key challenges and opportunities for Sir Keir Starmer through 2021.
It is well known that Keir Starmer was named by his parents after their own political hero, Keir Hardie, the founder of the Labour Party and the party's first MP. But speak to those in Sir Keir's orbit and the leader they like to draw parallels with more is Clement Attlee. Attlee, a famously modest, determined man, in contrast to Boris' showy cod-Churchill, nevertheless had the vision to lead the reconstruction of a new Britain post-war and deliver a landslide election victory in 1945. If that is the aim, Sir Keir still has a long way to go yet.
To read more, please click here.
WORTH A READ
The Telegraph – Schools unlikely to reopen after half term, warns education committee chairman (Catherine Neilan)
The Spectator – Steve Baker's warning for No. 10 points to the next Tory battle (Katy Balls)
The Scotsman – Scottish voters rewarding Nicola Sturgeon's handling of pandemic as Covid-19 sends votes to SNP (Conor Matchett)
The Times – Britain will protect trade with Northern Ireland, EU warned (Oliver Wright)
The Economist – Donald Trump's reckoning
STAT OF THE WEEK 
Struggling to keep our distance…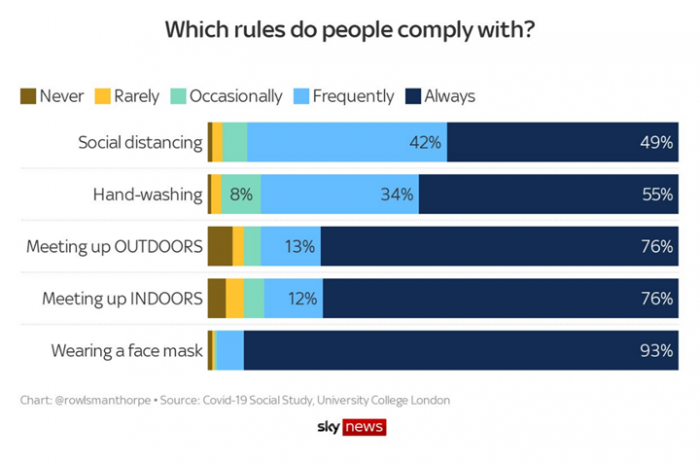 DRD Partnership is a strategic communications consultancy focused on building value for our clients and protecting their reputations at moments of challenge and change. If you'd like to know more about us and our consultancy services, including our public affairs offering, please see our website: https://www.drdpartnership.com/ or drop us a line publicaffairs@drdpartnership.com. We'd love to hear from you.