The DRD Snapshot - 16 April 2021
16 Apr 2021
Cosying up by the fire – Former PM David Cameron explains to Lex that this whole lobbying business isn't so complicated… Greensill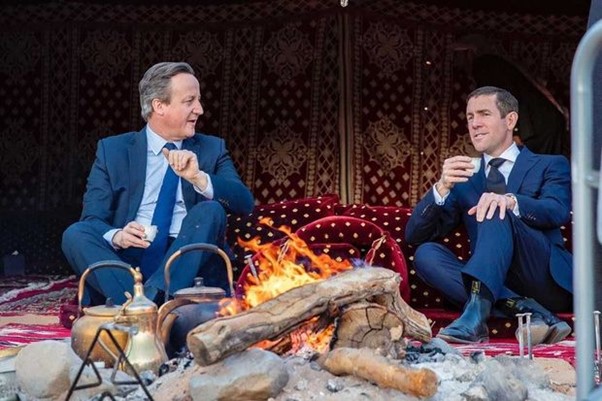 THE WEEK THAT WAS
Sleazy does it. Alongside the "bread" of pints and haircuts, this week did not hold back on "circuses," as the nation remained captivated by the ongoing scandal engulfing Greensill. David Cameron guaranteed his continued position in the spotlight by making a statement on a quiet Sunday, in which he implied that his only fault was not lobbying via more formal channels. Since then, the opposition has been trying, unsurprisingly, to turn the issue into an attack on the current government, and the Prime Minister hasn't missed the chance to present himself as a firm supporter of inquiries into the matter – of which there are now six! Despite being difficult to navigate, the Government must find some solace in the shift of attention towards the role of Civil Servants in the story: the scapegoating of Whitehall has been this Government's most consistent hobby horse.
Mandatory jabs? On Wednesday, the Government launched a five-week consultation on making Covid-19 vaccines for care home workers mandatory from summer. Health Secretary Matt Hancock said requiring a jab was "something many care homes have called for" but there's disagreement over the approach. The current plans would require care home providers to hire only vaccinated workers, but for a sector already struggling with recruitment, there are warnings that policy might "backfire". Nationally, just under 80 per cent of care home staff have been vaccinated – in London, that figure drops to two thirds. In the borough of Lambeth, where a care home is at the centre of an outbreak of the South African variant, only half of care staff are vaccinated. Unions have warned the "ill thought-through" plans won't work, and the Equality and Human Rights Commission said that the introduction of Covid certificates risks creating a "two-tier society".
"Westminster sovereignty." The UK Government's decision to refer two pieces of legislation passed by Holyrood, on children's rights and local government, to the Supreme Court is a further wobble for the Union's stability. The Government claims to have legitimate concerns about the scope of the legislation because it may impose legal responsibilities on not just the Scottish government but UK ministers too. That may well be true, in which case this is just the latest in Boris Johnson's government tackling a few thorny constitutional questions head-on. The timing, however, is curious. While the UK Government does not set Holyrood's legislative timetable, it is not hard to discern a political element to the legal challenge, coming as it does just weeks before Scotland's May elections. Putting devolution front-and-centre just before the election may seem sensible from No 10's perspective, but it is unlikely to help the Scottish Tories, whose leader was this week forced to defend the legal challenge – despite his party voting for the legislation in the Scottish Parliament.
THE WEEK TO COME 
Operation Forth Bridge. On Saturday, Prince Phillip's funeral will take place in Windsor Castle. Only 30 guests will be allowed to attend, but the four-hour ceremony will be covered live by the BBC, ITV, and Sky. With some changes necessitated by the pandemic, the arrangements are broadly consistent with the Duke of Edinburgh's own scrupulous instructions for the event. An elegant solution was found to the dilemmas of Prince Harry's loss of honorary titles and Prince Andrew's demands to appear in the Admiral uniform, despite never being promoted to the rank. Instead of the military attire, the royals will wear morning coat with medals or day dress. The Queen will sit alone.
Back on the campaign trail. After a Royal-induced hiatus, campaigning resumes next week for local elections. In London, the mayoral election continues its sleepwalk to a presumed-Khan victory. Our only hope is that Count Binface can inject some life into the final stages of the campaign. Failing that, we anticipate some further interventions from Boris Johnson in the weeks to come, protective as he is of his former office and well-known for his dislike of its current occupant. North of the border, the Scottish Labour Party's struggle for relevance was highlighted this week by the SNP's announcement of a trial four-day working week. Nicola Sturgeon seems happy to cop flak for not placing Independence front-and-centre of her campaign (one assumes most voters know what the 'N' stands for) and to instead cannibalise Scotland's progressive-minded voter pool. Scottish Labour remains a distant third in most polling, which may help explain new leader Anas Sarwar's unusual pitch that Scotland deserves "a better government and a better opposition". Campaigning to become government – or being content just to become the lead opposition party – is something of a sad indictment of the state of the Scottish Labour party and does not bode well for its fortunes.
Committee Corridor. On Monday, the Treasury Select Committee will take evidence from National Audit Office Directors as part of its ongoing inquiry into the economic impact of Covid-19. The Committee is now in stage three of its inquiry, which focuses on the coronavirus response and some of the long-term implications of the challenges and opportunities of the "new normal". The Government will no doubt be relieved by the ONS' latest figures, showing some signs of confidence returning to the market. On Wednesday, against a backdrop of ongoing pockets of violence, the Northern Ireland Select Committee will take evidence about Brexit and the Northern Ireland protocol. Immediately after that, Northern Ireland questions will take place in the Commons – the "productive" and "constructive" talks between the UK and EU need to find a solution, and fast.
WHAT YOU MIGHT HAVE MISSED 
Time for a comeback? Dr Phillip Lee, the former Conservative MP who grabbed headlines when he defected to the Liberal Democrats during a speech by the Prime Minister (and resulted in Johnson losing his then working majority) is eager get back to Parliament. The GP is standing as the Liberal Democrat candidate in the Amersham and Chesham by-election, following the tragic death of his former Conservative colleague, Dame Cheryl Gillan, who served the constituency for almost 30 years.
IN DEPTH
One to Watch – Dan Rosenfield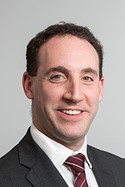 Dan Rosenfield is Boris Johnson's Chief of Staff, appointed in the aftermath of Dominic Cummings and Lee Cain. Brought up just outside Manchester, Rosenfield attended Manchester Grammar School before spending a year in Israel on a Kibbutz. He studied German at University College London and rose rapidly through the ranks of the civil service, spending 12 years at HM Treasury, working as principal private secretary for Labour Chancellor Alistair Darling and Conservative successor George Osborne.
Given how prominent Cummings and Cain were, you might wonder why you've not heard much about Rosenfield, or why Johnson appointed him in the first place. There was plenty of speculation that Eddie Lister's replacement would be a Tory MP or long-serving special adviser but Rosenfield's appointment was thoughtful – he's not political or ideological. He isn't there to provide or influence policy, but to exercise administrative grip. Former boss, George Osborne said he was "exactly what this Downing Street needs. He's highly capable, street-smart and knows how to get things done. One of the ablest public servants I was lucky enough to work with." Conservative MPs hoping to influence Rosenfield may be summarily re-directed to Johnson's Political Secretary, Ben Gascoigne.
While little known, this safe pair of hands is likely to make a bit of a name for himself in the months to come, particularly as the November COP26 summit draws nearer. He's got some experience in this area. After London won the bid for the 2012 Olympics, he led the Treasury team responsible for putting the £9.3 billion budget together. This is another opportunity for that kind of feel-good 'boost' – keen to move beyond Covid, and also to prove that environmentalism is at the very core of his 'global Britain' agenda, Johnson will be relying heavily on Rosenfield's expertise. While not likely to become quite as infamous as Cummings (no doubt, to his, and everyone else's relief) expect to see and hear more about Rosenfield in the months to come.
THUMBS UP / DOWN

 Drinks sales!

 Home Secretary
WORTH A READ
The Guardian – Rapid Covid testing in England may be scaled back over false positives (Josh Halliday)
The Spectator – The green games: The Prime Minister's big plan to rebrand Britain (Katy Balls)
Politico – 'Project Love' 'Äî Boris Johnson's plan to save the union (Emilio Casalicchio)
Financial Times – UK makes cars and whisky key targets in push for India trade deal (George Parker, Nic Fildes and Stephanie Findlay)
The Economist – Brexit has reinvigorated Scottish nationalism (Matthew Holehouse)
STAT OF THE WEEK
The wonders of a vaccine boost!

DRD Partnership is a strategic communications consultancy focused on building value for our clients and protecting their reputations at moments of challenge and change.
If you'd like to know more about us and our consultancy services, including our public affairs offering, please see our website: https://www.drdpartnership.com/ or drop us a line publicaffairs@drdpartnership.com. We'd love to hear from you.
Visit our website or LinkedIn page for more information about DRD Partnership.