The DRD Snapshot - 16 July 2021
16 Jul 2021
Welcome to the DRD Snapshot, your essential guide to what you may have missed this week and what you won't want to miss next… .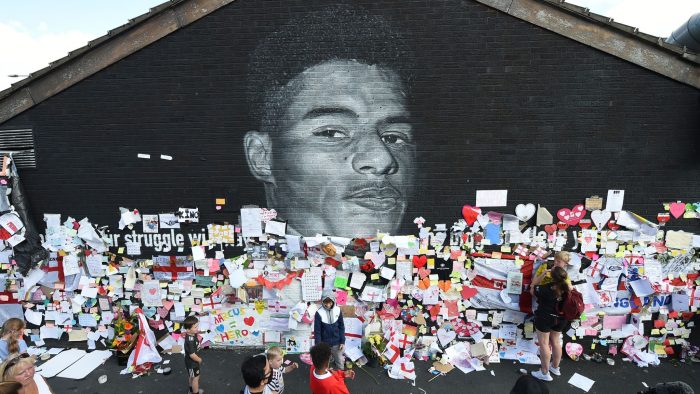 Kick it out. On Monday, three young England football players woke up to a torrent of racist vitriol online, because they kicked a bag of air a few inches away from where people would have liked them to. The PM was quick to condemn the "appalling" abuse, announcing banning orders for any perpetrators. But in a bruising PMQs, Labour accused him of "stoking a culture war" by resorting to passive language rather than condemning those who boo England players 'taking the knee.' Home Secretary Priti Patel, who also condemned the abuse, had previously described the 'taking the knee' as "gesture politics," which left England defender Tyrone Mings incandescent: "You don't get to stoke the fire… then pretend to be disgusted when the very thing we're campaigning against, happens." Patel herself was then subjected to a flood of racist attacks online. All this in a week when an independent report described racism as "systemic" in England and in breach of a UN convention, with MI5 warning that "toxic" racism is fuelling a growing threat from the far right.
Berry goes sour. Both co-leaders of the Greens resigned within the last two weeks, giving the party time to grow new leaders ahead of the next election. On Thursday, Si√¢n Berry announced that she will not be in the contest to keep her seat at the party's September leadership election, which had been put forward by a year. Her resignation – which will be delayed until Autumn – gives us a glimpse into the life at the margins of British parliamentary politics, and it turns out that it isn't all smiles and consensus. Berry cited the party's division on trans rights as the reason for her departure, emphasising her dismay with the choice of front bench representatives, a clear hint at the appointment of the former Green deputy leader Shahrar Ali as the spokesperson for policing and domestic safety. The progressives' worst enemy in this case is democracy – internal contradictions become nearly impossible to work through when policy direction is decided on a one-person-one-vote basis.
   Rishi's raid on aid: At first glance, it's hard to see who won from this week's vote on foreign aid. Certainly not the starving kids who the 0.7% of GNI would have gone to. Nor too, the Prime Minister, whose international standing is depleted in the runup to COP26 and who nearly suffered a high-profile rebellion of his own MPs. But politics has many layers, and Chancellor Rishi Sunak is always near the top of them. In a sly move, the Chancellor has planted himself firmly on the side of fiscal conservatism by linking the calls for more spending on aid to a resulting need for tax rises. With calls for spending on social care, education and green initiatives piling up, Sunak will be happy to have won some friends on the backbenches by marking a clear contrast with his neighbour in No. 10.  In the months and years to come, there may indeed be one winner from the vote.
THE WEEK TO COME 
Wish it away: The Government's wish-it-away approach to Covid ramps up next week, with most rules due to end on 19 July. New Health Secretary Sajid Javid has taken a more hawkish approach to Covid regulations than his predecessor who, as we now unfortunately know, was privately all about social contact. It remains to be seen quite how the economy will hold up over the summer – Javid has cautioned that there could be as many as 100,000 cases per day. Already, it's estimated that 1.6 million [BW1] people in England alone were pinged by the covid app in the last week. As Parliament prepares to head into its summer recess (more on that below), the Prime Minister will be delighted to have learned that MPs will be allowed to cram into the Commons for its first full capacity session of PMQs next week for the first time since early 2020. That provides him with the chance to send his MPs off on their summer breaks on a high. Failing that, he may well wish to reinstate social distancing – if only to steer clear of his MPs over the summer.
 Londonderry INTL: As the country prepares to open up, Northern Ireland's temporary "vaccine passport" system is experiencing high demand, with its full vaccine certification system on track to be up and running by Monday 19th July. The NI Department of health is working through the weekend to deliver the system that will allow people to show they have had two doses of the vaccine and that will be instantly available when launched. This comes as those who are fully vaccinated in the Republic of Ireland, are being sent documents with QR codes as proof of their double-doses as the Republic becomes the last EU country to implement the EU Digital Covid certificate, also set to come into effect on Monday. In the UK, you can download your Covid vaccine passport through the official NHS app. Perhaps the NHS Covid app can't handle the inclusion of vaccine passports as it works hard generating a new 'pingdemic'.
  School's out for summer – Next week Parliament rises for Summer Recess and won't sit until early September. I'm sure nobody will mourn the loss of the rather stale PMQs, or the socially distant Parliament which plans to end next week. Instead of MPs shuffling along in masks, they'll be working in their constituency doing the really important work on the ground, like attending school fetes or watching local choirs perform in parks. Some MPs may even be lucky enough to go on a staycation or two, given the ever-changing traffic light system for international travel. Don't start crying yet! We have one more Snapshot ready for you next week filled with our hot takes before we take our summer break too. Snapshot (and Parliament) will be back before you know it.
WHAT YOU MIGHT HAVE MISSED 
   Noblesse oblige? Seismologists may have detected some unusual movements in the grave of a certain left-wing firebrand this week. On Monday, older Guardian readers collectively spat out their cornflakes at the news that the Viscount Stansgate, son of Tony Benn, was elected to the House of Lords in a by-election of hereditary peers. Stephen Benn assumed the Viscountcy famously renounced by his father upon the latter's death in 2014. As if to underline the dissonance, he stood unopposed and not a vote was cast. Viscount Stansgate is a Labour member and director of parliamentary affairs at the Royal Society of Biology, who promises to "develop the relationship between science and parliament." A Conservative peer offered him a kind welcome: "If he serves the Lords as well as his father served his constituents then he will be a very respected member."
IN DEPTH
Divided Union – the upcoming election for Unite's next General Secretary
DRD Partner and long standing Unite trade union member, Pete Bowyer takes an in-depth look at this year's forgotten, but critical, election for the new General Secretary which is to be declared on 26 August.
You could easily be forgiven for missing it, but the most important election of 2021 has just got underway: the ballot to be the next General Secretary of the behemoth Unite trade union which may well prove pivotal to British politics over the next few years. To read more click here.[BW2]
THUMBS UP / DOWN
WORTH A READ 
The Spectator – The rule of law is breaking down in the EU
New Statesman – France's silent majority: How a political class was left behind
The Guardian – Young mental health referrals double in England after lockdowns
The Economist – Achieving net-zero carbon emissions will be eye-wateringly expensive
Reaction – Levelling up: embarrassed Tories admit big idea may be just Boris hokum
STAT OF THE WEEK
The 'pingdemic' is in full flow as we head into our so-called 'Freedom Day'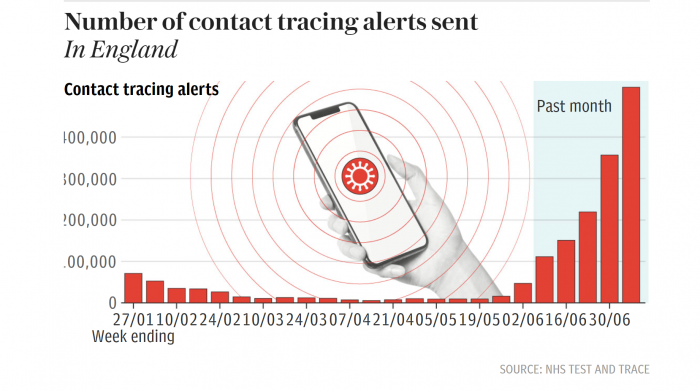 DRD Partnership is a strategic communications consultancy focused on building value for our clients and protecting their reputations at moments of challenge and change.
If you'd like to know more about us and our consultancy services, including our public affairs offering, please see our website: https://www.drdpartnership.com/ or drop us a line publicaffairs@drdpartnership.com. We'd love to hear from you. 
Visit our website or LinkedIn page for more information about DRD Partnership.
Racism Freedom Aid Racism Freedom Aid Racism Freedom Aid Racism Freedom Aid Racism Freedom Aid