The DRD Snapshot - 17 September 2021
17 Sep 2021
THE WEEK THAT WAS
Reshuffle 2: Electric Boogaloo: What a whirlwind Wednesday was in Whitehall. The major winners included new Foreign Secretary, Liz Truss, as well as Nadhim Zahawi and Nadine Dorries who were both promoted to the upper echelons of the government as Education Secretary and Culture Secretary, respectively. After early flurries, Big Ben chimed 3pm and the stage was set. All roads led to Raab. The former Foreign Secretary lost his job but somehow gained three further positions as Lord Chancellor, Justice Secretary and crucially, Deputy Prime Minister. The press pool watched on baffled, unsure whether Raab had been demoted or promoted… not to mention that his new roles raise serious concerns for the separation of powers. The losers from the reshuffle are clear, with Gavin Williamson, Robert Jenrick and Robert Buckland witnessing their political capital dissipate before their eyes. Drama aside… this reshuffle is about looking forward, eliminating (or at least relocating) scandal and controversy, giving the Prime Minister a clean run up to the 2024 General Elections with a fresh team, which can build momentum, buoyed by new challenges. Those departing were likely to place a dead weight on polling for the PM, with their public images shackled by errors over Afghanistan or the mistaken identity of Marcus Rashford and Maro Itoje, to name a couple.
Channel Yellow: Today marks the first day of the Liberal Democrats' virtual party conference. This rather dry option comes off the heels of the news that membership has fallen by 27%, according to internal documents seen by the PA news agency. The London Evening Standard reported that "some members said the fall was due, in part, to the party vocally opposing now-ditched planning reforms during the by-election in Chesham and Amersham" back in June. Poor Ed Davey, not only does he have to deal with a boring virtual conference when most of the world has gone back to crowded public transport and mask-less shopping, but he also must bear the responsibility of being less popular than Jo Swinson. It is hoped by senior Lib Dems that their new strategy of focusing on "Blue wall" seats, will work in their favour as voters who usually back the Conservatives will turn on Johnson for breaking his manifesto commitments.
AUKUS defence and security pact: The UK, US and Australia announced a historic security pact in the Indo-Pacific, dubbed AUKUS, which will see sensitive nuclear technology shared with Australia to use nuclear-powered submarines to promote stability in the Indo-Pacific. Whilst China was not mentioned by heads of state, the AUKUS alliance embarks at a time when Chinese military expenditure is at a high-water mark and regional security is far from realisation. This should not be mistaken for posturing, however. Practically, these submarines are harder to detect, move faster, stay submerged from months at a time, carry more missiles and can fire them further. They offer AUKUS an important tool in countering Chinese expansion in the Indo-Pacific. The line from the FCDO corridors of power on King Charles Street is that this is part of a 'tilt' (not a 'pivot', crucially, not a pivot) to the Asia-Pacific and follows the passage of the QE2 carrier tens of miles from the disputed Spratly and Paracel Islands in July and August. Predictably, Beijing labelled AUKUS as "extremely irresponsible" and alleged that it undermined nuclear non-proliferation efforts. It was France, however, which threw it's toys out of the pram, after Australia turned it's back on the purchase of its diesel submarines.
THE WEEK TO COME 
Biden his time: To celebrate this new spirit of accord (and perhaps annoying the French), Boris is off to the White House next week. The invitation from President Biden will be the PM's first trip to 1600 Pennsylvania Avenue, after cancelling a previous invitation after bickering with Trump (scarcely believable). Conscious that he has waited longer than any other post-war PM for his White House photo op, Downing Street officials had been furiously lobbying for a meeting at the UN General Assembly, also taking place in the US next week. They have their wish but whether it's anything more than a photo op remains to be seen. While the PM may be keen to recalibrate relations after the Afghanistan debacle, Biden has made little secret of the fact that his and Boris' relationship is far from 'special.' Defence, security and climate change are certain to be on the agenda but some commentators say Biden would be wise to use the summit to tighten the screws on sustaining the Northern Ireland protocol – a recent transatlantic cause cél√®bre and an timebomb which may not tick forever.
Our best shot?: On Tuesday, the Prime Minister announced his Covid plans, as concerns rise about infection rates this winter increase. The plans included booster jabs for those who were vaccinated in Phase 1 of the rollout, and plans for a school-based vaccination programme for children aged 12-15. The Chief Medical Officers decision to recommend a single dose of the vaccine comes after the return of schools led to an uptick in cases among younger age groups. However, the decision is not without controversy. The decision goes against the advice of the Joint Committee on Vaccination and Immunisation (JCVI), who recently decided not to recommend the vaccination to that age group, concluding that it would only provide a marginal health benefit. Chris Whitty and his CMO counterparts said that it had been "difficult decision" but decided that reducing the mental health risks from missing classes tipped the balance. Whatever the reasoning, the debate over the risks and benefits of giving the children the vaccine is likely to continue both in government, amongst parents and with children.
Recess return: Next week Parliament goes on yet another extended break as it heads for conference season. The month long gap coincides with both the Labour and Conservative conferences, with both having in-person events for the first time since the pandemic began. At this point I'm sure you're worried about missing your weekly Snapshot fix, but don't get the tissues ready yet! Snapshot will be with you each step of the way covering the big stories and political faux pas taking place at conferences over the next few weeks. The team will be travelling to sunny Brighton and (not so) sunny Manchester and will be back to our normal hub in London ready for the return of Parliament on 18th October.
WHAT YOU MIGHT HAVE MISSED 
Red Len's red rage: This week Len McCluskey, the former General Secretary of Unite wrote in the Guardian about his distrust of Keir Starmer, adding to the large amount of criticism already surrounding the Leader of the Opposition in his first 18 months in the role. Red Len's gripe with Keir this week comes from the suspension of Jeremy Corbyn from the Labour Party in 2020. McCluskey claims that Starmer agreed in a private conversation with other leading figures on the left that if a deal was reached, Corbyn's suspension could be lifted. When it came to publicly acknowledging this option, Starmer's team flatly denied this. Of course, this follows on from a pattern of Keir being called out for lying and misrepresenting situations. Not a great look from someone hoping to be seen as a better option than Mr. Johnson. A man with a dedicated website collecting his fibs over time. Maybe Keir is hoping for his own digital scrapbook of porky pies, or even better a jazzy TikTok or podcast.
IN DEPTH
ONE TO WATCH
Mark Harper MP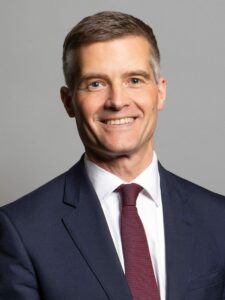 With the never ending COVID-19 saga, you'd be forgiven for assuming that those who are more opposed to extensive testing and lockdowns would have piped down since July. But alas, Mark Harper MP will not go down without a fight. He has been in the news this week following the reveal of the Autumn and Winter Plan 2021 for fighting Covid. As the Chair of the Covid Recovery Group he is not impressed with the vaccine passport reserve plan. "They shouldn't be kept in reserve – they are pointless, damaging and discriminatory," he tweeted.
Harper has been the MP for Forest of Dean since 2005. During his parliamentary career he has served as Chief Whip of the House of Commons following the 2015 general election; before being sacked by incoming Prime Minister Theresa May in 2016. Harper was a candidate for Leader of the Conservative Party in the 2019 leadership contest.
Harper has called for dropping Covid testing for children who do not have symptoms. His view is that "we should not be regularly testing children who do not have symptoms, only those who do have symptoms,". His interjections in Parliament and dedication to preventing a future lockdown have made him incredibly popular with other lockdown-sceptic MPs and with the broader anti-lockdown community on Twitter. His emoji-heavy tweets receive thousands of engagements and replies in support of him.
With rumours spiralling regarding a potential October firebreak lockdown, Mr. Harper and his community will only become louder in the name of freedom.  With his growing online presence and the disgruntled backbenchers behind him, Mark should be one to watch as one of the loudest voices in Parliament using his platform to get his message across to an audience bigger than his constituency. For now, he may be using his platform solely as a soft power push for anti-lockdown and anti-vaccine passport issues, but who knows what the future holds and what his online community could mean for his political future…
THUMBS UP / DOWN
WORTH A READ
The Spectator – Aukus is a disaster for the EU
New Statesman – Sajid Javid holds Boris Johnson's fate, and the torch of Thatcherism, in his hands
Politico – Ursula von der Leyen or Nicki Minaj: Choose your fighter
The Economist – British people have become startlingly less xenophobic
The Guardian – The Guardian view on Boris Johnson's cabinet: new faces, not a new direction
STAT OF THE WEEK
The generational divide in the NHS widens…

DRD Partnership is a strategic communications consultancy focused on building value for our clients and protecting their reputations at moments of challenge and change.
If you'd like to know more about us and our consultancy services, including our public affairs offering, please see our website: https://www.drdpartnership.com/ or drop us a line publicaffairs@drdpartnership.com. We'd love to hear from you.
Visit our website or LinkedIn page for more information about DRD Partnership.