The DRD Snapshot - 19 February 2021
19 Feb 2021
If only Sir Keir could land on something…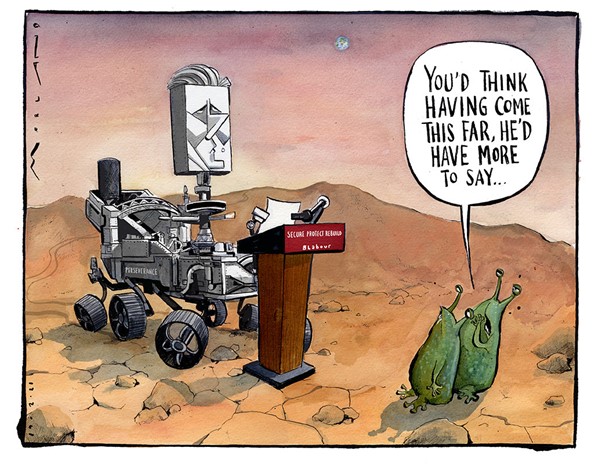 THE WEEK THAT WAS
A new chapter for Britain. After some criticism about his leadership and direction of the party in recent weeks, Keir Starmer was under immense pressure to deliver a clear and strong vision for Britain yesterday. He harked back to post-war years, and the country's "collective sacrifice" to "lead to a better future." He acknowledged that it had been difficult for the opposition to hold the Government to account at the height of a pandemic, but against the backdrop of the upcoming budget he said he wanted to leave behind "this insecure and unequal economy". The biggest headline grabber was the proposed "British Recovery Bond" that Starmer said could raise "billions" to invest in local economies, infrastructure, science, skills, technology and manufacturing. He claimed a Labour government would offer people a savings account with the government at a competitive interest rate providing security for savers and giving "millions of people a proper stake in Britain's future." He also proposed start-up loans for 100,000 new small firms, particularly for those businesses in areas outside the South-East. Although most Labour MPs seemed reasonably content with his performance, critics on the left of the Party need more convincing. Andrew Scattergood, co-chair of Momentum, said Labour "can't win by promising to be better managers of the same system." Meanwhile, Amanda Milling MP, Conservative Party co-chair, accused Labour of stealing Tory policies: "all Labour has to offer is others' ideas, empty rhetoric and calling for things the government is already doing."
Return of the Dom. Again. In March last year, the Cabinet Office gave Public First, a small PR firm, more than £500,000 for public relations and opinion research during the first lockdown. The Good Law Project, a not-for-profit crowdfunded legal campaign, launched a legal challenge to the contract last summer, fending off several attempts by the Government to have the judicial review dismissed. Campaigners claim the contract was awarded "on a handshake", only formalised retrospectively, and was given to the company without a formal tendering process or advertisement. Then in November, the National Audit Office (NAO) released a report which found that politically connected firms had been given priority access to contracts during the pandemic. The Government argue its procurement regulations allow for services to be awarded in "circumstances of extreme emergency". Former Downing Street aide, Dominic Cummings provided a written statement to the Court, saying that although he was "friends" with the company's founding directors, he had not recommended them for that reason. He claimed there had been "no time" to follow usual procurement rules, and the work was "crucial" to the government's early pandemic response. According to Cummings, he had recommended the firm because he knew the company was "very good" at running focus groups, and he could "rely on them to make an extra effort". A date for the ruling hasn't yet been set.
Not going so smoothly. The long-awaited hotel quarantine scheme, which requires arrivals from 33 countries to quarantine in designated hotels for 10 days, came into effect on Monday. By day one, there was already criticism of the scheme. According to the Times, travellers from the "red list" can freely mix with other passengers on planes and in airports. Heathrow, the UK's busiest airport, had already warned of five-hour queues at passport control, and on Sunday the airport described the situation as "totally unacceptable". Although there are designated "red list" lanes for passengers at Heathrow Airport, nothing is in place to prevent passengers mixing on arriving aircrafts or in the terminal building before they reach the border gates. Despite calls from the opposition, the Government does not look set to follow Scotland's lead in forcing all arrivals to quarantine. What do the Great British public make of it all? Well, it's not great for Hancock – see our 'stat of the week' below!
Global Britain. Prime Minister, Boris Johnson will host his first virtual meeting of the UK's G7 presidency this afternoon. It's the first gathering of G7 leaders since April 2020 and will bring world leaders together to discuss how they can work together to prevent future pandemics and ensure fair distribution of vaccines. The Government announced a plan overnight to give the majority of surplus vaccines to developing countries via Covax. The meeting will last for two hours (mostly in private) so there will be plenty of other issues on the agenda, including climate change and protecting nature, and economic recovery post-pandemic.
State of the Union. Lockdown in Wales has been extended by at least another three weeks in a bid to get its youngest pupils safely back into school from Monday. Children aged between three and seven will be back in classrooms from next week, along with some vocational students in colleges. For everyone else, the stay-at-home message remains in place, until at least mid-March. In Scotland, Nicola Sturgeon has said any easing of lockdown will be gradual and is due to unveil her plans next week. Northern Ireland's lockdown has been extended to 1 April, but primary-age children will return to school from 8 March.
THE WEEK TO COME 
Unlock! On Monday, the Prime Minister is set to reveal the most eagerly anticipated announcement to date – the UK's roadmap out of the pandemic. A recent blueprint seen by Sky News suggests speed is at the essence of the plan, and the Government is going to act quickly to restore a degree of normality back to UK life. Schools are expected to re-open on 8 March with shops and universities following at the start of April. Raise a glass – the blueprint suggested that hospitality and leisure will open at the end of April (no detail has been given as to whether this will be limited to outdoor facilities, though it does seem clear that scotch eggs will no longer be a requirement!). At the start of May, it is anticipated that fans will be able to return to sports and entertainment events. Though there's increasing speculation that rapid testing will be required for mass gatherings. Of course, this is all just speculation, and some are even suggesting that definitive dates will not be revealed at this stage – hence Johnson's whole data not dates focus. Your best bet? Tune in on Monday!
Back to business. Parliament is back from its February recess on Monday. The main focus will, of course, be on the Prime Minister's unlock plan (more on that below) and MPs will also be looking ahead to the Budget, coming up on 3 March. However, there's plenty going on in Select Committees next week. On Tuesday, the BEIS Committee is taking evidence on "Businesses and Brexit preparedness", and in a similar vein, on Wednesday, the Northern Ireland Affairs Committee looks at "Brexit and the Northern Ireland Protocol". Later that day, the Health and Social Care Committee meets to discuss "Workforce burnout and resilience in the NHS and social care". Health Minister, Helen Whately MP is up before former Health Secretary, Jeremy Hunt.
Salmond's up. The Holyrood inquiry into the Scottish government's handling of the Alex Salmond assault allegations has agreed to publish the former first minister's submission to the inquiry, in which he accuses his successor, Nicola Sturgeon, of misleading parliament. The inquiry committee had originally refused to publish the submission, citing legal concerns, but the Scottish Parliament's corporate body ruled on Thursday afternoon that "on balance it is possible". Salmond previously said he wouldn't appear at the inquiry unless it was published – he's been invited to give evidence next Wednesday. Popcorn at the ready.
WHAT YOU MIGHT HAVE MISSED 
Out with the Gove, in with the new. Yesterday, the Prime Minister stripped Michael Gove of his role overseeing Britain's future relationship with Europe and replaced him with Lord Frost, who negotiated last year's Brexit deal. Frost will have a seat in Cabinet and take over all responsibility for dealings with Brussels. Opponents accuse Johnson of "side-lining" Gove. Papers were full of stories about power struggles (who knew) within Downing Street, resignation threats and frustration at Gove's recent handling of the issues with the Northern Ireland Protocol – apparently Frost reckons Gove should've been more robust. What does this mean for Michael Gove then? Well, he's been appointed Chair of a new sub-committee on public services – tasked with looking at how Whitehall can clear the backlog in areas like criminal justice and reform, education, and the NHS. He also remains Chancellor of the Duchy of Lancaster so will continue to lead on the Union and chair Covid-O meetings… but could he be destined for greater things? Don't be surprised if he bags a decent Cabinet role in the summer reshuffle!
IN DEPTH
Retail's 3 R's: Reopening, Recovery, Resilience
Ahead of the Prime Minister's announcement on Monday, DRD Partner and Chief Executive of the Association for International Retail (AIR), Paul Barnes, shares his insight about what's in store for the retail and hospitality sectors in the coming weeks and months. 
As a retailer, there's only one thing worse than closing your business for a national lockdown… And that's reopening, only to be forced to close up shop again a few weeks later for another national lockdown. As a result, retailers and hospitality business owners will be waiting with some trepidation to hear what Boris Johnson has to say about the ending of the current restrictions, when he presents his government's plans next Monday.
To read more, click here.
WORTH A READ 
New Statesman – Keir Starmer has an economic policy. What he doesn't have is a strategy (Stephen Bush)
Financial Times – Sunak delays business rates review until autumn (George Parker, Jonathan Eley and Sebastian Payne)
The Spectator – It is time to make friends with the EU (James Forsyth)
The Times – David Frost to take 'more assertive stance' on EU than Michael Gove (Steven Swinford, Oliver Wright and Bruno Waterfield)
The Guardian – U-turns have kept the Tories in power, but eventually they'll run out of road (Andy Beckett)
STAT OF THE WEEK
Seal of approval for the Scots
72% of Brits prefer the Scottish quarantine rules for travellers, whereby all arriving to the UK have to quarantine in a hotel. Just 18% prefer the current system in England.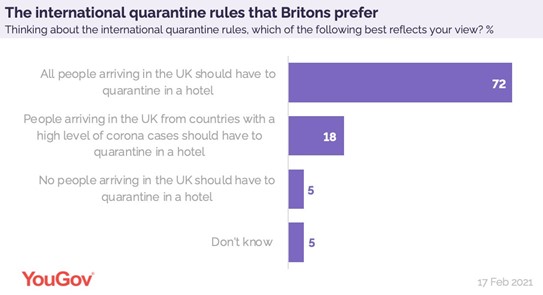 DRD Partnership is a strategic communications consultancy focused on building value for our clients and protecting their reputations at moments of challenge and change.
If you'd like to know more about us and our consultancy services, including our public affairs offering, please see our website: https://www.drdpartnership.com/ or drop us a line publicaffairs@drdpartnership.com. We'd love to hear from you.