The DRD Snapshot - 21 May 2021
21 May 2021
Welcome to the DRD Snapshot, your essential guide to what you may have missed this week and what you won't want to miss next…
Tom mix, it's number six!
Dame Eleanor Lang draws the Private Members Bill ballot.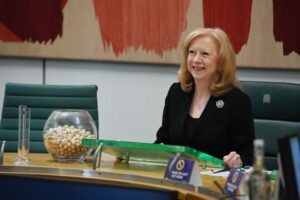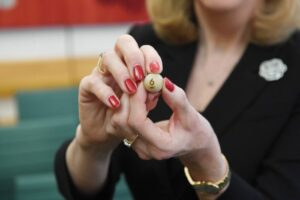 Source: UK Parliament / Jessica Taylor
THE WEEK THAT WAS
Clear as mud. As indoor socialising returned this week, and Brits flocked back to their locals to enjoy a pint, without requiring six layers of clothing (May, sort yourself out) the hope of full normality returning on June 21 was cast into doubt. The announcement due next week on the end to social distancing rules was pushed back so that experts could "reassess the situation". Unsurprisingly, the press lost their minds, the opposition, armed with the NAO report on the Government's pandemic response, accused it of ­another slow response. Coverage made for pretty grim reading Рthe Times said that contingency measures have been drawn up in case the Indian strain does spiral Рlocal lockdowns based on the old Tier 4 restrictions could be brought make a return in affected areas. However, by the middle of the week, the tone was more positive. Despite a 160 per cent increase in Covid cases last week, the vaccination programme is keeping hospitalisation rates fairly flat, and variant transmissibility does appear lower than initially thought. The PM told the 1922 Committee that he "will move heaven and earth to stick to that date" of June 21. The media gloom is looking up, though the Guardian warns that while the next proper data comes next week, we may not get anything in terms of the decision on the roadmap until June 14. Perfect timing then to find another "triple mutant" strain in Yorkshire. Lovely.
Fair Trade or Free Trade? The Brexiteers spent the week trying to figure out what free trade looks like, despite spending years telling the country how great it was. On the one hand, there was International Trade Secretary Liz Truss, apparently supported by the Prime Minister, advocating a zero-tariff, zero-quota agreement with Australia. On the other, Defra Secretary George Eustice and his predecessor Michael Gove (remember his role in campaigning for a post-Brexit Global Britain?) have apparently been pushing back against a pure free trade agreement on the spurious grounds that doing so would undermine British farmers, in particular those in Scotland, and therefore threaten the Union. Pure liberals, as they supposedly are, should be championing both the right of consumers to secure the best products at competitive prices and local farmers' ability to compete and innovate in a global marketplace. It seems that notwithstanding Brexit, it's still perfectly possible for Britain to retain a fortress mentality.
On the right tracks? Yesterday, the long-awaited Shapps-Williams Plan for Rail was published. It introduces a plan for a public body that will work similarly to Transport for London. Great British Railways (very original!) will have a number of responsibilities, including setting timetables, fares, and running the network itself. However, this is not the re-nationalisation that many (Labour) had hoped for, as contacts will still be offered to the private sector to operate the trains themselves. So, franchises are out, but contracts are in. So, what does all of this mean for the passenger? Well, the review suggests it will make passenger experience better – no more late trains (Snapshot remains sceptical), better trains, and a more streamlined service in general. However, the reaction from the rail industry was mixed. The train driver's union, ASLEF, suggested that the lower fares would mean cuts in services. Others pushed once again for re-nationalisation, arguing the review did not go far enough. It will be interesting to see how successful these plans will be in reforming the railways, but don't hold your breath for a timely change. This one is here for the long haul.
THE WEEK TO COME 
Committee Corridor. Another busy week lies ahead in Parliament. The Transport Committee will meet on Wednesday to discuss the Williams Rail Review, the government's plan to transform Britain's railways was announced on Thursday 20th May. Another one to watch this week is Thursday's Treasury Committee meeting on Greensill Capital. After David Cameron's appearance before the Treasury Committee last week and the Financial Conduct Authority's announcement on Tuesday that it was formally investigating Greensill's operations, this Committee meeting is definitely worth keeping an eye on. Although it doesn't seem like a long time since the Queen's speech and the reopening of Parliament, both houses will be going on recess from the 27 May till the 7 June.
DOMino effect. A year ago, Dominic Cummings sat in the Downing Street Rose Garden, uncomfortable and unapologetic, attempting to present his 60-mile round trip to Barnard Castle as an essential journey. 6 months after his resignation, the Prime Minister's former aid is absolved of any need to defend himself, and instead takes on the role of the accuser. Next Wednesday, Cummings will take a cosy seat in front of the Commons joint Health and Science Select Committee, which is conducting an inquiry into the government's response to the pandemic. Dom's recent revelations about the PM's suppression of a leak inquiry and the Number 11 revamp – all of which had something to do with Carrie Symonds – have been small flies in Boris's lockdown-lifting ointment. Armed with hindsight and who-knows-what-else under his sleeve, Cummings is hoping to strike a more significant blow in next week's appearance, having already threatened to auction a "crucial historical document" off as an NFT.
Poot the knives away. Last week Edwin Poots MLA, who orchestrated his predecessor's ousting, was elected as leader of the Democratic Unionist Party (DUP). The outgoing leader, Arlene Foster, steps down as leader next Friday and as First Minister at the end of June. Describing his ascension to the leadership, Poots said "politics is a rough and tumble game and sometimes people are on the wrong side of it". So, what's in store for Poots? Never mind the wider challenges within unionism, Poots needs to win the more moderate faction (about half) of his own party over, many of whom see his leadership as a "nightmare". He's not likely to waste any time in getting things done – expect a new ministerial team to be announced within days of his premiership. It'll almost certainly include some Poots loyalists but perhaps he'll also try to win over some of his less vocal sceptics. Before he even begins thinking about Elections next May, his immediate challenge is the Northern Ireland Protocol. He's already signalled that he won't collapse Stormont because he views it an "asset" in the argument against the protocol, but he'll face pretty immediate pressure from loyalists who ultimately hold the DUP responsible for the current 'border in the sea' arrangement. On Wednesday, members of the Loyalist Communities Council (LCC) appeared before the NI Affairs Committee and said the use of violence in opposition to the protocol is a "last resort" but not "off the table". Yikes. While Whitehall might not have considered Foster 'soft', the party's new leadership is going to be a baptism of fire.
WHAT YOU MIGHT HAVE MISSED 
A wall-to-wall disaster. I mean, can a Prime Minister not let his fiancée use £58,000 from a charitable trust to buy handmade gold wallpaper and Damascus Stripe (Google it… punchy… ) sofas for Downing Street without living in fear of some kind of regulatory or independent investigation these days? It's political correctness gone mad. Anyway, as the Electoral Commission and Adviser on Ministerial Standards investigate whether anybody's been telling fibs, a more pressing issue has arisen for Boris: the wallpaper's already falling down! At £875 per roll, and non-refundable, one can only imagine the language which accompanied this discovery. Sources in No. 10 say a team of specialist decorators have now been dispatched to rescue the paper. That doesn't sound cheap. On the bright side, it may at least reassure the PM that he isn't the only one getting a pasting over the next week or so.
IN DEPTH
BLOG
Post-pandemic priorities: how levelling-up can be more than just a slogan
Yesterday's release of the White Paper on rail reform is the latest example of the Government's Levelling-Up paranoia, whereby any and every announcement is somehow viewed through the prism of regenerating local economies. DRD Associate, Ed Bowie explores what the Government needs to do to actually deliver results for local communities – and how Levelling-Up can be more than just a slogan.
Boris Johnson's entire career has been built on one thing. No – it's not his loose grasp of the truth, or his ability to argue both sides of the same argument, as his detractors would have it. Indeed, that is the irony of the Prime Minister's talent. Boris Johnson's career has been built on his innate ability to know what 'Middle Britain' is thinking. It's his ability to speak right over the top of the Westminster Bubble that makes him such a skilled politician. And it's a skill that Keir Starmer has yet to demonstrate he possesses, going for photo-ops as he did at John Lewis while pushing the No. 10 redecorations line, as if that was what the voters of Hartlepool cared about.
To read more, click here.
THUMBS UP / DOWN
WORTH A READ
The Guardian – Losing byelection would be 'curtains' for Keir Starmer, says Diane Abbott (Jessica Elgot)
The Spectator – Brussels should give ground on the Northern Ireland Protocol (James Forsyth)
PoliticsHome – Prime Minister Warned Not To 'Betray' Farmers As Post-Brexit Talks With Australia Intensify (Adam Payne)
Financial Times – Sunak ready to reap windfall from economic rebound (Chris Giles)
New Statesman – The BBC and the government both have lessons to learn about institutional failure (Stephen Bush)
STAT OF THE WEEK 
Go on holiday, but don't… that's all clear then.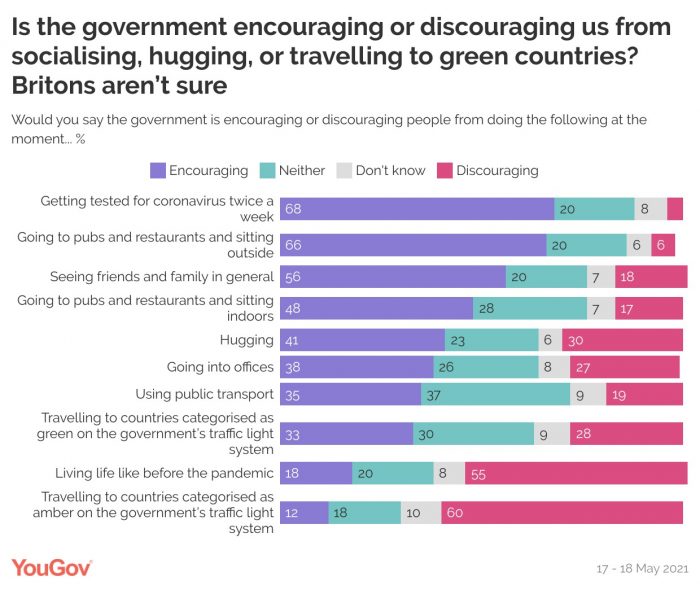 Source: YouGov
DRD Partnership is a strategic communications consultancy focused on building value for our clients and protecting their reputations at moments of challenge and change.
If you'd like to know more about us and our consultancy services, including our public affairs offering, please see our website: https://www.drdpartnership.com/ or drop us a line publicaffairs@drdpartnership.com. We'd love to hear from you.
Visit our website or LinkedIn page for more information about DRD Partnership.
politics parliament DRD coronavirus travel politics parliament DRD coronavirus travel politics parliament DRD coronavirus travel politics parliament DRD coronavirus travel