The DRD Snapshot - 22 January 2021
22 Jan 2021
Bided his time for long enough – The 46th President of the United States, Joe Biden got straight to work, signing 15 executive orders on his first day in the Whitehouse. [More on that below].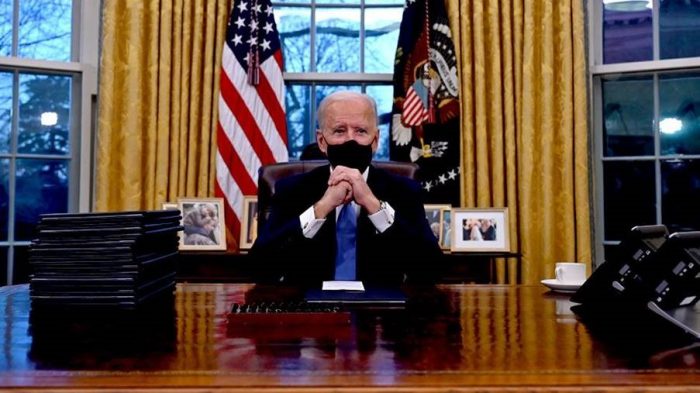 THE WEEK THAT WAS
Cause for concern. Despite some positive noises in the middle of the week about an "unlocking framework", aiming to start easing restrictions by Easter, Imperial College's React-1 Study, published yesterday, suggested there was "no evidence of decline" in coronavirus cases. The study, which examines transmission rates outside hospitals, indicates that, unlike in the spring, the current lockdown has failed to bring the new variant completely under control. As a consequence, pressure on the NHS is likely to increase. This does seem to suggest that any hopes of an 'unlock' in February, possibly even March, is unlikely. On Wednesday, Chief Scientific Adviser Patrick Vallance issued a clear warning to Number 10 – "it's worth remembering Albert Einstein's definition of insanity 'Äî doing the same thing over and over again and expecting a different outcome. The lesson is every time you release it too quickly you get an upswing."
Another issue for the Government to get to grips with is getting more people to isolate. Currently, only 17 per cent of people with symptoms apply for a test. The reason for the low figure is fear that a positive test could result in people not being able to work. According to the Guardian, the Department of Health has put forward a number of proposals to address this – the one apparently favoured by Health Secretary Matt Hancock is for all people in England who test positive to be given £500 to cover their isolation period. The only problem for Hancock is getting this through Treasury. Apparently the first they'd heard of it was when it appeared in the press, and early indications don't suggest it's got HMT backing. Perhaps, not the best way to get Treasury on board.
Beyond the border. Earlier this week, Scotland's First Minister, Nicola Sturgeon announced that the current lockdown would be extended until at least the middle of February. Schools and nurseries will remain closed for now, with the situation due for review on 2 February. Sturgeon said she hoped the "strictest form of lockdown" wouldn't be in place for "too much longer", but admitted some measures like face coverings, social distancing and possibly travel limitations "are likely to be necessary for some time". Opposition parties have been criticising the Government over its vaccination programme, claiming Scotland is lagging behind the rest of the UK. And pressure is mounting after the National Records of Scotland revealed that last year, Scotland recorded the highest number of peacetime excess deaths since 1891.
In Northern Ireland, the Executive met yesterday and voted to extend current lockdown restrictions until 5 March. The next review date is set for the 18 February. A decision about keeping schools shut will be made next week. Speaking of NI, the MoD gave the green light for British soldiers to be deployed in Northern Irish hospitals to assist with the vaccine roll-out. Despite the historical tensions such a move could bring and Sinn Féin's opposition to a similar suggestion last April, the Deputy First Minister, Michelle O'Neill said the party would not rule out any measures that can help save lives. Not a surprise given that around three times as many people remain in hospitals compared with last April's peak.
Meanwhile, in Wales, a row brewed this week when it emerged that a group of Welsh Assembly members and staff were drinking in the Senedd, four days after a ban on drinking alcohol in a pub. Conservative leader Paul Davies, Darren Millar and Labour's Alun Davies have apologised for their actions, and whilst they are not thought to have broken the rules, the matter is being investigated by Senedd authorities. A fourth Senedd Member Nick Ramsay has denied being part of the gathering. Whether rules were officially broken or not, it's not exactly good optics.
F- Gav. The Education Secretary finally managed to publish his much-anticipated FE White Paper though it was rather overshadowed by yet another government U-turn. Under measures drawn up at the end of last year, if pupils or staff came into contact with a confirmed Covid case, they could remain in school if they took a rapid test for seven days and continued testing negative. The daily use of the "lateral flow" tests was aimed at stopping children and teachers having to automatically self-isolate, potentially missing weeks of school. The testing had already been rolled out in secondary schools, with plans to extend it to primaries soon. However, last week that the Medicines and Healthcare products Regulatory Agency (MHRA) revealed it had not signed off on the use of the tests in this way. On Wednesday, Public Health England and NHS Test and Trace recommended the daily testing be "paused".
Williamson had the morning broadcast round yesterday and though he'd probably hoped to talk about the 35 proposals in the newly published White Paper, he spent most interviews explaining why he hadn't resigned. He was unable to give exact dates about when kids might be back in classrooms but did confirm that schools would be given two weeks' notice before reopening.
THE WEEK TO COME 
Committee Corridor. On Tuesday, Foreign Secretary, Dominic Raab will appear before the International Development Committee to give evidence on the future of UK aid. In light of the former Prime Minister, Theresa May's piece in the Daily Mail this week, where she suggested that Johnson's decision to cut the overseas aid budget below 0.7 per cent of national income had reduced the UK's global "credibility", this one is definitely worth tuning in for.
Diplomacy, eh? A diplomatic row has broken out between the UK and EU over the status of the EU Ambassador to the UK, Jo√£o Vale de Almeida, with the UK refusing to grant him full diplomatic status. The Foreign Office said international organisation status (instead of diplomatic mission status) means the team will still "receive the privileges and immunities necessary to enable them to carry out their work". The EU doesn't agree. Apparently, the UK does not to want to set a precedent by treating an international body in the same way as a nation state. However, the EU insists it should be treated as a state, seeing as it can make its own laws and has its own currency.
The British decision is in marked contrast to 142 other countries where the EU has delegations and where its ambassadors are all granted full diplomatic status. The issue is expected to be discussed by EU foreign ministers on Monday when they meet for the first time since the post-Brexit transition period ended on 31 December. Stay tuned!
"The cost of going on holiday" in 2021. It is little surprise that the impact of the new UK variant has put concerns about travellers importing other variants of the coronavirus at the top of the agenda in Whitehall. The Covid O committee was initially due to discuss the options for further border controls this afternoon, but according to the Times, it has been moved to Monday, giving Ministers another weekend to come up with a solution. Both the Home Secretary and Health Secretary are pushing for tougher measures with the prospect of a 10-day hotel quarantine increasingly likely. According to a government source, taxpayers will not be expected to foot the bill for hotel stays. Instead "it will be part of the cost of going on holiday."
WHAT YOU MIGHT HAVE MISSED 
Yesterday, the Telegraph confirmed that the local elections will take place in person, on 6 May. Although Downing Street remained tight-lipped on the issue, the Prime Minister's decision to push ahead will be seen as a major hint that some sort of normality is expected by Easter, enabling council and mayoral candidates four weeks or so to campaign. Scotland's First Minister has previously signalled that she plans to go ahead with Holyrood elections scheduled for the same day.
IN DEPTH
Biden's monumental challenge
January has been a momentous, chaotic, and historic month in US politics, culminating in the inauguration of Joseph Biden as the 46th President of the United States this week. DRD's George Smith, who served as a Congressional fellow, looks at some of his challenges ahead and what Biden's Presidency may herald for UK-US relations.
Biden's first 100 days
Bar the crowds, and the former President, Biden's inauguration went as smoothly as previous ceremonies. It is now down to business, and there is a lot to do. The first 100 days of a presidency are always significant, as this is when the president is most able to utilise the powers at his disposal.
No president has ever had such a challenging in-tray as Biden. He will not only have to tackle the COVID-19 pandemic and the economic collapse caused by this crisis, but also try to heal the wounds of a desperately divided country; produce policies to prevent environmental catastrophe; and restore America's place in the world. As Biden himself said, any one of these would be difficult enough to deal with, but together they pose a monumental challenge for any incoming president.
To read more, please click here.
WORTH A READ 
The Telegraph – Schools find Russia-linked viruses on laptops given out by the Government (James Cook and Hannah Boland)
Politics Home – Hilary Benn Is "Frustrated" The Brexit Committee Was Disbanded As Border Chaos Spirals (Adam Payne)
The Spectator – Could the Australian approach to Covid work in Britain? (James Forsyth)
New Statesman – How do you solve a problem like Marcus Rashford? It's a question the Tories are struggling to answer (Stephen Bush)
The Times – Can Boris woo Biden while at war with woke? Patrick Maguire)
STAT OF THE WEEK 
A not so very special relationship?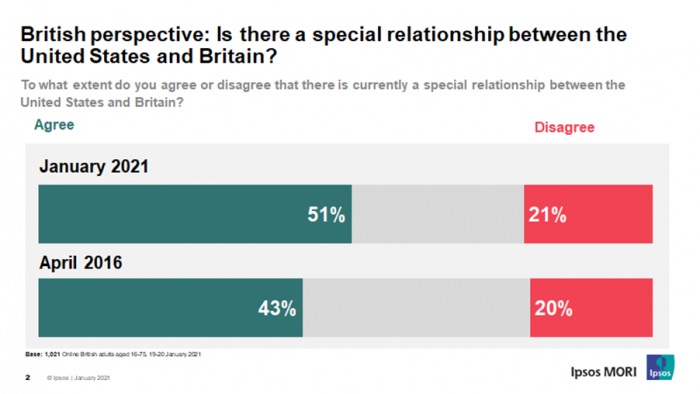 DRD Partnership is a strategic communications consultancy focused on building value for our clients and protecting their reputations at moments of challenge and change. If you'd like to know more about us and our consultancy services, including our public affairs offering, please see our website: https://www.drdpartnership.com/ or drop us a line publicaffairs@drdpartnership.com. We'd love to hear from you.