The DRD Snapshot
22 Oct 2021
THE WEEK THAT WAS
📷 IPSA action: Following the tragic murder of Sir David Amess MP, the question arises: how do we protect our MPs? Following the attack, which has been reportedly linked to terrorism, the Home Secretary, Priti Patel, announced that the threat level posed to MPs had been upgraded to 'substantial', indicating the possibility of another attack. Additionally, Ms Patel announced on Friday morning that MPs will now be provided with security at constituency surgeries. The Independent Parliamentary Standards Authority (IPSA) had, up until Sir David's death, published information about MPs' claims for travel and venue hire for surgeries. Although this information has been removed from the IPSA website, questions of concern are being posed by MPs who fear the implications that IPSA hold such a quantity of sensitive information about them. Unfortunately, Sir David's tragedy is not the first of its kind. Five years ago Jo Cox MP was murdered under similar circumstances. Following Ms Cox's murder, IPSA spent £2.5m on security, £170,000 more than the previous year. And yet another tragedy has taken place, showing that IPSA must do more and act now to keep MPs safe and to prevent such tragedies from occurring in the future.
 📷 A Coronavirus Conundrum: On Tuesday afternoon, MPs extended the Coronavirus Act for a further six months. A source of controversy throughout the pandemic, the Act's wide-ranging powers enabled the government to expand NHS capacity, postpone elections and enact vital furlough schemes. Amongst some, its unpopularity has caused parliamentary division, and in March, saw MPs split by 484 to 76 for its extension. However, the most recent update to the Act received a vastly different audience than its six-month predecessor, as Deputy Speaker Rosie Winterton allowed a simple voice vote, in absence of a full vote in Parliament. Cries of 'Aye!' and 'No!' decided the extension of an Act that has imposed some of the most restrictive conditions in the history of the UK. In truth, the newest version of the Act is a shadow of its former self. The powers previously granted to the government regarding detention, events and restaurants have expired and have not been renewed in the recent extension. Nonetheless, the danger it seeks to prevent remains. And with rising UK COVID-19 cases, the highest since July, there looms a necessity for its persistence.
📷 Free Trade v Fair Trade:  The protectionists are at it again.  Having announced that the UK has struck its second truly new Free Trade Agreement post-Brexit, this time with New Zealand, the usual chorus of 'cheap meat' and 'undercutting British farmers' has been out in force.  Quite what those lobby groups think Free Trade Agreements are meant to do is hard to discern.  Isn't the point to open UK industry up to competition, in order to force it to be more efficient, more innovative or cheaper?  The same works in the other direction, too.  New Zealand's car manufacturing industry shut down in the 1980s, recognising that it couldn't do it as well or as cheaply as Asian, Australian and UK competitors.  No one would expect, in 2021, that Governments continue to protect such an industry, so it's hard to see why British farmers should be any different.  Politically, the deal is another win for the recently promoted former Secretary of State for International Trade, Liz Truss, as her credentials for 'getting things done' go from strength to strength.  As tariffs come down, her stocks continue to rise.
THE WEEK TO COME 
📷 Injection rejection: Following the anecdotal reports this week of mass spiking via drinks and needles in nightclubs across the country, a UK-wide campaign to boycott nightlife venues until they are made safer for women is expected to take place next week. Girls Night In groups, now active in around 30 cities, want immediate action to prevent spiking through measures ranging from the provision of covers that can be placed over drinks to increased surveillance in clubs and bars. The Night Time Industries Association (NTIA) has confirmed that reports of drink spiking cases are increasing across the country and has called on the Home Office to launch an inquiry into the problem. In Nottingham, it has also been announced that female bar staff will be given the day off in solidarity. The list of UK-wide boycotts taking place in cities with high student populations can be found here.
📷 From Facebook to Bookface: It was announced that Mark Zuckerberg, is preparing to talk about the name change at a company event next week, but it could be unveiled sooner, reported the Verge. As fun as it would be to consider new names for the social networking site (Snapshot would have suggested NotasGoodasTwitter or TemperamentalServer.com), the rebrand is for the company, rather than the social media platform. This will make the site a parent company, overseeing groups like Instagram, WhatsApp, Oculus, and more, so the company can focus on "building the metaverse" (which sounds utterly terrifying). I'm sure we'll all be feeling sorry for the near 60,000 Facebook employees who will probably have to shift a lot of soon-to-be-outdated business cards at pace.
📷 The Thunberg effect: Next week, ahead of COP26, the inclusion of sustainability and climate change in the national curriculum will be debated in Parliament. If the bill is passed, youth action will become a guiding force to transform the public into eco-friendly citizens. The curriculum will teach the impact and damage inflicted by human behaviour on the natural environment. A contradiction lies in the fact that the government has previously stated that climate change is already taught in schools. Although, in May this year, Gavin Williamson, the previous Secretary of State for Education, proposed that a 'natural history GCSE' should be part of the curriculum, allowing young people to learn about climate change. It would seem, if Britain truly wants to commit to and achieve Net Zero by 2050, a shift in education is key. By 2050, climate change could be taught as a history module for children to learn about the mistakes of older generations. Alternatively, it could become a form of crisis education as the youth learn in dismay how Greta Thunberg's words were never followed, as they are left picking up the pieces of a climate disaster. Hopefully the former rather than the latter!
WHAT YOU MIGHT HAVE MISSED 
📷 High-up on the to-do list: This week psilocybin – a psychedelic drug found in magic mushrooms, was a hot topic of conversation during PMQs this week. Long-term Tory MP Crispin Blunt (uncle of Hollywood superstar, Emily) urged the PM to review the law to allow more research into the drug's therapeutic qualities. Mr Blunt said it had "exciting potential" for the treatment of mental health conditions such as depression, trauma and addiction. Mr Johnson said he would get back to Mr Blunt "as soon as possible". While much of the conversation regarding the power of psychedelics to treat a wide range of conditions exists across the pond in the USA, the UK's own quiet revolution is powered through Imperial College London and King's, which are currently recruiting for studies on psilocybin's capacity for treating anorexia and depression.
IN DEPTH
BLOG
To Tax or not to Tax? Autumn Budget and Spending Review 2021
Ahead of the Financial Statement next week, DRD's newest Associate, Clemency Huggins, who spent three years working for a Conservative MP, shares her insight on the future of the country's finances and where the money to 'level-up' will come from.
On Wednesday 27th October, after Prime Minister's Questions, Chancellor Rishi Sunak will take centre stage in the House of Commons to deliver his Autumn Budget and the 2021 Spending Review.
While closely related and undoubtedly designed and planned together by those in the Treasury, these are two separate events.
Spending Reviews are conducted every two to three years and set out the longer-term spending priorities and Departmental Spending Limits of government departments. This allows for longer term planning and certainty for individual departments.
To read more click here.
THUMBS UP / DOWN
👍 Effectiveness of booster jabs
WORTH A READ 
📚 New Statesman – Did Covid-19 push public opinion in a more left-wing direction?
📚 The Spectator – Is Brexit making Scexit seem impossible?
📚 The Times – Johnson's green jobs won't make Britain rich
📚 The Economist – A plan to revive Britain's rural railways gathers steam
STAT OF THE WEEK
Brits are blind to how they can live greener lives for the future of our planet…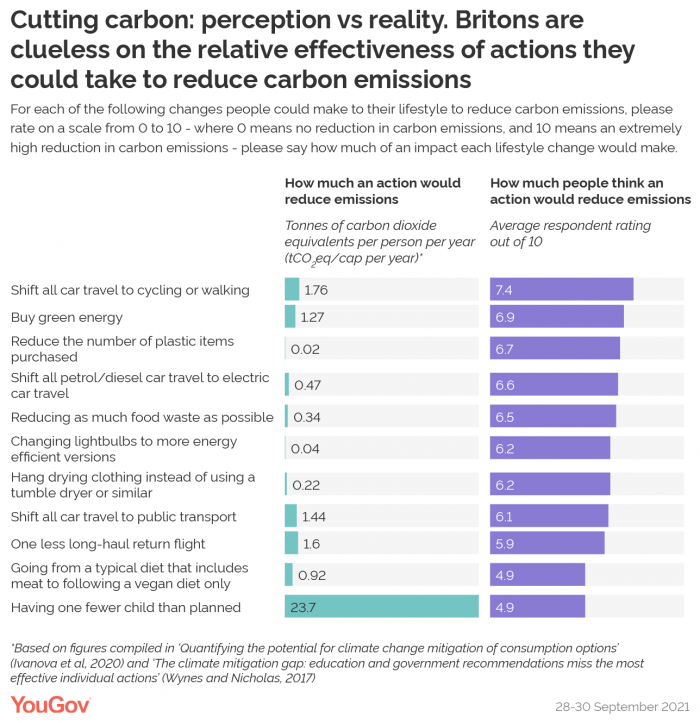 DRD Partnership is a strategic communications consultancy focused on building value for our clients and protecting their reputations at moments of challenge and change.
If you'd like to know more about us and our consultancy services, including our public affairs offering, please see our website: https://www.drdpartnership.com/ or drop us a line publicaffairs@drdpartnership.com. We'd love to hear from you. 
Visit our website or LinkedIn page for more information about DRD Partnership.