The DRD Snapshot - 23 April 2021
23 Apr 2021
Justice Done! A group of former sub-postmasters and sub-postmistresses have seen their names cleared at the Court of Appeal this morning in relation to the Post Office IT Scandal.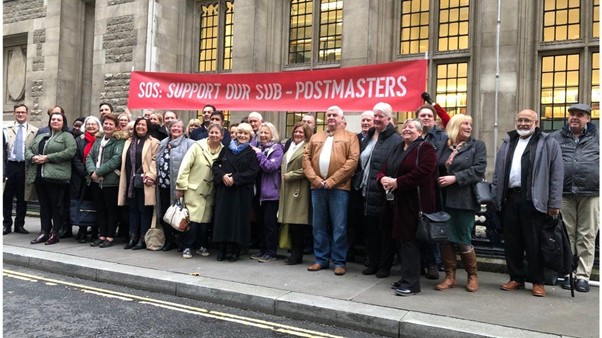 THE WEEK THAT WAS
UEFA GKChP. This week, twelve football clubs have achieved what had hitherto been thought impossible: a sense of unprecedented unity in almost the entire football world. The plans for a European Super League were met with a shared resentment from players, fans, competing clubs and national associations. The political world followed: unable to resist the low-hanging fruit of populism, Johnson and Macron found themselves fighting on the same side of the barricades. On Monday, Culture Secretary, Oliver Dowden pledged to protect football in the Commons and received full support from both sides of the house. Prince William brought the monarchy onto the field, tweeting about the damage of the rebel project. The Prime Minister then threatened the potential breakaways with a "legislative bomb," which would include changes to competition and tax laws and player visa refusals – and which led the Juventus chief to blame Brexit for the Super League's misfortunes. The sustained political pressure on the English side stopped the project in its steed, rapidly shrinking the dirty dozen into the gang of six. Bruises and tensions remain, as well as a hanging question about economic and contractual realities, which will be addressed by the fan-led review into club ownership structures.
Resignation Dismissal watch. Premier League chiefs weren't the only ones departing their posts this week. Johnny Mercer resigned, or was fired, or was fired because he refused to resign as Minister for Defence People and Veterans, according to varying reports. It is understood that Mercer wanted to resign after the Overseas Operations Bill returned to the Commons on Wednesday, but apparently stormed out of the Chief Whip's office on Tuesday night, which resulted in a dismissal by text. A resignation statement was released shortly thereafter. His particular grievance centred on the Prime Minister's apparent reneging on a commitment made during the Conservative leadership contest to stop historic prosecutions of soldiers who served in Northern Ireland. Most striking to casual political observers was the comment in his resignation statement that Mercer had only met the Prime Minister face-to-face once since taking up the role in 2019. Good luck to his replacement, Leo Docherty, in what one hopes is a more enduring (and regular) relationship with No 10.
Sleaze, sleaze, sleaze. Never mind Covid, climate change or childcare funding, the last fortnight seems to have Westminster in a lobbying-muck-death spiral. From David Cameron to Greensill to Mohammed bin Salman, no one inside of the beltway seems to care about the real issues facing the country. That's not to say that access to our democracy doesn't matter – and Labour seem to think that 'Tory sleaze' will have cut-through and so have gone on the attack this week over James Dyson's texts with Boris Johnson. The access-for-mates angle may well pique some interest, but for most it looks like two people trying to get on with the job of building some ventilators in a country that at the time had none – during a global pandemic. Tony Blair's political antennae registered the same disinterest in the story, but Westminster continues to talk to itself over the issue. It remains to be seen whether Keir's political intuition is better than Tony's. So far the polls don't indicate that that's the case.
THE WEEK TO COME 
Open borders. Scotland is expected to take its next steps towards freedom next week. Nicola Sturgeon has confirmed that the nation will move to Level 3 on Monday, meaning that cafes, restaurants and beer gardens can open. In addition, people can travel across the border between England, Scotland and Wales as border restrictions are eased. Meanwhile, Welsh First Minister Mark Drakeford has announced an accelerated lockdown easing plan over the next few weeks, and has taken a leaf out of the Prime Minister's book in announcing the acceleration by taking advantage of a BBC-broadcast press conference. The local Tories are unhappy with what they see as an unfair advantage – but any reasonable voter would probably conclude that management of Covid is not just a health, but also a political risk, and so fair's fair. Who can really blame the First Minister for wanting to take credit for a success story mid-election campaign…
Last orders. With Dublin III regulation on asylum seekers no longer applying in post-Brexit Britain, the Government promised to overhaul its approach to asylum and illegal migration this year. Several debates in parliament will address these issues next week: the Commons will weigh the effect of immigration detention on potential victims of trafficking and assess the effectiveness of support provided by asylum accommodation. On Wednesday, there's a Westminster Hall debate on the proposed closure of the GKN Automotive plant in Birmingham, which would lead to the loss of 500 jobs – levelling up, anyone? The Lords amendments to the crucial Financial Services, and National Security and Investment Bills will be reviewed, before parliament is prorouged on Thursday, making way for the Queens Speech on 11 May.
See you in court. On Wednesday evening, it emerged that the European Commission was gearing up to launch legal proceedings against vaccine producer AstraZeneca. The action could come as early as this afternoon or in the beginning of next week after initially hesitant France, Germany and Hungary gave the action their backing overnight. The lawsuit will likely focus on AstraZeneca's continued inability to deliver doses in the second quarter. The EU wants a commitment of 90 million doses, supplied by the end of June (that's around half of what the company originally committed to send). However, AstraZeneca has told the EU it plans to supply just 70 million doses between now and then. Legal action then seems pretty inevitable – definitely worth keeping up with this!
WHAT YOU MIGHT HAVE MISSED 
Fox off. Yesterday, Nigel Farage and the Reform party threw their support behind the outspoken actor and activist, turned Reclaim Party leader, Laurence Fox to become the next Mayor of London. Farage said "It feels highly appropriate that on the eve of St George's Day, a new patriotic alliance between Reform UK and the Reclaim Party is being announced." The Reform party has candidates up for the London assembly, but not mayoral elections. In return for their endorsement, the Reclaim Party will back Reform for the Assembly list. Fox is in good company, currently tying with Count Binface for election. British politics, ladies and gentlemen.
IN DEPTH
Local Elections 2021
As the local elections draw closer, DRD Associate, Samantha Beggs takes a look at what they might have in store for the main parties, and how they will shape thinking ahead of 2024.
In just two weeks, millions of voters will return (socially distanced of course) to ballot boxes across the country to elect new councillors, mayors in London and twelve other English metropolitan areas, and 39 Police and Crime Commissioners. At the same time, voters in Scotland and Wales will cast their votes in the Scottish Parliament and Welsh Senedd elections – a bumper election year! The delay of the 2020 local elections (due to Covid-19) makes these the biggest set of local elections since 1973, when local government was reorganised.
To read more, click here.
THUMBS UP / DOWN

 Pandemic over in the UK (apparently)

 Former Advisors
WORTH A READ
Financial Times – How the Tories can appeal to young voters (James Forsyth)
The Spectator – Can Boris Johnson's green makeover woo red wall voters? (Katy Balls)
The Guardian – Leak inquiry launched as No 10 insiders accuse Dominic Cummings (Jessica Elgot , Dan Sabbagh and Aubrey Allegretti)
PoliticsHome – Government Winds Down Food Supply Group Despite Industry Worry Over Brexit (Adam Payne)
The Telegraph – I was maligned as a 'bruiser' because of my shaved head, complains Lee Cain (Danielle Sheridan)
STAT OF THE WEEK
The two main parties will be hoping for a better endorsement in 2021 than they received at the last local elections in 2019…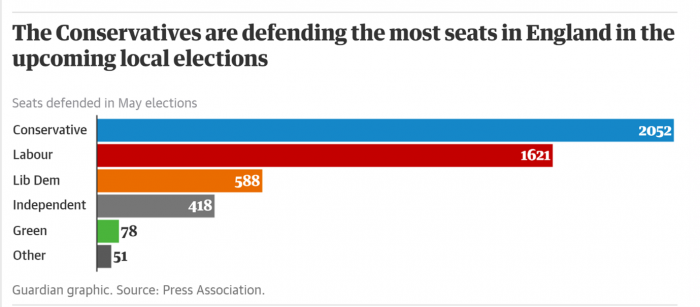 DRD Partnership is a strategic communications consultancy focused on building value for our clients and protecting their reputations at moments of challenge and change.
If you'd like to know more about us and our consultancy services, including our public affairs offering, please see our website: https://www.drdpartnership.com/ or drop us a line publicaffairs@drdpartnership.com. We'd love to hear from you.
Visit our website or LinkedIn page for more information about DRD Partnership.