The DRD Snapshot - 25 June 2021
25 Jun 2021
Welcome to the DRD Snapshot, your essential guide to what you may have missed this week and what you won't want to miss next… . 
Nothing to see hair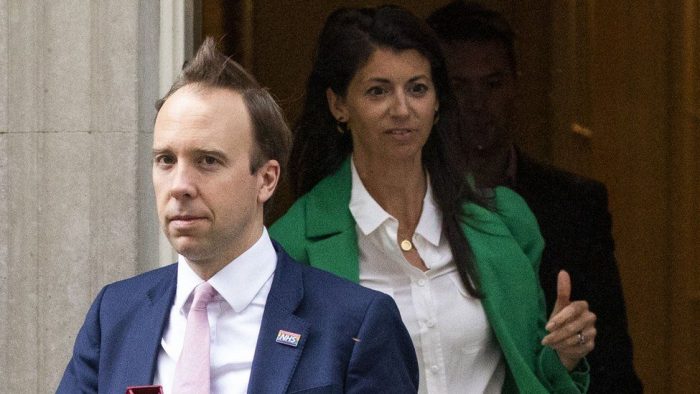 THE WEEK THAT WAS
Who cares? After a recent review described social care in England as a 'tower of Jenga held together with sellotape', the increasingly wooly promises from the Government on fixing the system are beginning to cause some embarrassment. So, all eyes were on the results of a crunch summit this week between the man who would like to do something (Johnson), the man who has to (Hancock) and the man who can't afford to (Sunak). Until it was cancelled. Perhaps Hancock had other affairs of state to tend to? The Dilnot reform, the most likely way forward, is ruinously expensive and may cost around £10 billion, money which the Treasury simply doesn't have. The PM is worried at the amount of political capital required to plough these reforms through, with tax rises (and a broken manifesto promise) almost inevitable to pay for cost. But with an 80-seat majority and the system in such a precipitous state, many are wondering what more capital they'll ever need?
Lipstick on a pig? The criticisms of Keir Starmer's leadership range from him being too compromising to the Tories, to too un-cooperative in the midst of a pandemic, too left-wing some days, too right-wing others.  Whatever your view, it's hard for a leopard to change its spots.  Which is why this week he re-jigged his senior team to change the way he's seen across the country. Chief of Staff Morgan McSweeney is moving into a role more focused on electoral strategy, Baroness Chapman, who was the political director, is to shadow Lord Frost, and Ben Nunn and Paul Ovenden are moving on from the communications team. Incoming are a few big names from the past (by which we mean, the days when Labour won elections): Deborah Mattinson is incoming as director of strategy and Matt Doyle is interim director of communications.  The new team's first test is to win – and if not, to spin – the outcome of the Batley and Spen by-election (more on that below).  A leopard may not change its spots, but how those spots are seen is in the eye of the beholder.
Tough Gig. So, after Edwin Poots' abortive reign as DUP leader, Sir Jeffrey Donaldson has taken the reigns. Quite a week for Sir Jeffrey, whose daughter also just married the UUP Chairman's son, the party which Donaldson acrimoniously left in 2003 and which is gaining ground amid increasing disillusionment with his own. A smooth operator, Donaldson was one of the main forces behind the £1bn deal for his party to prop up May's Government in 2017 and is still seen by many unionists as an accessory to the current Brexit deal. After the brinksmanship with Sinn Fein over recent weeks, he will need every ounce of statecraft to bail out the listing power-sharing agreement in Stormont. His stated priority is the NI Protocol and he will be encouraged by recent rhetoric which suggests that the UK is anticipating some kind of dilution to it, perhaps as soon as early July. All eyes on the EU then – who are saying (quelle surprise) the opposite.
THE WEEK TO COME 
Keir's Tears: Fresh from his teary-eyed interview with Piers Morgan earlier this month, next week's Batley and Spen by-election could be cause for more of the same for the Labour Leader.  The contest poses a triple-threat for Sir Keir: apart from anything else, Labour holds the seat and obviously would like to retain it; but more than that, the seat carries something of a spiritual gravitas for the party, being murdered MP Jo Cox's former seat and it representing one of the last remaining bastions of the 'red wall'.  But third, and probably most importantly, Thursday's election comes after a miserable few weeks for Labour.  Having branded himself as a winner, in stark contrast to the fortunes of the party under Jeremy Corbyn, it is high time that the party delivers the results he promised.  Once a politician gets a reputation as a loser, it is very hard to shake it off.  Just ask Jeremy.
If EU leave me now: Next week marks the final chance for EU citizens to apply to the EU Settlement Scheme with the deadline being 30 June.  After that date, immigration enforcement officials will begin giving EU citizens who live in the UK a 28-day warning to apply to remain, the government says. This deadline comes off the back of recent research questioning whether there were more EU citizens in the UK than previously thought. By May 2021, there had been 5.6 million applications to the scheme from approximately 5.3 million people.  This has highlighted just how poor our understanding is of the number of EU nationals in the UK, with implications for both immigration policy and the labour market. A bit like Brexit itself. Who'd have thought five years after the referendum, we'd still be having issues? Oh wait… If you still need to apply you can do so here.   
The party doesn't stop: Next week in Parliament will be all systems go, as is usually the case. In particular, we have the Work and Pensions Committee hosting an oral evidence session on Pension Stewardship and the upcoming COP26.  As we enter a new period without EU legislation and protections, the role pension schemes can play in meeting emission reduction targets become pretty important. If it's good for the economy and bad for the planet, it's bad for the economy. Right? Don't say we didn't warn you if your pension suddenly becomes a lot greener.
WHAT YOU MIGHT HAVE MISSED 
 Money talks: The U.K.'s Test and Trace service has been awarded two big contracts as ministers try to set out plans to get international travel going again. PA Consulting landed a £1.6 million deal to help set up a "dedicated project team" while Reed won a £264,875 contract to provide eight consultants and help set up "new private laboratories to report tests performed on International Arrivals". Tech consultancy CapGemini managed to bag £374,340 to provide data scientists to the government's Joint Biosecurity Centre between April and June. And last but by no means least Public Health England hired management consultancy Beamans on a £164,000 contract to help it staff up its successor organisation, the new U.K. Health Security Agency.  As long as everything is above board, who are we to judge? But we've got to admit, it was slightly more interesting when Ministers were acting badly and handing out contracts to their buddies willy nilly…
IN DEPTH
Blog: Brexit 5 Years On: Still Making Our Minds Up?
Wednesday marked the fifth anniversary of the British public voting to leave the European Union. To say it hasn't been smooth sailing would be an understatement. Five years on, where do we stand on the decision to leave the EU? DRD Partner Pete Bowyer explores what the result means and how Brexit has changed the political map.
Five years ago this week the British people voted 52%-48% to leave the EU. Whilst the coronavirus pandemic has relegated the focus on Brexit over the last eighteen months, no other issue has been so disruptive to the British body politic since the Second World War.  To read more click here.
THUMBS UP / DOWN
WORTH A READ 
New Statesman – Leader: Brexit isn't over
The Guardian – Oil and gas donors gave over £400k to Tories before North Sea decision
Politico – How ambassadors took over the EU
The Spectator – Ever weaker Union: The Tories lack a constitutional theory
The Guardian – Murdoch seeks to remove editorial independence rules at the Times
STAT OF THE WEEK
Many parts of the world are becoming less peaceful. Watch out for possible shocks in Equatorial Guinea and Sierra Leone– not just in Westminster.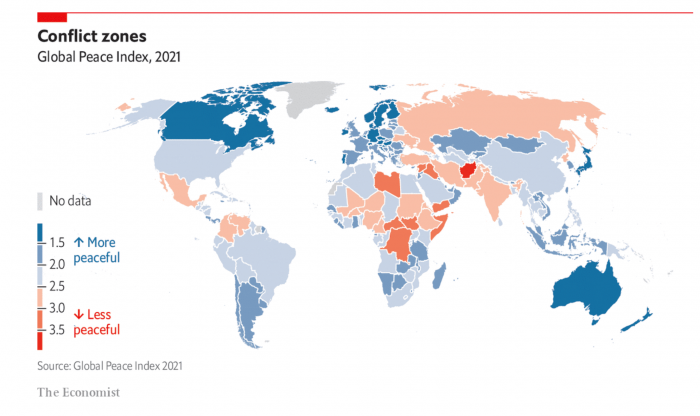 DRD Partnership is a strategic communications consultancy focused on building value for our clients and protecting their reputations at moments of challenge and change.
If you'd like to know more about us and our consultancy services, including our public affairs offering, please see our website: https://www.drdpartnership.com/ or drop us a line publicaffairs@drdpartnership.com. We'd love to hear from you. 
Visit our website or LinkedIn page for more information about DRD Partnership.