The DRD Snapshot - 26 February 2021
26 Feb 2021
"Not as easy as it looks, is it, Prime Minister?" The vaccine certificate and johnson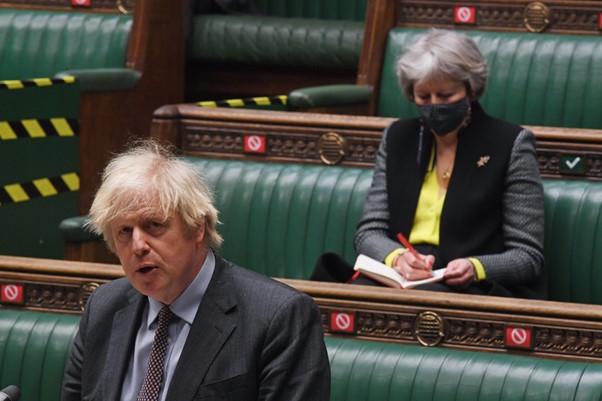 THE WEEK THAT WAS
A return to 'normality'. On Monday, we finally got the PM's four-step "cautious but irreversible" roadmap out of lockdown. The first step will see all schools re-open from 8 March, then the first real easing for everyone else will come on 29 March when the rule of six makes a return for outdoor gatherings and outdoor sports will return (see this week's Sport Snapshot). From 12 April (step two) non-essential retail, gyms and hairdressers will open. Then from 17 May, indoor hospitality and hotels will be able to open. The final step, from 21 June, will hopefully see all legal limits on mixing removed. The dates are all subject to review, and the progress of the vaccination programme, though in light of its current success, many MPs are frustrated about just how cautious the roadmap appears to be. As the PM promised, it really is driven by the data, and it suggests he's learnt lessons from some of his previous "too little, too late" decisions. The response of the British public? A surge in holiday sales! EasyJet reported a 300% increase in bookings.
Vaccine Passpor … certificates. Not that this government is known for U-turns or anything, but this week, it seems that the use of digital 'identity cards', once so vehemently opposed, is now very likely to be the passport (sorry) to freedom – except instead of calling them identity cards or passports, they'll be known as digital Covid certificates. Michael Gove will be leading the review into issues relating to vaccine certificates, which will allow people to show their vaccination status or test results (hoping to ensure those who can't have a vaccine for health reasons aren't discriminated against). While the NHS contact-tracing app isn't considered suitable, health officials reckon the standard NHS appointment booking app would be relatively straightforward to use. Interestingly, this isn't a new idea. According to Vaccines Minister, Nadhim Zahawi, the idea of setting up a review to investigate the certificate idea was considered at the end of November but was ruled out by senior cabinet figures, including Michael Gove. Concerns about just how these certificates would be used, and in what circumstances – for example, to allow entry to pubs and restaurants – is worrying a lot of Conservative MPs, including some on the frontbench. Certainly, one to watch over the coming weeks!
No sign of Salmond. The highly anticipated Holyrood appearance didn't go ahead (again) on Wednesday, after parts of the former First Minister's evidence to the inquiry committee were taken down and then republished with new redactions. It all came from a request from Scotland's Crown Office, which raised "grave concerns" over the contents of one of the documents, published on Monday night. Salmond pulled out of Wednesday's appearance but offered to appear today, giving him two days to seek legal advice on the Crown office stance. At the moment, the session is due to go ahead at 12:30pm but in light of the many no shows, Snapshot will believe it when it sees it.
Another legal challenge. After losing one High Court battle, the Government faces another. One of the architects of the Good Friday Agreement, Lord Trimble, has joined forces with unionist leaders in a legal challenge against the UK Government over the Northern Ireland protocol. The group sent a letter to Prime Minister claiming the protocol is causing "immense" economic damage and is "nothing less than vassalage". They warned about the "pernicious constitutional damage" it has caused and added they will make good on their intention to bring a judicial review unless "you take immediate action to settle a new arrangement for Northern Ireland". On Wednesday, Michael Gove and European Commission Vice President Maroš Šefčovič failed to make any progress on the protocol issue, but both sides committed to its "proper implementation" and "joint action" to make it work. DUP leader, Arlene Foster, said the Commission was "tone deaf."
Farewell Lord Fowler. The Speaker of the House of Lords, Lord Fowler, announced he was standing down to focus on AIDS and HIV campaigning. The peer, who chairs debates in the Lords and who has been in post since 2016, said while he had independence in the role, he didn't have the freedom to campaign. He'll step down in April. He said that at the age of 83, "unless he was careful" he wouldn't be able to "start a new career". Who says you can't teach an old dog new tricks!
THE WEEK TO COME 
Budget Watch. According to the Sun's Harry Cole, next week's budget will be "an expensive and painful sandwich of giveaways and tax hikes." [See this week's blog for more insight!]. Speculation seems to suggest that furlough support, the stamp duty freeze and business support will be extended for several months with the budget broadly supporting the Prime Minister's unlock roadmap. But public borrowing is likely to hit £400bn for the financial year to 5 April and unemployment rates are just over 5% – the highest in five years (and that's with the support of the furlough scheme). As far as personal taxes are concerned, both the PM and Chancellor previously pledged to keep the triple lock on income tax, national insurance, and VAT in place. But capital gains tax and corporation tax seem set to go in one direction – up.
Time for Sturgeon. Following Alex Salmond's (scheduled) appearance before the Holyrood Committee this afternoon, it'll be the turn of First Minister, Nicola Sturgeon next Wednesday. Opposition leaders were furious after Scotland's Crown Office issued a legal warning to Holyrood urging it to redact key parts of one of Salmond's submissions. Unsurprisingly, that led to accusations that the Crown Office was protecting Sturgeon and the SNP. An Ipsos Mori opinion poll published on Thursday found that support for the SNP and Sturgeon had fallen. While the SNP still has a hefty lead over the Tories and Labour, voter satisfaction in Sturgeon's leadership has also fallen by 16 points, from October. While Scotland's position in the Union is precarious at best, the internal wrangling between former and current SNP leadership will undoubtedly have an impact on the independence movement.
A Frost-y start to the week. On Monday, David Frost will take his place in Cabinet, charged with co-ordinating the UK's new relationship with the EU as Minister of State in the Cabinet Office. The new Cabinet-level role shows just how important a role the EU continues to play in UK politics. Frost will take the UK seat in the Partnership Council, which will supervise the operation of the UK-EU Trade and Cooperation Agreement (TCA), and in the UK-EU Joint Committee, previously chaired by Michael Gove, which oversees the implementation of the Withdrawal Agreement and Northern Ireland Protocol. Frost's appointment isn't really surprising – he was the chief negotiator of both the re-worked Northern Ireland Protocol and the TCA, so understands the detail and the strategic thinking behind them. Resolving the issues (and tensions) in relation to the Northern Ireland Protocol is likely to be top of Frost's agenda.
A new Lord Speaker. The Lords procedure committee will meet next week to decide on a timetable for appointing a new Speaker. Peers wishing to stand will need to write a short manifesto and take part in virtual hustings. The next Speaker will not be a Conservative – convention dictates that parties alternate. That means a Labour Speaker is most likely, though the Lib Dems claim it's their turn – none of the three Lord Speakers since the role's inception have been from their party.
WHAT YOU MIGHT HAVE MISSED 
Order! Order! While most of us are currently enjoying being able to work in a comfortable jumper, and a pair of slippers, some workplaces take a dimmer view of dressing down. Jonathan Gullis, MP for Stoke-on-Trent North, was temporarily barred from addressing the Commons on Tuesday after dialling into a debate dressed in… heaven forbid – a jumper! Deputy Speaker, Eleanor Laing refused to call the MP, until he was "properly dressed". A rather sheepish Gullis soon returned, in a jacket and tie. Laing reminded MPs "lest anyone should be confused, when people are participating virtually then they are appearing in this chamber, the chamber of the House of Commons, and therefore it is absolutely imperative that everybody taking part in these debates should be dressed in the way that they would be in the House of Commons."
IN DEPTH
The secret to a great economy? Timing.
Our DRD colleague, Toby Chapman, takes a look at what might be in store in the upcoming Budget and the challenges facing the Chancellor. 
Difficult as it is to believe, Rishi Sunak has so far only delivered one Budget as Chancellor of the Exchequer. His second will prove even more significant as the UK faces the challenges of finding its feet outside the EU, navigating a steady but pronounced recovery from coronavirus restrictions, and, of course, reversing the biggest contraction in the UK economy in over three centuries. What he announces will shape the nature of the economy for a post-covid generation, but there are reasons he may want to wait a while longer before truly 'bouncing back'.
To read more, please click here.
WORTH A READ 
The Times – David Cameron urges chancellor not to impose tax rises (Henry Zeffman, Esther Webber)
The Spectator – The break-up: is Boris about to lose Scotland? (Katy Balls)
New Statesman – The Irish border problem has returned to haunt Boris Johnson (Stephen Bush)
Financial Times – After the pandemic: Sunak signals the UK's return to fiscal conservatism (George Parker, Chris Giles, Jim Pickard)
The Independent – US dashes Boris Johnson's hopes of quick post-Brexit trade deal by announcing 'review' of talks
STAT OF THE WEEK
The countdown is on.
The first 'easing' we're all likely to feel comes on the 29 March, just over a year after the UK's first national lockdown began.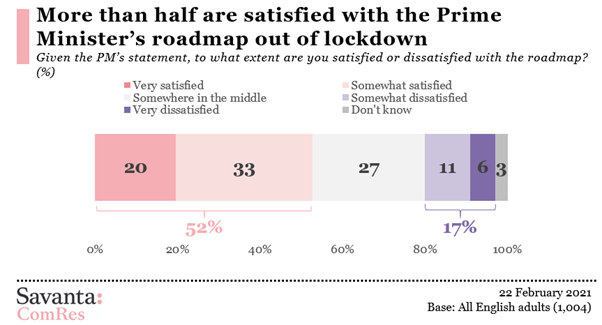 Source: Savanta: ComRes
DRD Partnership is a strategic communications consultancy focused on building value for our clients and protecting their reputations at moments of challenge and change.
If you'd like to know more about us and our consultancy services, including our public affairs offering, please see our website: https://www.drdpartnership.com/ or drop us a line publicaffairs@drdpartnership.com. We'd love to hear from you.