The DRD Snapshot - 26 March 2021
26 Mar 2021
Wishing our readers a slightly early, but very Happy Easter! Snapshot will take an Easter break next week but will be landing in your inboxes again from 9th April. The Queens speech, the vaccine and much more…
SNAPSHOT
Boom or bust? Former Governor of the Bank of England, Lord King, made a rare appearance in a House of Lords debate this week, with a zoom backdrop reserved for only the grandest of City grandees…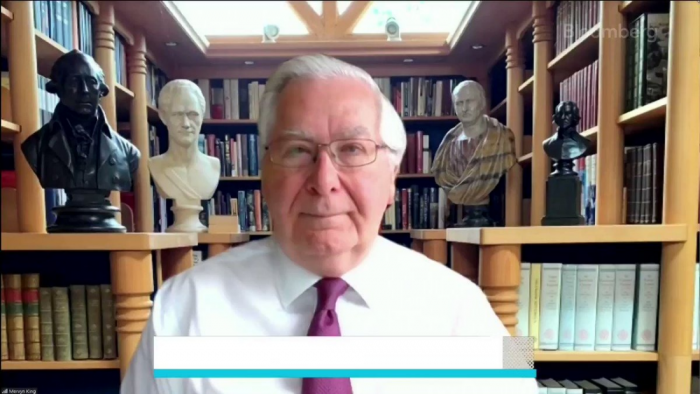 THE WEEK THAT WAS
At what price freedom? Nicola Sturgeon has taken so much punishment over the past few weeks that if she were a boxer, the referee might have waved off the fight. The Times described this week as a "make or break" for the First Minister, in which two reports about her conduct in the Salmond Inquiry were finally released in full.
One, which Snapshot reported last week, was from a Holyrood Committee which accused Sturgeon of breaking the Ministerial Code. She remained unmoved, dismissing the "partisan" voting of her opposition-majority jury and looking only towards an independent inquiry into the matter. That was also published on Tuesday and finally, some good news. James Hamilton QC, leading the inquiry, pretty much exonerated Sturgeon of any wrongdoing. Instead, he rounded on Alex Salmond, saying that he "appears to be under the misapprehension that the government is under a duty to withdraw a case if advised that there is less than an evens chance of winning. There is no such rule and the prediction of the outcome of cases is not an exact science."
To many, the fact that Sturgeon ended up defending herself in the wake of serious sexual assault allegations against her predecessor had always been perverse. However, the damage may already be done. The saga has chipped away at her Teflon veneer and a factional war has broken out in her own party. Most importantly, the independence cause has taking a clattering. Polls have shown a 12-point swing away from independence since Sturgeon gave evidence to a cross-party committee in early March and 3/5 of voters say that constitutional wrangling is distracting from important issues such as education or healthcare. Nonetheless, she remains by far the most popular party leader in Scotland. Unionists will know that as long as she survives, there's hard work ahead.
Tyred of devolution? This week saw the publication of the Dunlop Review, a long-awaited look by former Scotland Minister Lord Dunlop at how devolution is supported and administered across government. This is not to be confused with the '(Laura) Dunlop (QC) Review' which looked at the handling of complaints against Scottish Government Ministers and was published two weeks ago. Not confusing at all. Anyway, the report was completed in 2019 but was strategically deployed this week, garnering much more attention north of the border than in the English press. The review contains several recommendations "intended to build trust and respect between the institutions of government in the UK." These include establishing a new Cabinet position to oversee intergovernmental affairs and a fund for UK-wide projects which would incentivise Unionism with economic benefits (also open to joint projects between central and devolved governments). The report noted that the "working relationships which devolution requires have been tested by withdrawal from the European Union" (Is that you, Sherlock?) but that all sides ultimately need to learn to be "professional" and trust each other more. The reaction? The Government support it. The SNP don't. Quel surprise.
Queen's Speech. This week it was announced that the state opening of Parliament will take place on Tuesday 11th May. Due to the ongoing pandemic, it is likely that the Queen's Speech will be quite different this year. There are likely to be reduced ceremonial elements and attendees, ensuring it is COVID secure. So, what can we expect? It is anticipated that Ministers will bring forward the thorny issue of social care reform. Whilst giving evidence to the Liaison committee, Johnson suggested it was "highly likely" social care reform would be included. The Government have also announced the continuation of a number of bills carried over from this parliamentary year, including the controversial Police, Crime, Sentencing and Courts Bill, the Environment Bill and the Armed Forces Bill. It looks like it's going to be another busy session.
Papers for pints. On Wednesday, the Prime Minister endured 90 minutes of questioning by the Liaison Committee. The heads of Select Committees quizzed Johnson on a host of questions, ranging from the armed forces reform to the (im)possibility of another Scottish referendum. Though the PM used the opportunity to share that travel to France may need to be restricted soon, the biggest news of the day was Johnson's revelation that pub landlords might be given the right to close their doors to the unvaccinated – it came just over a month after the PM said he didn't think people in the UK would need vaccine passports to go the pub. Unsurprisingly, immediate backlash followed, and the Government rushed to qualify this statement, saying that the landlords would need to test those who happen to be thirsty and unjabbed to avoid any discrimination. A Tory rebellion followed… without any consequence.
A year to reflect. This week many of us have heard that Britons will face £5,000 fines for going on holiday. This is not news per se, as holidays have been illegal since January. What is more striking is the distance our minds have travelled since March 23 2020, to reach the place where such sentences no longer surprise us. The anniversary of lockdown was designated as a "National Day of Reflection," a chance for the nation with the highest death toll in Europe to commemorate lost lives. The House of Commons held a minute's silence, the Queen sent a bouquet to St Bartholomew's hospital, bells were rung, and candles were lit across the country. It was a day to reflect but also one to look forward – to dare to hope that things will soon return to "normal", though set against a backdrop of rising infections in Europe and warnings of a third wave, that hope remains delicate.
THE WEEK TO COME 
Parliament's out for Easter. Parliament begins its Easter recess today and MPs and Peers head home after a busy first quarter of the year. This session has seen some important debates and legislation on issues from fire safety, police and sentencing, and women's rights to… you guessed it… Coronavirus. If you can't get enough of parliamentary debate and intrigue, you won't have to wait long – Peers will return on the 12 April (coincidence?) and MPs the following day.
Blue Wales. The Conservative Party gathers (virtually) for its Spring Conference this weekend. It's taking place alongside the Welsh Party Conference, ahead of Welsh Senedd Elections in May. The conference was originally supposed to take place at Celtic Manor in Newport, with up to 8,000 people attending. It was hoped it would provide an estimated £20 million boost to the South Wales economy; however ongoing Covid-19 restrictions have resulted in another virtual conference for the Tories. As always, the highlight of the weekend will be the Prime Minister's keynote speech on Sunday, where he'll set out his vision for a post-Covid United Kingdom ahead of May's devolved elections. While still riding high nationally, the party faces pivotal battles in the Summer. A perfect time, then, for Johnson to do what he does best – rally the troops before proper campaigning kicks off.
Gradual freedoms. From Monday, the rule of six or two households returns with people permitted to meet outdoors, including in private gardens (break out the barbecues)! Outdoor sports facilities, such as tennis and basketball courts, will also be allowed to reopen. The "Stay at Home" order will also end, but according to The Sun, the confusing "stay alert" message will not be returning…instead the totally straightforward "let's take this next step safely" will be deployed instead.
We're all not going on a summer holiday. During Tuesday's press briefing (yes, they still happen) the Prime Minister revealed that the conditions for international travel would be published on Easter Monday (a week earlier than planned). Before Steve Baker gets excited about any roadmap plans accelerating, increasing infections across Europe and the spread of variants means the Government is likely to be extremely cautious about easing any international travel restrictions. From Monday, anyone who tries to go on holiday abroad from England faces a fixed penalty of £5,000, and don't be surprised if more countries are added to the "red list" on Monday. At least some sort of framework is coming, whether there will be any concrete dates for sea and sangria is another thing.
WHAT YOU MIGHT HAVE MISSED 
"Next big scandal waiting to happen". Remember when former Prime Minister, David Cameron introduced the Lobbying Act in 2014? Don't panic if you don't because the man who introduced the legislation is now being investigated for potentially breaching it.As part of the legislation, which sought to improve the transparency of those seeking to lobby Ministers and civil service officials on behalf of a third-party, Cameron set up the Office of the Registrar of Consultant Lobbyists. Yesterday, it was confirmed that Harry Rich, the Registrar of Consultant Lobbyists, is investigating whether Cameron "engaged in unregistered consultant lobbying" in the wake allegations that the former PM directly lobbied the Chancellor to secure multimillion pound Covid loans for scandal-hit Greensill. Cameron also approached the Bank of England to secure Greensill's participation in the loans programme. The former PM will likely say he was an employee of Greensill, meaning his actions fell outside the scope of the law.
IN DEPTH
Vaccines: a European perspective
Tensions over vaccines, specifically AstraZeneca, in the EU remains high but is it really all political? DRD Partner in Brussels, Tamlin Vickers, shares his views.
It's all about AstraZeneca
Amidst the rising EU-UK tensions over vaccines in recent days, it is worth remembering that the EU's beef is – and has always been – primarily with AstraZeneca and not with the UK. In talking tough on export restrictions, the European Commission's aim has been to put AstraZeneca under sufficient pressure to persuade it to prioritise its contractual obligations with the EU. Neither the Commission nor most EU member states want to actually follow through on the threats (France and Italy are the notable exceptions – quelle surprise there). The majority are aware of the damage it would do to the EU's reputation as a champion of free trade, and it is well-understood that the reason many pharmaceutical companies decided to set up their manufacturing plants in the EU in the first place was because of an expectation that imports and exports would be able to operate unhindered. If companies – pharmaceutical ones and others – were no longer able to rely on such a pro-market approach, the attractiveness of the EU as a site of manufacturing and R&D investment would be undermined. The above context helps to explain that while the Commission has increased its powers to monitor and potentially block vaccine exports, it has stopped short of imposing an outright ban.
To read more, click here.
WORTH A READ  
The Guardian – China imposes sanctions on UK MPs, lawyers and academic in Xinjiang row (Patrick Wintour)
The Spectator – Europe's panic: the meltdown over vaccines (Matthew Lynn)
The Times – Scotland's 4% pay rise for NHS turns up heat on Johnson (David McCann)
New Statesman – What's up for grabs in the 2021 local elections? (Stephen Bush)
The Telegraph – For AstraZeneca, vaccine success has proved more trouble than it's worth (Jeremy Warner)
STAT OF THE WEEK
Khan on track to win a second term
A poll by Opinium suggests that Sadiq Khan is on course to win a second term as Mayor of London. The poll for the Evening Standard outlines that Khan is heading for a landslide with 53% of first choice preferences compared to Shaun Bailey's 28%.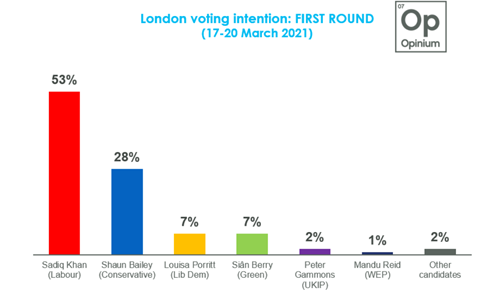 DRD Partnership is a strategic communications consultancy focused on building value for our clients and protecting their reputations at moments of challenge and change.
If you'd like to know more about us and our consultancy services, including our public affairs offering, please see our website: https://www.drdpartnership.com/ or drop us a line publicaffairs@drdpartnership.com. We'd love to hear from you.
Visit our website or LinkedIn page for more information about DRD Partnership.