The DRD Snapshot - 27 November 2020
27 Nov 2020
Tight shirt, loose spending… the spending review
Source: Twitter
THE WEEK THAT WAS
The Elite™ Vaccine. Earlier this week, news broke that the Oxford University/AstraZeneca vaccine has been developed with a 70%, no, 90% efficacy rate. Whilst Pfizer and Moderna vaccines showed 95% protection, the Oxford vaccine is still being hailed as a triumph. Rightly so – not only is the Oxford jab far cheaper, but it is also easier to store and transport, lining itself up to be a truly global solution. GP surgeries will likely become the epicentres of the British vaccination programme, with each surgery already possessing refrigeration units suitable for storing Oxford's offering.
Austerity Spending Review. As well as a "pause" in pay rises for at least 1.3 million public sector workers, and a likely increase in our tax bills in 2021, Wednesday's spending review also saw the Chancellor cut the Foreign Aid budget from the legally binding 0.7% figure down to 0.5%. The decision received backlash from an array of high-profile figures including former Prime Ministers and the Archbishop of Canterbury, no less. Such changes to foreign aid spending require an amendment in the law, and there is a rebellion brewing on the Tory benches which the government will have to fight off in the Commons.
A Very Covid Christmas. Prime Minister Boris Johnson, now emerged from his 14-day quarantine, has informed the nation that it may have five days of family-mixing during Christmas this year. A kind man indeed. With vaccine programmes around the corner, the news comes as the UK approaches a critical juncture in its Covid plans. SAGE scientist Professor Andrew Hayward, not quite yet feeling the Christmas spirit, has described festive bubble-mixing as a "recipe for regret" for British families. There were also stark warnings from the Chief Medical and Scientific Officers about not hugging elderly relatives if we want to hug them again in future. Ouch. For better or worse, this Christmas, families will make their own decisions on meeting and mixing.
Tory Chums. The Sunday Times has reported that Steve Dechan, a former Conservative Councillor, was awarded £276 million in government contracts for PPE. Ker-ching! Dechan swiftly snapped up a very big house in the country – a £1.5m grade II listed mansion in the Cotswolds. The contracts awarded to his medical firm, Platform-14, did not go through a competitive tender process. Instead, Dechan established direct contact with the DHSC. Stephen Timms MP, Chair of the Work and Pensions Committee, wrote to the government this week, urging more transparency. Dechan maintains that his firm was awarded the contracts through merit and not his connections to the Tory party. If you say so, Steve!
THE WEEK TO COME
Rebel Coalition. Who would want to be in government? The Prime Minister faces yet another rebellion next week over the incoming tier system which follows the current lockdown. The Guardian reports that the government will be needing Labour's support to pass the new measures, with about 70 MPs believed to be considering rebelling when the new restrictions are put to the test in the Commons next week. It is said that Labour's support for the new system is not yet guaranteed. Eyes peeled.
Ticking Down. Brexit negotiations are due to resume today, and EU negotiator Michel Barnier has confirmed he will be travelling to London for face-to-face meetings after all. On Tuesday, Barnier warned his British counterpart David Frost that without a major negotiating shift in the following 48 hours, he would pull out of this weekend's negotiations, pushing the talks into a fresh crisis. With 34 days left of the transition period, the heat is well and truly on for both parties.
Boosting Tourism? Those arriving in England from abroad will be able to reduce their two-week quarantine if they pay for a private Covid test after five days and show a negative result, with tests from private firms costing between £65 and £120. The new rules come into play from 15 December following six months of the dreaded fortnight travel quarantine. The move has been roundly welcomed by the travel industry, with airlines describing it as a "light at the end of the tunnel."
Committee Corridor. If you thought the analysis made for dire reading this week, tune in for Tuesday's Treasury Select Committee which will take evidence from the Office for Budget Responsibility (OBR) on the Chancellor's Spending Review. Don't say you haven't been warned…
WHAT YOU MIGHT HAVE MISSED
The Labour Party today announced the appointment of former government standards adviser Jane Ramsey to lead its response to the EHRC report into anti-Semitism. She will establish an independent process to investigate complaints of discrimination, bullying and sexual harassment. Ramsay is a trained barrister who served on the committee on standards in public life until October this year. It comes as former Labour leader, Jeremy Corbyn prepares to launch a legal challenge over his whip suspension as a result of his response to the EHRC report. Corbyn's legal team is attempting to make public evidence about private meetings between his team and Kier Starmer's, in the run-up to the party's decision to lift his suspension from the party.
IN DEPTH
A shot in the arm or a shot in the foot?
Paul Barnes is a Partner at DRD and is Chief Executive of the Association of International Retail. Paul, alongside flagship retailers, airports and hotels, has been leading the AIR's campaign to review the government's planned change to tax-free shopping in the UK at the end of this year.
As Britain's high streets prepare to raise their shutters on December 2nd, the key to their future success is very simple. They need to attract visitors to come back and spend their money again.
Which makes the future of high streets look a bit bleak. Because the post-lockdown tiers are meant to keep people at home to allow for the 5-day stay-at-home Christmas bonanza. And the probable post-Christmas lockdown threat will put a break on any momentum built-up over Christmas.
To read more, please click here.
WORTH A READ
The Times – Rishi Sunak targets Covid-19 jobless with £4.3bn support package (Frances Elliott)
New Statesman – Labour's warring factions need to work out what their endgame is (Stephen Bush)
UnHerd – Why I had to leave The Guardian (Suzanne Moore)
The Telegraph – Tougher Covid tiers are coming – and with them another potential Tory revolt (Danielle Sheridan and Camilla Tominey)
The Spectator – Sunak's Spending Review and the devastating impact of Covid (Kate Andrews)
STAT OF THE WEEK
A Lib Dem landslide with surprise wins for the SNP in Cornwall and the Isle of Wight… .
The new Coronavirus tier's map for England.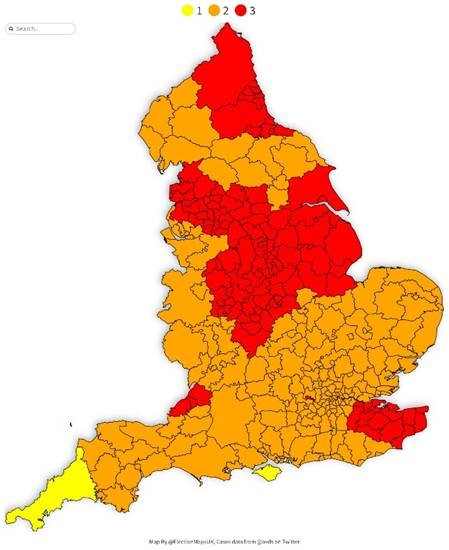 Source: Election Maps UK
DRD Partnership is a strategic communications consultancy focused on building value for our clients and protecting their reputations at moments of challenge and change. If you'd like to know more about us and our consultancy services, including our public affairs offering, please see our website: https://www.drdpartnership.com/ or drop us a line publicaffairs@drdpartnership.com. We'd love to hear from you.
spending review, spending review, spending review