The DRD Snapshot - 29 January 2021
29 Jan 2021
Following those polls, the Prime Minister arrives in Scotland (on the photo: Boris Johnson)
The SNP were quick to tweet the photo saying, "Stay at home. Protect the NHS. Save lives." A bold tweet given that one of the SNP's own MPs, Kenny MacAskill, has made headlines this week for making two 340-mile round trips during the lockdown…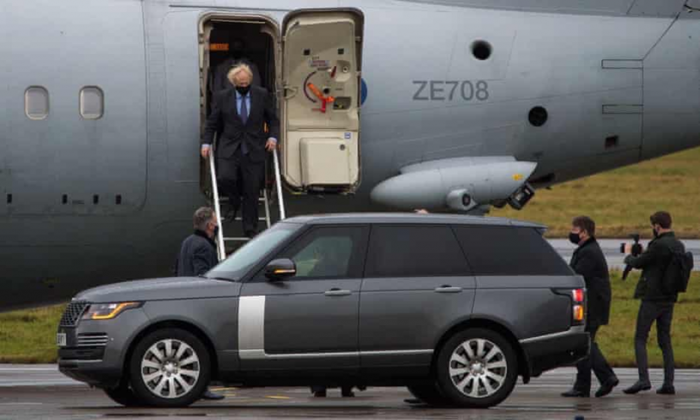 THE WEEK THAT WAS
Pain in the AZ. Earlier this week, AstraZeneca (AZ) Chief Executive, Pascal Soriot said that delays in supplying the vaccine to the EU were the result of the bloc signing a deal with the drugs firm three months after Britain. However, on Wednesday night, the EU tried to force AZ to divert vaccines reserved for Britons to Europe, accusing the drugs firm of breaching its contract. German MEP Peter Liese suggested the Pfizer vaccines due to arrive in the UK in the coming weeks should be held at the border, warning Britain it had "better think twice." But yesterday, a Kehrtwende, as Germany's disease control agency, the Robert Koch Institute, said there was insufficient data to determine the effectiveness of the vaccine for people over 65. As a result, it could only recommend using the vaccine on people aged 18 to 64. We'll soon find out – the European Medicines Agency is expected to deliver its verdict on the AstraZeneca jab today. Snapshot senses this is going to rumble on for a while.
Pints in May? On Wednesday, the Prime Minister confirmed that schools would not be re-opening after the February half-term, much to the apparent disapproval of the Education Secretary. The PM signalled that lockdown will continue until at least 8 March, promising details of an exit strategy on 22 February. According to the Telegraph, officials are keen to see a phased approach which would see restrictions eased at least a month apart so the impact can be monitored. The rumour mill says that they are working on proposals which could see most shops closed until April, and pubs and restaurants shut until May.
Hotel Quarantine. On Wednesday, the much-talked-about hotel quarantine plan was unveiled. UK nationals and residents returning to Britain from "red list" countries will soon be forced to quarantine for 10 days in government-provided accommodation. Foreign nationals from 30 countries where new variants have been identified, including South Africa, Portugal and South America, are not allowed to enter the UK. There are still no confirmed dates for the policy yet but moves to get hotels ready, many of which have been closed, are underway.
Way to REACT. Although the UK isn't experiencing the fast rate of decline witnessed in the first lockdown, the latest REACT study (published yesterday) painted a more optimistic picture than their data, covering the first half of January, initially indicated. "Patterns of infection have been fluctuating at the national level, with signs of a slight upward trend in the first 10 days…followed by a slight decline in the last seven days. This would suggest that lockdown has curbed the steep rise in infections…"
A woman's work is never done. The Government has withdrawn a social media advert urging people to "Stay Home. Save Lives" after it was criticised for stereotyping women. The image showed women home-schooling children and carrying out domestic chores, while a man, who only featured once, was shown relaxing on a sofa. The Prime Minister's spokesperson was forced to confirm that "[the advert] does not reflect our view on women and we have removed it." What Snapshot really wants to know is, who is ironing in lockdown!?
The Chief Whip would like a word. New Forest West MP, Sir Desmond Swayne found himself in hot water this week. Sky News revealed that in November last year, the MP urged anti-vax campaigners to keep fighting against government restrictions and told them that NHS capacity figures were being "manipulated". Then, just two weeks ago, Swayne was interviewed by Del Bigtree, leader of an anti-vaccination group, where the MP suggested that the wearing of masks came down to "social control". Apparently, Chief Whip Mark Spencer is speaking to Mr Swayne and will be asking him to attend a meeting with scientific advisers. A spokesperson on behalf of the Whips' Office said: "We completely condemn these comments."
THE WEEK TO COME 
Four Nation Approach? The Scottish government looks set to introduce tougher travel measures than those set out by the Home Secretary on Wednesday. Scotland's Deputy First Minister, John Swinney, confirmed that Scotland would look to introduce additional travel controls if UK restrictions are only "at a minimal level." Swinney suggested the possibility of "additional supervised quarantine measures." Look out for a policy announcement on this next week.
In Parliament. On Monday, there's an opposition day debate on cladding and building safety. It comes after the Labour Leader tabled an amendment to the Government's Fire Safety Bill that would ensure owners of leasehold flats don't have to pay to fix fire safety issues not of their making. A similar amendment was proposed by Conservative backbenchers Stephen McPartland and Royston Smith and has been supported by almost 50 cross-party MPs. With as many as 4.6 million homeowners unable to sell their properties due to dangerous materials on their building, or because blocks have not passed tests and declared safe, this could be a defining policy for the Government. Peter Apps, Deputy Editor of Inside Housing reckons the 'cladding tax' could be a "disastrous mistake".
More Votes. It's going to be quite the opposition day on Monday. As well as the debate on cladding (above), Labour is also expected to use the opportunity to force a vote on securing UK borders to "prevent the vaccine from being undermined." The hope is that this will push the Government into explaining exactly what scientific evidence it is using to support the need for hotel quarantine. Stay tuned!
Recess confirmed. Yesterday, Leader of the House, Jacob Rees-Mogg MP confirmed that the House of Commons will rise for recess on Friday 11 February, returning on Monday 22 February.
WHAT YOU MIGHT HAVE MISSED 
Happy hogs. A group of MPs is calling for hedgehog nesting sites to get the same protections as those for bats and badgers, in a bid to give hedgehog numbers, which have halved since 2000, a boost. Former Transport Secretary, Chris Grayling tabled an amendment to the Environment Bill, which he said would help "Britain's favourite animal". Grayling's amendment would add hedgehogs to the list of protected animals under the Wildlife and Countryside Act. This would place a legal obligation on developers to search for hedgehogs and take action to reduce the risk to them from building. Good news for the hogs, and Snapshot reckons former MP and hedgehog champion, Oliver Colvile is probably pretty happy as well.
IN DEPTH
One to Watch
Alok Sharma MP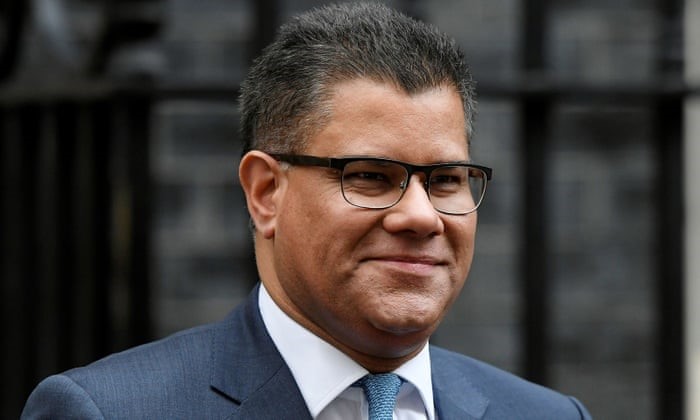 Former Business Secretary, Alok Sharma has certainly been thrust into the limelight since being appointed as the full time President of the UN Climate Change Conference of the Parties (COP26) by Boris Johnson. The COP26 conference, which is being held in Glasgow in November, is an opportunity for the Government to highlight its green credentials and genuine appetite to become a global leader in the fight against climate change. The Prime Minister is certainly keen to use the opportunity to show his personal commitment, perhaps influenced by his fiancée, to the cause. As US climate envoy, John Kerry outlined, this conference is the "last best chance" to avert a climate catastrophe. It's also likely to be the best chance of enhancing the "special relationship". So, a tough job ahead for Sharma then.
Since being elected an MP in 2010, Sharma swiftly climbed the ministerial ladder and has held a number of junior positions including Parliamentary Under Secretary of State at the Foreign and Commonwealth office. He has also been a Vice Chairman of the Conservative party but is best known for his work as Secretary of State for Business, Energy and Industrial Strategy, where he was influential in setting the 2050 NetZero target.
The COP26 conference provides a brilliant opportunity for Sharma, representing the UK, to work with global leaders to deliver a cleaner, greener world and protect it for future generations. With the inauguration of Joe Biden and the protection of the environment once again at the top of the US' policy goals, Sharma has the chance to forge close relations with key members of the Biden team, working together to tackle climate change and set ambitious global climate targets. Sharma could also use this climate (sorry) to promote the best of British diplomacy, repair relations with the US and illustrate that a post-Brexit Britain is a serious global player. A lot of pressure on Sharma then, but it will be interesting to see how he copes now he is in the global political limelight.
WORTH A READ 
New Statesman – How supporting a Scottish referendum may be the only way Labour avoids being wiped out (Philip Collins)
The Spectator – Vaccine wars: the global battle for a precious resource (Matthew Lynn)
The Times – Nicola Sturgeon threatens to publish supply data in EU vaccine row (Francis Elliott, Bruno Waterfield)
The Guardian – Review of UK workers' rights post-Brexit is axed in sudden U-turn (Edna Mohamed)
The FT – Will UK skills crisis be fixed by vocational education plan? (Bethan Staton, Peter Foster)
STAT OF THE WEEK 
State of the Union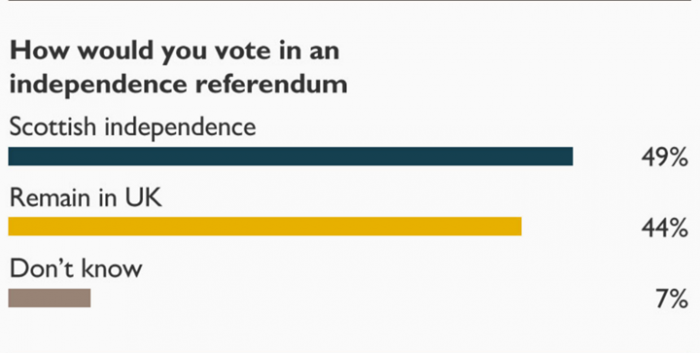 DRD Partnership is a strategic communications consultancy focused on building value for our clients and protecting their reputations at moments of challenge and change. If you'd like to know more about us and our consultancy services, including our public affairs offering, please see our website: https://www.drdpartnership.com/ or drop us a line publicaffairs@drdpartnership.com. We'd love to hear from you.