The DRD Snapshot
29 Oct 2021
Source: The York Press
THE WEEK THAT WAS
Loose Lips Sink Budgets: Before the usual bedlam of Budget Day descended, controversy shrouded the Commons as Rishi Sunak was reprimanded for leaking key budget content to journalists over the weekend. Seen as a breach of ministerial code, Sir Lindsay Hoyle was furious that certain portions had been advertised to the media. The Speaker of the House was keen to remind Sunak of historical precedent. Had he been part of Clement Attlee's postwar government some seventy years ago, he would have been expected to resign, as former Chancellor Hugh Dalton did, after an off-the-cuff remark to a journalist turned into a nationwide scandal before his 1947 budget. Recently, it has become a regular occurrence for Chancellors to slip elements of their upcoming budgets to the media. Although, Sunak's release seemed more like a spill, the outraged Speaker accused the Chancellor of "riding roughshod" over MPs who were denied the opportunity to hear the announcements first. However, Sunak's actions backfired as he was left to deliver a budget that had lost its surprise. Instead, an undramatic lull filled the chamber on Wednesday afternoon as he babbled on about Rosé…
Booze and baggage claim: With most of the announcements having already been 'trailed' (leaked) ahead of the big event, Chancellor Rishi seemed to spend an inordinate amount of time talking about booze. Clearly, this was the announcement 'for the people' given the number of photos appearing of the teetotal Chancellor holding pints of beer in the last few days. Announcements on air passenger duty also came as a surprise, with increases on only ultra-long-haul flights over 5,500 miles and cuts to domestic travel. At a livestream event for Conservatives after the Budget, Sunak revealed that he hoped his next holiday would be to his home in California, fortunately only a 5,318 mile journey.  The true impact of the announcements will continue to be analysed and debated into next week and, despite a positive economic forecast and a welcome announcement on reducing the Universal Credit Taper, it already looks like tough times ahead for working class people. Let's hope Rishi can fulfill his desires to reduce taxes before the end of this Parliament, or it could be this Government's last…
Heard this story before: Former Cabinet Minister Owen Paterson was this week found by Parliament's Standards Commissioner and Standards Committee to have broken lobbying rules while working as a paid adviser to two companies.  His response?  To lobby (yes, you read that right) the decision-makers on their findings, arguing that he had been deprived a fair process.  For most organisations unhappy with public policymaking, they may find this line of defence from a lobbyist disguising himself as an MP fairly amusing – what's fair about a process that allows an MP to use his Parliamentary offices for business meetings, whilst sending letters on House of Commons notepaper?  Alas, his defenders are pushing for a free vote to help the North Shropshire MP avoid a 30-day suspension from the Commons.  Lessons are slow to be learned, it seems.
THE WEEK TO COME 
Carbon cuts: Domestic flights or sustainable travel? Perhaps this is a question we are all asking ourselves after this week. The UK, in all its attempts to be a global green hub, seems to be repeatedly failing. However, a hopeful green petition, receiving over 100,000 signatures, will be debated next week. Alongside COP26, Parliament will discuss the introduction of charges on carbon emissions. The carbon charge would help tackle the climate crisis and air pollution. In the UK there are 64,000 deaths a year attributable to air pollution transforming this into both a climate and health crisis. Despite the obvious need to reduce carbon emissions for both the well-being of the population and environment, 'carbon charges' would raise billions for the UK economy. Our net-zero future, as we go green next week, is therefore fundamental. But sadly, the question remains: does the reduction in taxes on domestic flights give the right impression to the world that the UK take climate change seriously?
Digital dilemmas: Next week in Parliament a debate will be held on tackling the digital divide. For many, since 23 March 2020 when lockdown was announced in the UK, lives were moved online. Zoom and Teams dominated, as teaching and work became completely digitalised. However, what happened to those with no access to a laptop or internet? As it stands, there are currently 9 million adults in the UK who cannot use the internet without help, with a disproportionate number of those located in the North. Therefore, as many attempted to connect virtually, some became completely isolated: with children having no access to an education and adults with no ability to work. Despite the precarity of the current situation, in the announcement of the budget this week, 'digital skills' only got one mention. Indeed, there was a significant focus on 'levelling up' to build an infrastructure that improves everyday lives. But how can a true 'level up' take place if people need a greater access to fundamental digital skills? Perhaps next week will deliver an answer.
COP-flop: All eyes will be on Glasgow next week with over 120 world leaders gathering from Sunday to begin COP26, where countries will work to limit global temperature rise to 1.5 degrees Celsius. As some parties rush to submit updated Nationally Determined Contributions (NDCs) ahead of the event, the UN has already announced that current NDCs are not strong enough and would cause a temperature rise of 2.7 degrees Celsius by the end of the century. Similar disappointment was found on Thursday when China finally announced their NDCs and omitted any strong commitments to 2025. Despite this, the UN are still looking to the G20, the biggest emitters, to show stronger commitments and lead the summit in an ambitious direction. Other big themes of the talks include climate justice, and truly delivering on the $100 billion a year promised to help poorer countries tackle emissions and mitigate the effects of climate change, as well as the phasing out of fossil fuels and embracing renewable power.
WHAT YOU MIGHT HAVE MISSED 
House of Cards: This week proved to be yet another touch and go moment in Northern Ireland with legislation to prevent any immediate collapse of Stormont's institutions passing its latest stage in Westminster. It was pressure from the the DUP's vow to collapse the executive over the Northern Ireland Protocol which caused the government to fast-track the bill. MPs debated the Ministers Elections and Petitions of Concern Bill, which was agreed by the Stormont parties as part of the deal that restored devolution in 2020, on Tuesday. The legislation would extend the time to replace the First or Deputy First Minister in the event of a resignation from seven days to at least 24 weeks. We're long overdue a proper political crisis in Stormont, but this new 'cooling-off' period may stop the crucible from reaching its ultimate boiling point. Legislation to prevent any immediate collapse of Stormont's institutions now moves to the House of Lords.
In depth
One to watch
Adrian Ramsay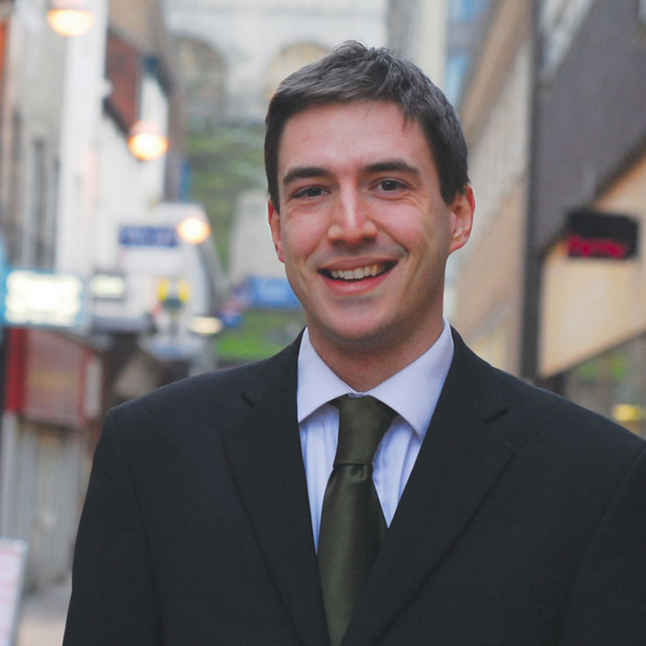 Adrian Ramsay is co-leader of the Green Party of England and Wales. He was elected in October 2021 on a joint ticket with Carla Denyer.
He was previously the deputy leader of the Green Party of England and Wales from 2008 to 2012. He grew up and studied in Norwich and later served as a Norwich City Councillor from 2003 to 2011. When he was first elected in 2003 he was one of the youngest councillors in the UK having gained his seat when he was only 21.
Ramsay stood unsuccessfully for the Norwich South constituency in both the 2005 and 2010 general elections. Although he has never been elected as an MP, he co-organised Caroline Lucas' campaign (alongside his own campaigning activities) in Brighton Pavilion which saw her elected as the UK's first Green Member of Parliament in 2010.
Ramsay has been in the news this week responding to the recent reports about the strikes by refuse workers which left rubbish piling up on the streets of Brighton. While a deal was reached between the Green-led council and the GMB union, dealing with the aftermath could take weeks. As a response to the strikes and the issues plaguing the only Green-led council in the country, Ramsay, appearing on BBC News said that the strikes highlighted "a national issue – that there are other councils around the country facing the consequences of central government not adequately funding local services."
Alongside attempting to defend a slightly wayward council in the national press, Ramsay also appeared on BBC News this week to give the Green response to the Budget. Ramsay believes that "Rishi Sunak and the Government see climate change as a cost, rather than an opportunity". Given the frequency with which the new co-leader has been appearing on television this week, we'll take his word on what an opportunity is.
When Ramsay and Denyer were elected earlier in the month, the press argued that their joint candidacy emphasised professionalising the party. This spruced up image coupled with their commitment to winning a second Green MP and a first Green Member of the Senedd suggest that the only way is up for Ramsay (and the Greens) in the next few years.
Stat of the week
At least COP26 is a hot topic for half of Brits….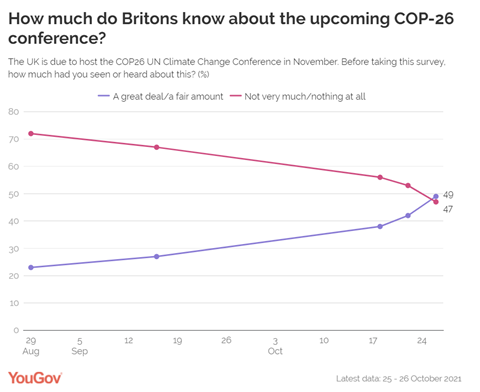 DRD Partnership is a strategic communications consultancy focused on building value for our clients and protecting their reputations at moments of challenge and change.
If you'd like to know more about us and our consultancy services, including our public affairs offering, please see our website: https://www.drdpartnership.com/ or drop us a line publicaffairs@drdpartnership.com. We'd love to hear from you. 
Visit our website or LinkedIn page for more information about DRD Partnership.