The DRD Snapshot - 30 April 2021
30 Apr 2021
Crazy paving? Forget Downing Street, Sir Lindsay Hoyle had always hated the gaudy décor in Westminster Hall…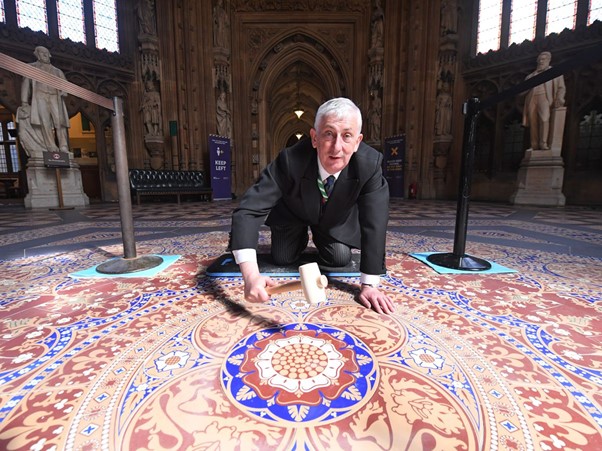 Source: Shropshire Star
THE WEEK THAT WAS
Grand designs. After another tumultuous week in parliament, it's now the PM who finds himself against the ropes… again. Faster than you can say "Dyson", last week's blog post by Cummings had all of Westminster asking who had funded Boris' escape from the "John Lewis furniture nightmare". Hoping to settle the scandal, the Government issued a statement, insisting that Boris picked up the bill for the outstanding payment of £60,000 himself. Far from settling anything, the comments led to an increased focus on the role of Lord Brownlow and CCHQ in originally providing the funds. The Electoral Commission, itself a former target of attacks from Johnson's government, said it had "grounds to suspect" an offence and launched an investigation into the party. While the EC's infamous laggardness may offer some consolation, its powers to interview, request access and even secure a search warrant could be a source of real concern for senior Tories worried about a potential paper trail. Snapshot imagines the PM gazing at the walls of Number 11, pondering Oscar Wilde's last words on the duel to the death with his wallpaper…
Courting controversy. The Prime Minister also suffered a setback in court this week, albeit one that will cause far less consternation in No. 10 than other current crises. Unexpectedly, The FDA, the union representing members of the public service, was granted permission to bring a full judicial review challenge to the Prime Minister's decision not to sack Priti Patel last year. Readers will recall that the adviser on ministerial standards left his post after the Prime Minister contradicted his advice and decided that the Home Secretary did not breach the rules – despite being found to have bullied staff. Putting to one side whether she did or did not (the jury on that one is generally in… ), this legal challenge is breaking new ground in potentially making political decisions amendable to judicial oversight. It has long been the case that political staff and Ministers themselves are accountable to the Prime Minister, according to whatever standards set by the latter. While making political judgments on the Ministerial Code subject to this sort of scrutiny may well please opponents of today's government, Snapshot predicts that it may be a slippery slope – and one that the FDA may one day come to regret.
Not Fostering good relationships. After months of discontent and a vote of no confidence, First Minister and DUP leader, Arlene Foster confirmed on Wednesday that she would be stepping down as leader. This means that, for the first time in the DUP's 50-year history, there will be a leadership election. Foster has been in post since 2015 and has seen off her fair share of scandal. So why now? In truth, anger about Brexit and the DUP's supportive role has been mounting for some time, highlighted in part by the recent rioting in Belfast. Foster led the party's campaign in favour of Brexit and threw her party's support behind Boris Johnson. But when Johnson returned to Westminster with an 80-seat majority in 2019 and the realities of just how sticky the Northern Ireland issue was, he signed a deal that left NI in the EU single market. Foster, blamed for poor judgement and failing to represent and safeguard unionism, was in the firing line. It wouldn't be the DUP without a healthy dose of Free Presbyterianism added to the mix – cue a vote on a motion regarding gay conversion therapy. The vote took place last week and Foster was one of just five DUP MLAs to abstain. Already under pressure, this was the final straw.
THE WEEK TO COME 
Catching a breath. Parliament was prorogued on Thursday, giving the PM a brief respite from grillings on scandals and sleaze. In the Commons, at least. The prorogation also marked the retirement of Lord Speaker Norman Fowler: he will be replaced by Lord McFall, who chaired the Commons Treasury select committee during the 2008 financial crisis. As the Government prepares for the first Queens' Speech since the Brexit-focused State Opening of December 2019, it is getting a chance to re-launch and re-energise itself. On 11 May, the Queen will approve the continuing work on Police and Crime Bill, the Environment Bill and the Armed Forces Bill, and we will be presented with a sense of the government's fresh priorities as the nation emerges from the pandemic. Predictions make for an ungrateful task, but the outstanding Manifesto commitments remain elephants in the Robing Room.
Super Thursday. The 6th May, dubbed "Super Thursday" by those who get excited about such things, is a downright frenzy of elections with the UK heading to the polls to elect the Scottish Parliament, Welsh Senedd, local councillors and metro mayors. In Scotland, the key question is not whether Sturgeon's SNP will win (they will) but whether they'll be able to hold an outright majority. Regardless, a pro-independence one is likely (if you count parties such as the Greens) and the First Minister may consider this mandate enough to push on hard with plans for indyref2 in 2023. A closer race might be that for second place – with the Conservatives' opposition status under threat from Labour. South of the border, English local elections are typically considered a bellwether for a Government's performance. Traditionally, serving ones take a bit of a clattering. So, a modest defeat for the Tories (as the polls predict) will be considered a victory and pile pressure on Sir Keir's Labour, undergoing its first electoral test. Amid all the excitement, there's a by-election in Hartlepool, a traditional Labour stronghold. Losing this (it was once part of the fabled 'red wall') would not look good and razor-thin polls mean it's squeaky bum time for Starmer.
We're all going on a summer holiday? Hope for those of a sunny disposition… Having initially been locked out of discussions, the UK is set to begin talks with the EU next week for a mutually recognised form of vaccine passport. The mooted 'vaccine certificate' would allow vaccinated Britons access to European countries without the need for testing or quarantining. The EU has been busy recently trying to develop a standardised form of passport across the bloc, allowing tourism restrictions to be lifted as one. Some countries, however, particularly those with major tourism economies, are breaking ranks and going it alone, raising the risk of a fragmented system which the EU is desperate to avoid (Greece has already begun to admit any UK citizens who can prove they have been vaccinated). The Daily Express reports that government is hoping to reach a deal and establish a travel corridor with the EU by 17 May, in time for the next easing of lockdown restrictions. But some insiders say a deal could be struck as early as next week!
WHAT YOU MIGHT HAVE MISSED 
Remote work. Fair play to HMG. In pledging to roll out its vaccination programme to all British Citizens, they've not left any of the 14 overseas British Territories stranded. Some of them are already stranded enough. The BBC reminded us this week that some of these tiny remaining specks of pink on the map are almost impossibly remote. Take the island of Tristan de Cunha (population: 264). The Armed Forces spent six days on an expedition to supply its somewhat aspirationally-named capital, Edinburgh of the Seven Seas. The RAF flew 8,000 miles to the Falkland Islands, loaded the vaccines onto HMS Forth, which sailed 2,500 miles to finally deliver the cargo. To the Pitcairn Islands (population: 47), it will take even longer. A ship is already at sea but will not arrive for two weeks. But even less remote islands have had their supply chain issues. In getting to the Turks and Caicos Islands (they're above Haiti), a dog had to be kicked off a BA flight to accommodate the jabs. Upon landing, panicked officials had to requisition a supermarket delivery van to keep the vaccines cold enough on the way to hospital. Brilliant.
IN DEPTH
One to Watch

Lord Geidt
As Flat-Gate rages on and the chaos within No. 10 shows no signs of abating, Lord Geidt has been appointed as Boris Johnson's new ministerial standards adviser. The appointment comes as Downing Street desperately tries to draw a line under a seemingly never-ending string of controversies.
The position of ministerial standards advisor has been vacant since Sir Alex Allan resigned, after the Prime Minister overruled his inquiry into the bullying allegations surrounding Home Secretary Priti Patel. Given these recent allegations of sleaze, Sir Allan might be relieved he resigned when he did.
Lord Geidt's first job will be to conduct an inquiry into Flat-Gate and advise the Prime Minister on any further registrations of interest that may be needed. In order to get to the bottom of who paid for the Prime Minister's new décor, Lord Geidt will draw on skills he acquired serving as the Queen's Private Secretary and as an army intelligence officer before that. In 2017, having stepped down from his palace role, he became Baron Geidt of Croberg in the County of Ross and Cromarty, a Crossbench Peer in the House of Lords.
However, despite his appointment as an adviser of ethical standards, Lord Geidt has a number of declarable interests of his own. Amongst other things, he is a member of the International Advisory Board for BAE Systems, an arms, security and aerospace company. BAE Systems are a major government contractor and have, for a long time, faced allegations of corruption and bribery. Perhaps he will feel right at home in Westminster after all.
THUMBS UP / DOWN

 EU Ambassador to London

Labour photo ops
WORTH A READ 
(30.04.21) Financial Times – Patchwork of vaccine passports complicates return of global travel
(30.04.21) The Times – Indian Covid variant cases in England triple to 400
(30.04.21) The Telegraph – London mayoral election 2021: when it is, latest polls and candidates running against Sadiq Khan
(30.04.21) The Times – Tories increase lead over Labour despite Boris Johnson flat row
(29.04.21) Financial Times – Labour's lost heartlands. Can it win them back?
(27.04.21) The Telegraph – Sir James Dyson: The truth about my contact with Boris Johnson
STAT OF THE WEEK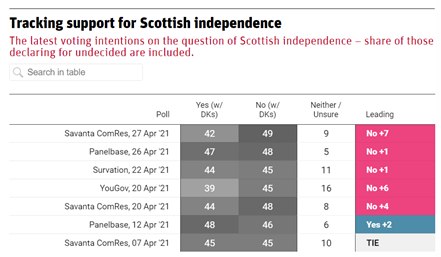 Source: New Statesman
DRD Partnership is a strategic communications consultancy focused on building value for our clients and protecting their reputations at moments of challenge and change.
If you'd like to know more about us and our consultancy services, including our public affairs offering, please see our website: https://www.drdpartnership.com/ or drop us a line publicaffairs@drdpartnership.com. We'd love to hear from you.
Visit our website or LinkedIn page for more information about DRD Partnership.