The DRD Snapshot - 5 February 2021
5 Feb 2021
Johnny Mercer MP takes a rather too enthusiastic approach to rolling his sleeves up for the vaccine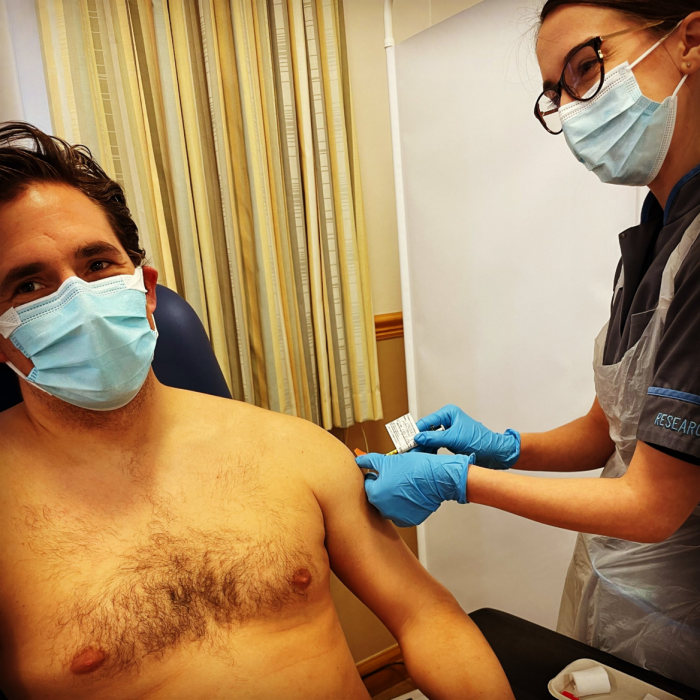 THE WEEK THAT WAS
Matt Damon. This week, the UK Government jabbed its tenth million person, making its vaccination programme the third most advanced in the world (behind the UAE and Israel). After unsavoury scenes with the EU around the Irish border last weekend, Johnson has spent much of the week pointedly avoiding the temptation to indulge in any form of vaccine nationalism, which might not only prove counterproductive in beating the virus but could also have wider implications for national security. Industry figures attribute the UK's vaccine success to the development of a post-Brexit life sciences industrial strategy over the past few years. However, Health Secretary Matt Hancock, perhaps deciding this wasn't quite 'box office' enough for his press conference, suggested that the Matt Damon film 'Contagion' had partly inspired the UK's strategy of advance-ordering doses in bulk. This was not, he hastened to add, his "primary" source of advice. How reassuring…
From bad to worse. At the start of last week, the EU Commission was accused of being too slow with its vaccination programme, this week, it's been accused of moving too fast. On Friday night, the row over the AstraZeneca vaccine reached new heights when EU Commission President, Ursula von der Leyen, invoked Article 16 of the Northern Ireland Protocol. The decision to put checks on the Irish border as part of its vaccine export control measures was universally condemned, and rapidly reversed. Even so, the damage was done. The UK now sees itself fighting on the front foot. On Wednesday, Cabinet Office Minister, Michael Gove, wrote to European Commission Vice President for Interinstitutional Relations, Maroš Šefčovič, demanding changes be made to the Northern Ireland protocol. Elsewhere, Northern Ireland's First Minister, Arlene Foster, mindful of her party's recent performance in the polls, has created a petition urging the Prime Minister to invoke Article 16. You couldn't write this stuff.
Past the Peak. Britain is past the peak of the current Covid wave, Chief Medical Officer, Chris Whitty confirmed on Wednesday night. As if predicting the response from the Covid Recovery Group, he hastily added that lockdown measures could not yet be eased. Whitty suggested that pressure on the NHS would lift once all over-50s had been offered vaccinations, suggesting at some lockdown restrictions are likely to remain in place until then. Confirming last week's rumours, Johnson announced on Wednesday that when the lockdown is lifted, all of England will move through the tier system as one, rather than on the previous regional basis. Elsewhere, efforts are underway to produce a vaccine that will protect against variant strains of Covid-19. A clinical study by the National Immunisation Schedule Evaluation Consortium (NISEC) has been launched to see if people can receive different jabs for their first and second dose.
A pre-prepared gag? Sparks flew during (and after) Wednesday's PMQs when Johnson accused Leader of the Opposition, Keir Starmer, of advocating for the UK to remain in the European Medicines Agency. Starmer was furious and claimed the PM's suggestion was "complete nonsense". However, CCHQ was quick to tweet a video in which it became apparent that Starmer had called for continued EMA membership, on several occasions, on camera. Starmer was forced to apologise, saying he'd "misheard" Johnson. Also, at PMQs this week, a furious Theresa May made it clear that she didn't approve of her colleague, Mark Francois, nicking her seat. Ahh MPs!
'Tomorrow will be a good day.' This week saw the passing of a true national hero, Captain Sir Tom Moore. At one of the most desperate moments in recent history, he was a beacon of hope and a source of inspiration for us all. His legacy of raising close to £33m for the NHS will live long after his death.
Council meeting becomes Twitter sensation. There is never a dull moment in British politics, as witnessed in the acrimonious Handforth Parish Council's meeting which went viral this week. This unlikely event became an internet sensation when the meeting turned into a rancorous shouting match, full of petty arguments, expletives, power grabs and references to Britney Spears. Snapshot eagerly awaits the next instalment.
THE WEEK TO COME 
Recess. MPs rise for February recess on Thursday, returning on Monday 22 February. The Prime Minister is expected to unveil his unlock lockdown framework at some point that week.
No love lost. On Monday, Peter Murrell (Nicola Sturgeon's husband) is due to give evidence to the Holyrood inquiry into the Scottish government's handling of harassment claims against Alex Salmond. On Tuesday,theformer First Minister is due to appear before the inquiry himself, though doubts about his attendance are circulating after the inquiry refused to publish evidence the former first minister submitted to a separate inquiry. This relates to questions about Nicola Sturgeon's involvement, after she admitted to having a series of meetings with the former SNP leader during the investigation. Salmond has claimed that Sturgeon's written evidence to the inquiry was "simply untrue", and that she has "repeatedly" misled parliament about exactly when she learned of the complaints against him. The First Minister meanwhile, has insisted that she did not conspire with or against Mr Salmond and accused him and his supporters of spinning "false conspiracy theories".
More pushbacks. In January, the Prime Minister confirmed that UK residents returning from Covid hotspots would have to quarantine in hotels. An announcement had been expected this week – Johnson even told MPs on Wednesday that information was coming the following day but No 10 later said he'd been "misinformed". Reassuring. Yesterday, Vaccines Minister, Nadhim Zahawi confirmed the announcement would be made "next week". Apparently, hoteliers are feeling rather in the dark – the CEO of Best Western told Radio 4 that beyond "very broad information" about timings, there had not been "any discussions at all" with government. Then, late last night, it was announced that the new regime will come into force on 15 February, with officials racing to book thousands of hotel rooms by tonight. Everything's in order then.
Together, again. Following Wednesday's punchy letter, EU Commission Vice President, Maroš Šefčovič and Cabinet Minister, Michael Gove released a joint statement committing to working together to resolve the issues in Northern Ireland. Šefčovič will be in London for in-person talks next week.
WHAT YOU MIGHT HAVE MISSED 
The Government had to quickly introduce new legislation, the Ministerial and other Maternity Allowances Bill 2019-21, to change the law to allow Attorney General, Suella Braverman, who is expecting her second child in a matter of weeks, to go on maternity leave. Although there are provisions for junior ministers, there was no mechanism in place to enable female secretaries of state and law officers to take a temporary absence after having a baby. Under existing rules, Braverman would've had to resign or be demoted from her role as Attorney General. 2021, ladies and gentlemen.
IN DEPTH
A Game of Two Halves? The Review of the Gambling Act 2005, and the consequences to an £8.7bn industry.
As we approach the mid-point of the UK Gambling Act review, there is plenty of speculation about possible actions that may come out of it. However, one thing is clear: the momentum is not with the industry at present. Despite the efforts of the trade body and individual operators, the anti-gambling lobby is running rings around them and it seems rarely a day goes by without some negative narrative meandering its way through our omni-channelled media. DRD senior advisor, Steve Myers, takes a look.
To read more, click here.
WORTH A READ
The Times – Dramatic recovery from Covid may be two weeks off (Tom Whipple)
The New Statesman – Europe isn't working (Yanis Varoufakis)
The Spectator – Secrets of the Vaccine Taskforce's success (Katy Balls)
The New Statesman – A consensus is forming among the commentariat that Keir Starmer is not up to the job. Does it matter? (Stephen Bush)
The Telegraph – Exclusive: Ministers race to book 28,000 quarantine hotel rooms by 5pm on Friday (Charles Hymas)
STAT OF THE WEEK 
At odds with Rishi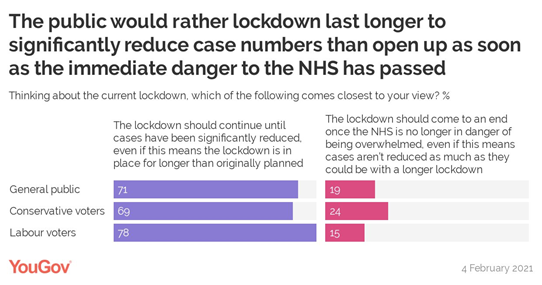 DRD Partnership is a strategic communications consultancy focused on building value for our clients and protecting their reputations at moments of challenge and change.
If you'd like to know more about us and our consultancy services, including our public affairs offering, please see our website: https://www.drdpartnership.com/ or drop us a line publicaffairs@drdpartnership.com. We'd love to hear from you.
mp vaccine, mp vaccine, mp vaccine, mp vaccine, mp vaccine, mp vaccine