The DRD Snapshot - 5 March 2021
5 Mar 2021
Welcome to the DRD Snapshot, your essential guide to what you may have missed this week and what you won't want to miss next… Rishi Sunak, the Budget 2021 and much more..
SNAPSHOT
"Fairness and honesty"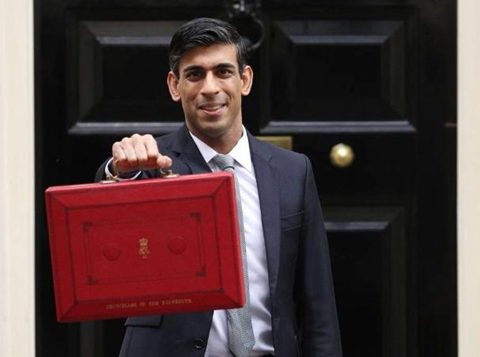 THE WEEK THAT WAS
A give, then take budget. On Wednesday, Chancellor, Rishi Sunak, unveiled his Budget and did what his party warned him not to. He raised taxes. The result? A bounce in the polls. Rishi, it seemed, had done it again. Overall, the budget focussed more on spending money than raising it. Hardly surprising given that this Chancellor has borrowed more in his first year in the job, than Gordon Brown did in his entire tenure as Chancellor. The biggest tax hike – corporation tax, which will rise to 25 per cent from 2023. There's also a freeze on the personal tax threshold. The tax rises announced will increase the tax burden by one per cent, to 35 per cent of GDP in 2025-26 – the highest level it's been since the late 60s. Current spend is worth bearing in mind here. Sunak unveiled a £12bn support plan for the economy in his first Budget, before having to add more to it throughout the year. On Wednesday, he outlined £40bn of support, bringing total spending to £344bn. That support includes extending the furlough scheme and self-employed support and extending the Universal Credit uplift until autumn. Business rates relief and grants will also continue until September. Good news for the Chancellor, the OBR forecast predicts the economy will return to pre-Covid levels six months earlier than previously predicted – by the middle of next year.
Budget losers. Although the majority of Brits think the Budget is fair [see this weeks' stat] – there are some significant areas of concern. And Keir Starmer reckons he's got the silver bullet 'Äî a £30 billion cut to day-to-day spending in the Department of Health and Social Care (DHSC). NHS England's core resource spending, which includes Covid spending, will fall from £147.7bn this year to £139.1bn next year. Former Health Secretary, Jeremy Hunt was also tweeting about the absence of any mention of social care in Wednesday's budget. Speaking of gaps, Shadow Business Secretary Ed Miliband warned that the Budget's green agenda won't go far enough. Environmentalists said the Budget "offered promising words but few new incentives to shift towards a low-carbon economy." Green measures didn't even make the cut for a mention in Sunak's pre-budget video, so perhaps that should've been an indication of what was to come (or not come). Despite OBR's slightly more positive outlook, the economy is still expected to be three per cent smaller in five years' time than it would have been without the pandemic. The Times' Economics Editor, Philip Aldrick reckons that Sunak's planned tax rises are "not enough" and that he "said that he needed to be 'honest' about the public finances, but he was not honest enough."
Date with Destiny (finally). On Wednesday, Scotland's First Minister, Nicola Sturgeon faced nearly eight hours of questioning by a Scottish Parliament committee over the handling of harassment allegations against her predecessor. The most serious allegation Sturgeon faces is about whether she broke the Ministerial code, by misleading Parliament. It is alleged that she knew more about this investigation and at an earlier stage, than she claimed. Salmond accuses her of not only breaking the ministerial code but being part of a plot against him. With the Scottish Parliament elections now only a few months away, this saga is already having an impact in the polls. So, what next? The Scottish Tories are still trying to force a vote of no confidence, though it looks unlikely to succeed with other opposition parties indicating they won't back it while the inquiries are still running. As for the committee, it isn't quite done yet. Quibbles remain over government documents and whether these have been provided in full. But the clock is ticking, the divided committee has three weeks to publish its findings before breaking up for the election.
Pesky Protocol. The EU has accused Britain of risking a breach of international law (never!) after it unveiled plans to unilaterally extend grace periods on post-Brexit customs checks at Northern Ireland's ports for at least six months. Northern Ireland Secretary, Brandon Lewis said measures due to come into force on 1 April must be postponed until 1 October. European Commission Vice President Maroš Šefčovič condemned the move, saying it was "a clear departure from the constructive approach" to ongoing talks on Northern Ireland trade, and would undermine trust. Šefčovič says, "infringement proceedings" against the UK for extending customs grace periods without EU consent would come "very soon." The UK Government reckons it's not breaking international law though, arguing the action is "lawful and consistent" with the implementation of the protocol. All in agreement then…
Clap Cut for Carers. On Thursday, the independent panel on NHS salaries recommended a 1 per cent pay rise to all staff (except GPs and dentists) as a "reward" for the incredible work they have done on the frontline during the pandemic. This "reward" equates to a £3.50 increase a week for an experienced nurse and unsurprisingly has been met with derision from the profession. The BMA described it as a "kick in the teeth" and a "dereliction of the government's moral duty." Sir Keir Starmer stated that the NHS heroes deserved more money, and the Royal College of Nursing is contemplating industrial action. This story isn't likely to go away any time soon.
THE WEEK TO COME 
International Women's Day. Monday marks International Women's day and as expected, there are a host of activities and events happening across Parliament. On Monday, members of the House of Lords will question the Government on conditions for working mothers and women holding elected office in the UK. Then on Thursday, there's a general debate in the Commons on International Women's Day. As well as this, the All-Party Parliamentary Group (APPG) on Women in Parliament is hosting a wealth of virtual events including one on female MPs pre-1945 and their influence on producing legislation that affected their lives. Although the 2019 General Election returned the highest number and proportion of female MPs to date – 220 or 34 per cent of the 650 MPs – there's still a lot of progress to be made, and this will certainly provide an opportunity to highlight that. Pushing the Ministerial and other Maternity Allowances Bill through Parliament, to aid Attorney General, Suella Braverman, was an overdue step in the right direction.
Ministerial Standards. The Prime Minister's former adviser on Ministerial Standards Sir Alex Allan, who resigned following his report into allegations of bulling by Home Secretary, Priti Patel will appear before the Committee on Standards in Public Life on Wednesday. Worth remembering – the FDA union is still bringing a judicial review over Johnson's decision to clear Patel of bullying under the ministerial code. No doubt Cabinet Secretary and Head of the Civil Service, Simon Case, who has only been in the role for six months, will be watching closely.
The return of Westminster Hall. Backbench MPs (Jim Shannon) will be pleased to see the resumption of Westminster Hall debates from Monday. These debates, which have been suspended because of the pandemic, provide MPs with opportunity to raise any local or national issue and receive a response form a government minister. The SNP's Martyn Day has the pleasure of leading Monday's first debate, on press freedoms and safety of protestors in India.
WHAT YOU MIGHT HAVE MISSED 
Down with the Kids. A video, believed to be from summer 2019 was doing the rounds this week. It might be an oldie, but it is definitely worth a watch. In the clip, Chancellor, Rishi Sunak, is chatting to two sixth form pupils when he tells them he has a 'coke' addiction. He then spends an inordinate amount of time desperately trying to clarify that he was referring to Coca Cola™. Digging further, he starts talking about "special coke" from Mexico – sensing that reference hasn't helped the situation, he starts talking about cane sugar versus high fructose corn syrup. Painful, but worth a view.
IN DEPTH
One to Watch
Andrew Mitchell MP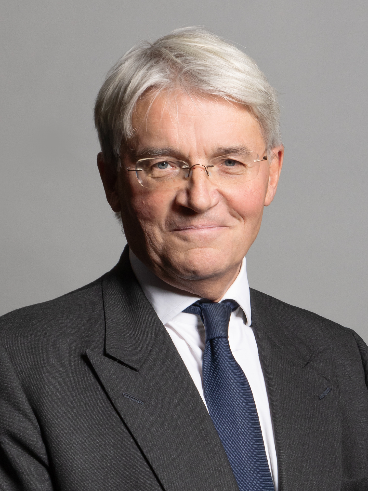 This week, a group of Tory rebels warned the Government that they will lose a vote in the Commons over their plans to cut foreign aid. One of these MPs was Andrew Mitchell, who has long been a champion for foreign aid and is likely to remain particularly vocal on the issue.
Mitchell initially entered Parliament in 1987, where he represented Gedling until 1997. Since 2001, he has been the MP for Sutton Coldfield. Although he was moved to the backbenches in 2012, following an unfortunate incident with a bicycle and a policeman (the "plebgate" scandal), Mitchell shows no sign of leaving public life. Foreign aid has always been an issue important to Mitchell. Both in Opposition and in Government, as International Development Secretary, Mitchell asserted the importance of British aid contributions to the developing world as well as the need for transparency and value for money. Though his time in Cabinet wasn't without controversy, he faced heavy criticism when, for his final act as International Development Secretary, he broke ranks with international sanctions and unfroze £16mn of aid to Rwanda. Although he stood by his decision, the next tranche of aid was cancelled by his successor, Justine Greening.
Unscathed by previous headlines, Mitchell has been leading the efforts to convince the Prime Minister and Chancellor to rethink cutting international aid warning, "we are the only G7 country cutting aid in the year that we host the G7 summit. We are already seeing the deadly consequences of cutting life-saving humanitarian support and the Government has given no foreign policy justification." In addition, he has accused the Government of being "complicit" in the humanitarian disaster in Yemen saying that backing the Saudi coalition means the UK is contributing "worst famine the world has ever seen."
Although the Prime Minister claims that cutting foreign aid has public support, it certainly doesn't have the backing of all Conservative MPs. As the situation in Yemen worsens, and with all eyes on Britain as it heads up the G7 presidency, Mitchell et al will have more to say on the matter. They may even vote against the Government.
WORTH A READ 
Financial Times – Northern Ireland protocol risks being tested to destruction (Peter Foster)
New Statesman – Leader: Lost Labour
The Spectator – The thinking behind Rishi Sunak's cash grab (Kate Andrews)
The Times – Alex Salmond inquiry: Published legal advice appears to contradict Salmond's plot claim (Kieran Andrews)
ConHome – Are Johnson and Sunak preparing the way for a snap election in 2023? (Paul Goodman)
The Independent – No clarity in government's plans for net zero or climate conference goals, MPs warn (Daisy Dunne)
STAT OF THE WEEK
The fairest of them all
Despite announcing the biggest tax rises in 30 years, the Conservatives have enjoyed a significant bounce in the polls since Wednesday's Budget with 55 per cent of people describing it as "fair".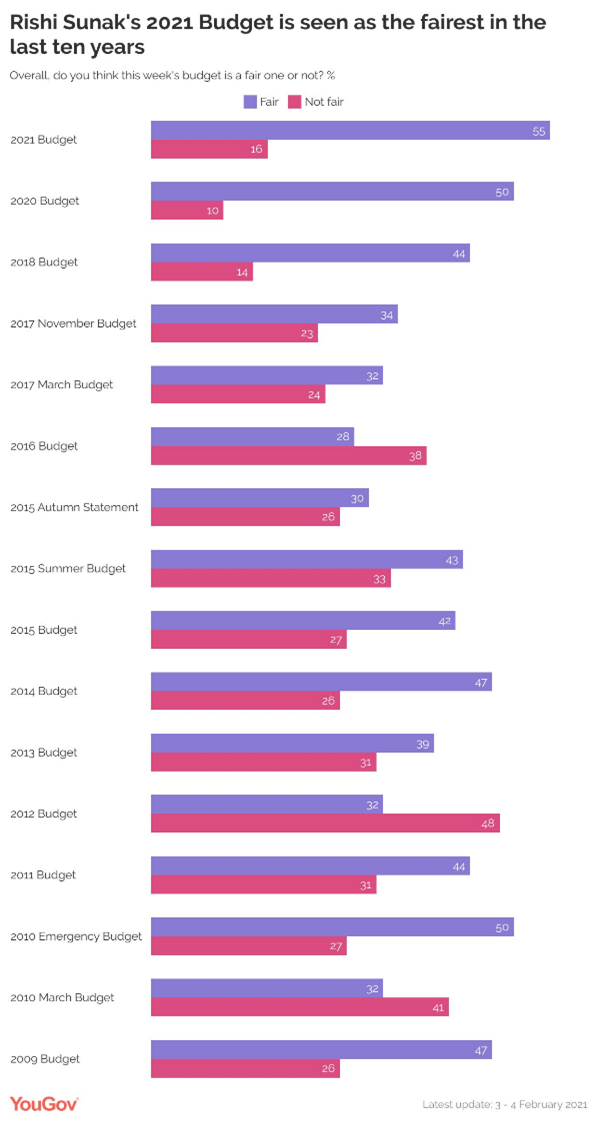 DRD Partnership is a strategic communications consultancy focused on building value for our clients and protecting their reputations at moments of challenge and change.
If you'd like to know more about us and our consultancy services, including our public affairs offering, please see our website: https://www.drdpartnership.com/ or drop us a line publicaffairs@drdpartnership.com. We'd love to hear from you.
rishi sunak budget 2021, rishi sunak budget 2021, rishi sunak budget 2021, rishi sunak budget 2021, rishi sunak budget 2021, rishi sunak budget 2021