The DRD Snapshot - 6 November 2020
6 Nov 2020
There will not be another National lockdown …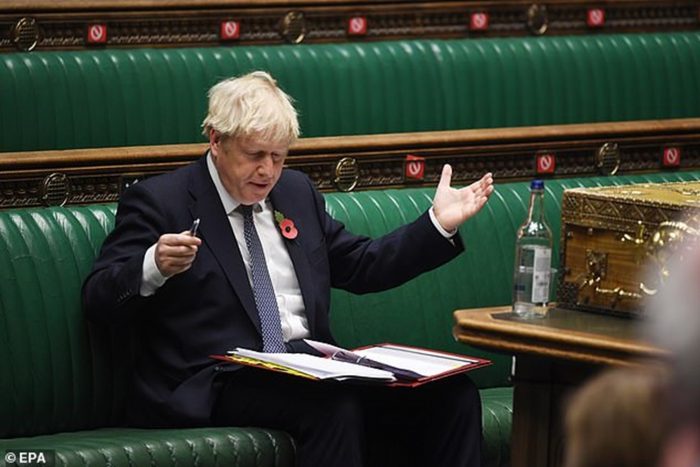 Source: EPA
THE WEEK THAT WAS
The count continues. After a surreal press conference from Donald Trump last night, and attempts to shut down counting in several states, the outcome of the US election is inching closer. At the time of writing, Joe Biden looks set to become the next President of the United States, having widened the gap further by taking the lead in Georgia. All eyes on Pennsylvania!
Lockdown 2.0. Last weekend, Downing Street confirmed, in a highly punctual press conference, that a new four week lockdown would take effect from Thursday. MPs voted in favour of the proposals on Wednesday, though backbenchers including former Prime Minister Theresa May, laid into Boris Johnson's plans for national restrictions. The new measures will remain in place until Wednesday 2 December. Whilst Labour voted in favour of the proposals, there are growing fears in No. 10 about the potential for an embarrassing future defeat in the Commons if enough Tory rebels join forces with the opposition.
Quantitative Easing. As a result of the lockdown, the Bank of England (BoE) injected an additional £150bn into the economy. The Bank expects the economy to shrink by 2 per cent in the final three months of 2020, before bouncing back at the start of 2021… assuming current restrictions loosen. It doesn't expect the UK economy to get back to its pre-virus size until the following year. Ouch.
A helping hand. Following the BoE's intervention, Chancellor Rishi Sunak announced that the Government's 80 per cent furlough scheme will remain in place until the end of March 2021, though it will be reviewed in January.
Making plans for Nigel. Nigel Farage's Brexit party applied to the Electoral Commission to change its name to Reform UK. In a bid to rebrand the party, it will pivot towards providing a platform for the anti-lockdown movement. The party's Chairman Richard Tice said a new strategy was needed for tackling the coronavirus so that "we learn to live with it, not hide in fear of it."
World-beating outsourcing. Millions of medical masks purchased by the Government for £45 million are missing after a major PPE deal collapsed amid accusations of fraud. The Department of Health and Social Care (DHSC) paid its supplier Purple Surgical upfront for 5 million FFP3 respirator masks which were supposed to have been flown to the UK in June.
THE WEEK TO COME
No white smoke… yet. After two weeks of intensive talks, a deal has still not been reached with the EU. In a briefing with Brussels ambassadors on Wednesday, Michel Barnier warned "there is not much time left for brinkmanship. It is a recipe for disaster." Talks will continue in London next week.
Committee corridor. On Tuesday, the Digital, Culture, Media and Sport Select Committee is taking evidence on sport in our communities. Representatives from the English Football League, English Premier League and the Football Association will be in attendance. Expect grassroots sport to get quite a bit of attention. Then on Wednesday, the Northern Ireland Committee is taking evidence on Brexit and the Northern Ireland Protocol. Both worth a listen!
For the first time, the annual Remembrance Sunday service will be a closed ceremony due to the coronavirus pandemic, but will be broadcast so that the public can watch along at home. Local Authorities in England can still hold services but have been encouraged to limit the number of attendees.
WHAT YOU MIGHT HAVE MISSED
On Tuesday night, certain MPs (those deemed clinically vulnerable) were granted a proxy vote in the Commons so long as they're on the parliamentary estate and participate in an urgent question or statement on the same day.
ONE TO WATCH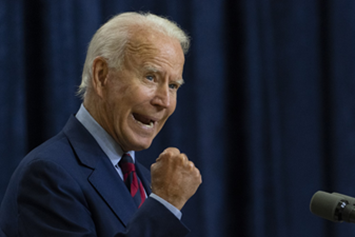 Source: Carolyn Kaster / Associated Press
Joe Biden
Raised in Pennsylvania and Delaware, Joe Biden wasn't particularly academic but was always a natural leader, nominated class president in his junior and senior years. Although he graduated with a law degree and did practice (even setting up his own firm) his interest in politics was never far away.
In 1969, he reregistered as a Democrat (having previously been an Independent) and was elected to a county council seat in the normally Republican district of Delaware. Then in 1972, against the odds, he defeated the Republican incumbent to become the junior U.S. Senator from Delaware.
It seems that Biden always had his eye on the prize. In 1988, the Senator declared his candidacy for the Democratic presidential nomination. Just two months in, his campaign's messaging had become confused and he was accused of copying a speech by British Labour Party leader, Neil Kinnock. Questions were then raised about accusations of plagiarism in his law school days (as well as exaggerations that he'd made about his own academic credentials), and within three short months, his campaign was over, and he withdrew his candidacy.
Although Biden is the 18th-longest-serving Senator in U.S. history, racking up an impressive 36 years and 13 days, his attentions were still focused elsewhere – in January 2007, he declared his candidacy in the 2008 election. However, he struggled to gain traction against the high-profile candidacies of Obama and Clinton. In the first contest, he placed fifth in the Iowa caucuses, achieving slightly less than one percent of the state delegates. He withdrew from the race that evening.
All was not lost. Although Biden declined Obama's first request to vet him for the vice-presidential slot, fearing the position might represent a loss in status from his Senate position, he later changed his mind. He served as the 47th Vice President of the United States from 2009 to 2017.
Third time lucky! Although many were surprised at his decision not to run for President in 2016, there was always media speculation that he'd put his hat in the ring for 2020. He didn't disappoint and launched his campaign in April 2019. At the time of writing, it looks like "Sleepy Joe" has beaten The Donald. Unsurprisingly, Trump isn't going to go quietly, challenging various vote counts in key states… unfortunately for the new President, months of legal action lie ahead.
WORTH A READ
The Telegraph – Brussels 'caves on UK fishing demand' as Brexit talks intensify (James Crisp)
The New Statesman – Why are we locking down again? Because England didn't learn from Europe's mistakes (Stephen Bush)
The Guardian – UK will be unable to deal with Brexit alongside Covid, says thinktank (Lisa O'Carroll)
Politics Home – What could a Biden presidency mean for a US-UK trade deal? (Nabil Rastani)
The Spectator – Why Labour are focusing their attacks on Rishi Sunak (Katy Balls)
The Times – Blind faith in data will wreck the economy (Iain Martin)
Foreign Policy magazine – Why a Biden Win Is Bad News for Boris Johnson (Nick Cohen)
STAT OF THE WEEK
Who knows when it will end…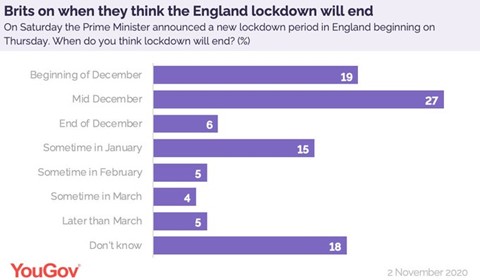 Source: YouGov (2nd November)
DRD Partnership is a strategic communications consultancy focused on building value for our clients and protecting their reputations at moments of challenge and change. If you'd like to know more about us and our consultancy services, including our public affairs offering, please see our website: https://www.drdpartnership.com/ or drop us a line publicaffairs@drdpartnership.com. We'd love to hear from you.