The DRD Sport Snapshot
1 Apr 2021
Beyond the headlines [Sport, rugby and the Olympics in this week's edition]
Keeping an eye on concussion in rugby
Snapshot has previously reported politicians' developing interest in the link between contact sports and brain injury.  As we noted last month, the DCMS Select Committee is currently accepting evidence on the topic and has already heard from a range of medical experts as well as former elite athletes – it is important to note though that these injuries are far from exclusive to those playing at the highest levels; indeed, in many cases, it is those playing in amateur leagues who may be at a higher risk.
Now, as is so often the case, belated political interest (alongside, no doubt, the lawsuit being brought by retired rugby players) has spurred industry action. World Rugby has announced that eye-tracking technology, understood to help detect and manage concussion, will be trialled.  Studies indicate that eye movement functions are affected at the time of a concussion (or shortly thereafter) and so could provide an indication of concussion. The medical understanding of this link is not particularly new, however, and it is unclear how recently the technology was developed and where and when trials will be rolled out. Instead, we are once again seeing an industry jump only now that an issue has been placed on the political radar. It remains to be seen whether rugby's administrative bodies will bear the brunt of the Select Committee's report – but based on the curious timing of this new trial, one suspects that they are bracing themselves with all the protective armour their players should have.
Decisions, decisions…
Staying with rugby, last week, after all that fuss, the Lions confirmed that the tour to South Africa would be going ahead as planned after all. But while there is now a confirmed destination, playing the matches behind closed doors remains a real possibility. As previously reported, shutting fans out would have serious economic implications for SA Rugby and South African tourism. This also comes at a difficult time for the South African national side; the team haven't played a test match since the Rugby World Cup Final in November 2019 (not a classic – we barely remember who won). SA Rugby continues to hold desperate discussions with the government to establish guidelines and protocols to ensure the safe return of fans, but the decision will ultimately be shaped by the country's ability to tackle the virus – which is currently stalling. Now it's last chance saloon and if there is another setback, there are no more contingencies. Bill Sweeney, Chairman of the Rugby Football Union (RFU): "If they can't host it then the agreement is off. We've probably run out of time on the UK. So you're looking at playing in 2025."
Not a cheerful Olympics
Swiftly moving from one beleagured sporting event to another, Snapshot last checked in on the Tokyo Olympics back in February when Yoshiro Mori stepped down from the helm following some deeply unsavoury comments about women and a storm of international condemnation. As predicted, this may have (somehow) been a blessing in disguise for the gaffe-prone former PM, such is the scale of the challenge facing Japan.
It's an understatement to say that things haven't exactly been looking up since. Plans to forge ahead were recently branded "madness" and a torrent of stories ranging from bad to catastrophic continue to flood headlines – gone is the boost provided by tourism following a ban on overseas spectators, gone is the ability to cheer and, most sadly for the Daily Mail, gone are the (infamous) parties with athletes confined to the Village and compelled to leave after competing. Advertising revenues are increasingly under threat from concerned sponsors and the spectre of corruption and bribery still lurks in the background. There are doom-laden predictions that the 100,000 athletes, coaches, officials and mass media converging on Japan from over 200 countries will form the basis of a global, "super-spreader" event. Eat your heart out, Lurpak
Organisers and fans alike will fear that the muted, masked start to the torch relay earlier this week (don't worry, no cheering) is a sign of things to come. With a faltering inoculation campaign and cases on the rise, the public mood in Japan is fraying: opinion polls indicate that over half of the Japanese public want the Olympics cancelled or postponed.
But Tokyo is determined for the games to go ahead. There is a sense of Scott's Expedition about the monumental task at hand and its ever-worsening outlook. Given the economic cost, prestige and national pride entailed, the Olympics has become a prime illustration of "past the point of no return".
Got to keep moving
What has returned, after 87 days on the sidelines, is grassroots sport! On Monday, people across England were finally allowed to make the most of the good weather, boosted by new evidence that the risk of catching coronavirus in such settings is "extraordinarily low." There remains, however, real concern that the lengthy gap has turned us all into a nation of poltroons, a serious health risk for the economy. Current estimates say that half of all children are currently failing to reach the recommended daily average of at least 60 minutes of activity and the statistics for adults are no better. A report from Sheffield Hallam University found that grassroots sport contributed £13.8bn to the economy in 2017/18 but that the health impact likely contributes around £71bn through various societal benefits. But despite nine-figure sums devoted to emergency funding to keep grassroots alive during hibernation, there is a real worry that the impact on activity levels could have, as the FT reports, "huge economic and societal costs." Academics have warned DCMS that unless this is reversed, it could cost the economy £6bn. The Government has taken note and, amid a slew of 'please start doing sport again' campaigns from sports bodies, it has declared that "sport and physical activity will be at the heart of our national recovery." That's one way to run a country…
A confident Stroll into Formula One
The Formula One season also got underway this week, with a tense tactical battle between Max Verstappen and Lewis Hamilton possibly setting the tone for an engrossing year. One of the more interesting subplots to this year's competition has been the arrival of a venerable old brand, gleaming in British racing green. For the first time since 1960, an Aston Martin will line up on the starting grid, the passion project of Canadian billionaire Lawrence Stroll who hopes to use fairytale success on the racetrack to reignite the stalling fortunes of the brand (of which he is Executive Chairman).
But the one-dimensional nature of Formula One in recent seasons does not bode well for fairytales. With Mercedes, Ferrari and Red Bull able to comfortably outspend competitors (and the former winning the Championship every year since 2014), new owner Liberty Media has had to introduce cost caps ($145m per team this year) to try to offset accusations that it's all got a bit boring. This could prove to be impeccable timing for Stroll, who is brazenly confident that the PR can match the substance. But after his new car limped to 15th place in the first race of the season, the road ahead could be long and winding.
Half-full or half-empty?
In somewhat more optimistic news, the FA is expected to inform UEFA that Wembley Stadium can be at 50 per cent capacity for the final and semi-finals of this summer's Euros (to be held three weeks after all national restrictions are set to ease). In total, Wembley is due to hold seven matches, with the earlier games possibly holding crowds of at least 10,000. The FA Cup semis on April 17-18 have been mooted as pilot events, where a limited number of lucky frontline workers will be allowed to attend. The prospect of England playing in the latter stages of a home tournament evokes melancholic memories of Euro 96. But as any England fan knows, confidence and hope will get you nowhere.
Snapshot
After comfortably avenging his defeat last year against Alexander Povetkin, British heavyweight Dillian Whyte sportingly brings his own stool to assist the recovering opponent.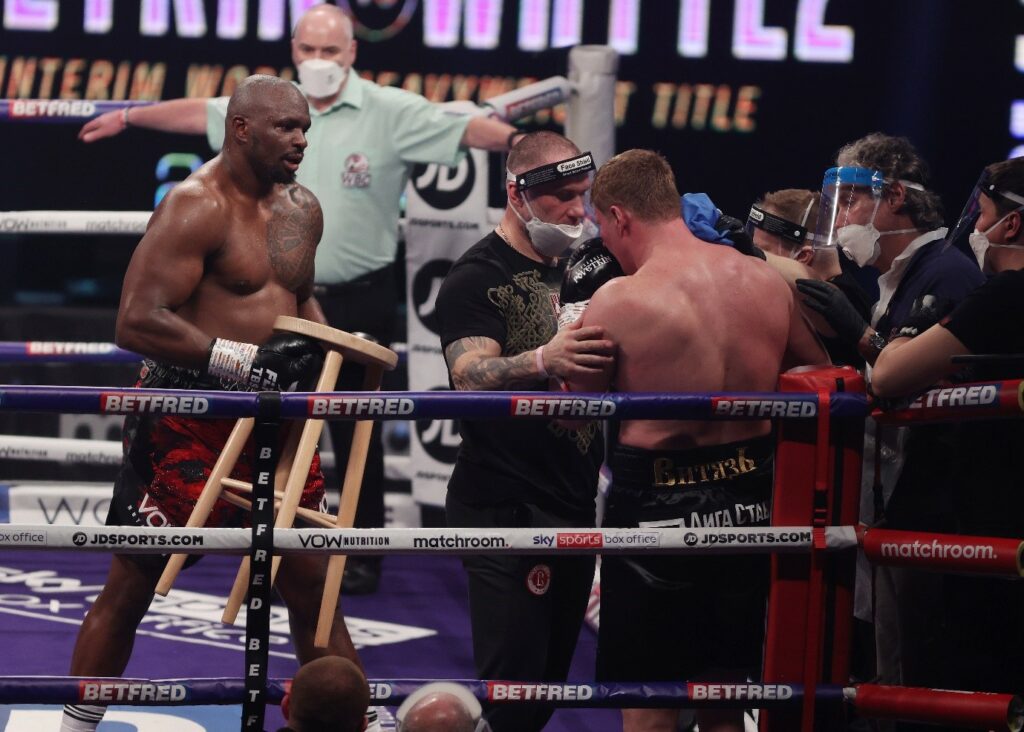 Worth a read
The Times (31.3.21) – The advances in science that rugby hopes can solve its existential crisis
The Guardian (30.3.21) – 'We're not little kids': leading agents ready for war with Fifa over new rules
The Times (30.3.21) – Final tour of great England spinner who was lost to Second World War
The Guardian (30.3.21) – ECB ponders Covid passports to get fans back into grounds for championship
The Daily Mail (30.3.21) – Japan's plans to host Tokyo Olympics this summer are branded 'madness' by medical experts and angry politicians as Covid-19 cases rise again across the country amid a slow vaccine rollout
The Guardian (30.3.21) – Could a Norway boycott of the Qatar World Cup change the future of football?
BBC (30.3.21) – EFL: Championship clubs to receive £117.5m loan to meet lost gate receipts
The Financial Times (26.3.21) – Aston Martin bets on a Formula One comeback to revive the brand
What DRD's been watching
Formula 1: Drive to Survive, Season 3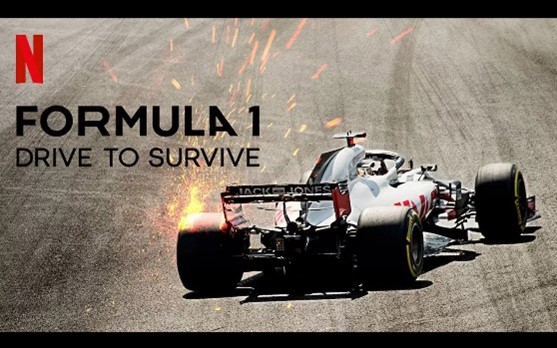 The series which got some people to like a sport which they previously had not considered 'a sport' is back!
Last week, Netflix strategically dropped its third season of Drive to Survive, a week before the 2021 Formula One World Championship begins in Bahrain, hoping to entice viewers to [re]follow the races in – yet another – extraordinary year. (Spoiler alert!)
While F1 fans typically watch live races on the edge of a comfy seat, the focus of this series lies elsewhere. As with previous seasons, Netflix could not use track footage due to copyright issues so instead doubled down on the drama, infusing the series with a sense of reality TV, presumably with the aim of pushing F1 closer to those normally tuning into Love Island or Emily in Paris.
Now, straight to the covid-addled elephant in the room. This season begins in Australia where F1 teams are unsure whether the race can go ahead [and most other sporting events have already been cancelled] The McLaren team promptly reports some positive cases. It promptly does not.
After following the mental health and financial struggles of garage-bound teams for several months, the season restarts and happily covers exactly what you'd expect it to: controversy around Racing Point's "Pink Mercedes"; Stroll Senior's first public appearance and team activism when facing protests; fairly frequent substitute drivers due to Covid infections; and Lewis Hamilton equalling Michael Schumacher's record, becoming a 7-time World Champion.
The season closely tracks new team and driver agreements – and at points, it's easy to lose sense of which driver is going to which team the following year, so it's business as [un]usual in that sense. We will also see the new rookies driving for the Haas F1 Team in 2021 after sacking the "Man on Fire" Romain Grosjean and teammate Kevin Magnussen. They are quite a pair – Nikita Mazepin, already embroiled in a scandal, and Mick Schumacher, the son of a legend.
One to watch
Tom Harrison (Chief Executive, the ECB)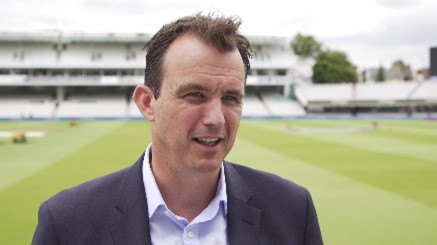 As Chief Executive of the England and Wales Cricket Board (ECB), Tom Harrison has won a lot of friends. Since his appointment in 2014, the former first-class cricketer and media executive has overseen a World Cup victory and ably steered both the organisation and game through the pandemic. Now, it looks as though he is in-line for the top job. The current Chief Executive at the International Cricket Council (ICC) is about to be shown the door, drowning in ominous accusations of "extremely unpleasant" conduct during his time there.
Having cultivated smooth relationships with the other Big Three powerbrokers of the world game (India and Australia), Harrison is being touted as the natural successor. There are tough waters to navigate over the next few years, not least balancing the domestically lucrative franchise tournaments with ICC schedules. Underpinning this, will be the next global media rights deal – due to begin in 2024.
After some recent senior departures, there is a conspicuous lack of media experience at the Council's top level. Given his former career, and after negotiating a £1 billion broadcast mega-deal for the ECB worth £1 billion in 2017, Harrison could well be the next man in.
Good week / Bad week

 Female referees

  The Met Police's sense of humour
Look out for…
The Premier League restarts after the international break this weekend, with Arsenal v Liverpool and Man City v Leicester the pick of the games.
In cricket, South Africa begin their ODI series against Pakistan in Centurion tomorrow.
In tennis, the Miami Open continues, with the final slated for Easter Sunday
DRD Partnership is a strategic communications consultancy focused on building value for our clients and protecting their reputations at moments of challenge and change. If you'd like to know more about us and our consultancy services, including our sports offering, please see our website: https://www.drdpartnership.com/ or drop us a line sport@drdpartnership.com. We'd love to hear from you!