The DRD Sport Snapshot
11 Feb 2021
Your essential guide to all things sport – from a slightly different perspective… this week the Super Bowl 2021 and the Olympics in focus!
Beyond the headlines
Let the Games not begin!
This week, the Tokyo Olympic organisers distributed a 'playbook' on how they intend to stage a safe Games this summer. It's set to be a sombre affair – spectators will be banned from "singing or chanting" and are instructed to "avoid unnecessary forms of physical contact such as hugs, high-fives and handshakes," on pain of immediate ejection. But this may all prove academic. Reports from the inner sanctum suggest that the games, originally scheduled for 2020 but postponed due to the pandemic, are again in grave doubt. Many Japanese cities have been placed into a state of emergency, and combined with spiralling costs and nightmarish logistics a pall has been case over the showpiece event. Recent polls alone are cause for concern: more than 80% of the Japanese population now believe that the games should be cancelled altogether. Even the Government in Tokyo is said to privately agree that the challenges are insurmountable and efforts have shifted to seeking a graceful way to bow out without losing face. Well, face and money. The country has so far racked up a bill of $25bn (that's 2,616,062,500,000 Yen, in case you were wondering) with three quarters of that coming out of the public purse.
Sayonara
In a surprise to few, Yoshiro Mori, the 83-year old Tokyo Olympics chief and former Prime Minister, has stepped down following widespread international criticism of remarks made about female directors. Speaking on female contribution in meetings, he said: "it takes twice as long. Women have a strong sense of rivalry. If one raises her hand to speak then all the others feel they have to do the same. So it ends up with everybody talking." The comments, understandably, brought a whole new layer of scandal to an Olympic Games already beset by controversy. His initial attempts to clarify the comments (but not apologise) only fanned the flames of outrage which have already spread around the world. While at first Mori refused to resign, steadfast in his belief that after seven years in the post he remained the best person to cross the finish line, backlash from lawmakers and criticism from major sponsor Toyota, the IOC (and his wife) proved insurmountable. It's perhaps a fitting end given similar blunders in the early 2000s and, Snapshot posits, maybe even a welcome relief` of responsibility as the Olympics careen towards disaster. At least there is breakdancing to look forward to… right?
Thinking outside the Boks?
Regular Snapshot readers may remember that we recently covered the difficulties around this summer's British and Irish Lions Tour, and the two options currently on the table – hold it in South Africa (unlikely) or in the UK and Ireland (unlikely… and unpopular). This week, an intriguing development. Rugby Australia (RA) has stepped in to offer Oz as a potential venue. With the number of cases now negligible across the Antipodes, some sports stadiums are back at near capacity. Rugby Australia Chairman, Hamish McLennan, said: "we're here to help… it's particularly tough in the UK and South Africa at the moment and I believe the more international rugby that gets played here, the better." While initially seen as a somewhat left-field option, the idea is gathering pace at the highest level and the Lions Board is said to be actively discussing it. While it is unlikely that overseas fans would be allowed to fly in for the tour, RA expects that a healthy expat population could provide ample partisan support. The decision on who would make up the warm-up fixtures is more challenging, though with France touring at the same time, the prospect of Les Bleus and the Wallabies filling some of the schedule has certainly set hares running. Cynics will note that this gesture will do no harm to RA's attempts to win friends for its 2027 World Cup bid. But with Rugby Australia promising that all profits would be split between South Africa and the Lions, it may well work.
But if the rows and rows of empty seats in Melbourne prove any indication, crowds aren't returning en masse to live sport, with one commentator comparing the normally aptly-named Happy Slam's atmosphere to a corpse. Organisers have been throwing free tickets at fans as the 30,000 cap on capacity remains wholly untested. If things don't pick up fast, the Aussie Open could be an earlier indicator that even when the return to sport happens in full, many fans will need persuading its actually safe to do so. For now, a 99p Eurosport subscription will have to do…
Super Bowl 
On Sunday night at the grand old age of 43, Tom Brady defied the odds to lead the Tampa Bay Buccaneers to their first Super Bowl since the 2002/03 season when they defeated the Kansas City Chiefs 31-9. In what was an unusual season, epitomized by a victory ceremony observed in person only by cardboard cut-outs of fans (including Harry Kane!), watching Brady lift another trophy was a welcome, familiar sight. So familiar in fact that Brady now has more Super Bowl victories under his belt than any one of the 32 NFL franchises.
The Super Bowl also saw two other firsts – Sarah Thomas became the first woman to officiate a Super Bowl (she was the games down judge) and three out of the four offensive and defensive coordinators (highest ranking assistant coaches) were black. On the surface, this looks a great success, but the NFL has entrenched issues with diversity, in particular a lack of BAME representation at the top. In spite of the Rooney rule, which requires every team with a head coach vacancy to interview at least one or more diverse candidates, only three of 32 franchises this season had black head coaches and yet about 60% of NFL players are black. The NFL has a long way to go if it wants to address this issue, but is still, depressingly, streaks ahead of English football…
Wrestling mit einer Superliga
From Super Bowls to European Super Leagues, the bunfight around a proposed breakaway football competition continues. Proposals leaked by the Times last month set out a 20-club competition starting in 2022, with 15 permanent members including the Premier League's "Big Six". It's said that the 15 "founding" clubs will share an initial £3.1bn "infrastructure grant," aimed at replacing revenue lost during the pandemic, and possibly earn as much as £213m a season. The European Supporters Group, which includes representation from the clubs involved, released a statement saying they are "united in our opposition to the creation of a European Super League – an unpopular, illegitimate, and dangerous scheme in the eyes of the overwhelming majority of fans [which]… would also undermine the economic foundations of European football, concentrating even more wealth and power in the hands of a dozen or so elite clubs." FIFA and UEFA are incandescent and have threatened to ban any player who plays in a league not ratified by them from their tournaments, including the World Cup. Even the EU has rowed in behind them. However, this browbeating was somewhat dampened after the European Commission ruled that two governing bodies (in ice skating and German wrestling) did not have authority to ban athletes from competing in lucrative private competitions. This is expected to set a precedent which may outlaw such bans – or at the very least, open the possibility of legal challenges. This will get messier.
Snapshot
Anthony Joshua and Harry Kane enjoy a day out at the Super Bowl…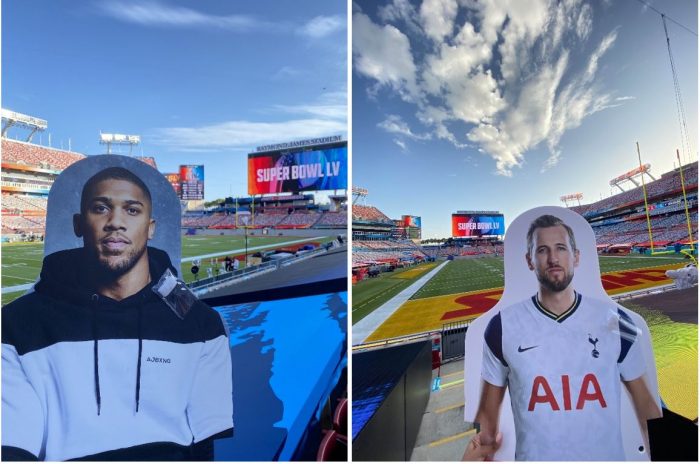 Worth a read
The Times (9.2.21) – Uefa's 2024 plan for Champions League 'safety net' criticised
Sky Sports (4.2.21) – Leigh Nicol: How phone hack traumatised Crystal Palace player and her inspiring recovery
The FT (5.2.21) – England star Maro Itoje on activism, racism and rugby
The Guardian (8.2.21) – English football is consumed by racism and hatred. Can the cycle be broken?
City AM (9.2.21) – Why Test cricket is back on Channel 4 and what it means for the future of sport on terrestrial TV
What DRD's been watching
Cricket on Channel 4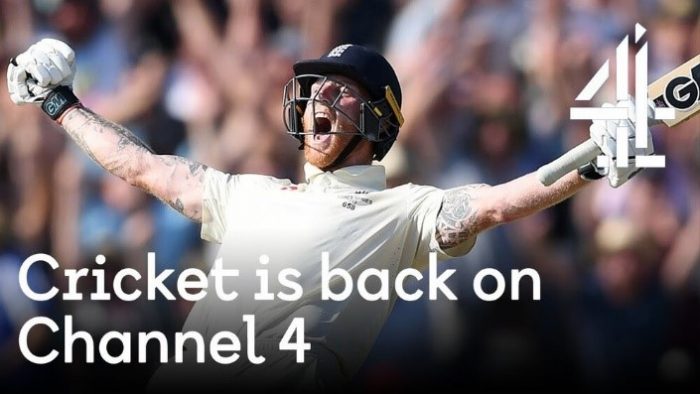 Crank up the Lou Bega… It's back! Cricket on terrestrial television. And out of nowhere too. Last week, with 2 days' notice, Channel 4 announced that it had secured the rights to broadcast all four of England's upcoming tests in India. It is the first time since 2005 that cricket has been shown on terrestrial television and one of only a handful of times that an overseas test has.
Channel 4 occupies a special place in the heart of many cricket fans. Heady memories of a famous Ashes summer in 2005 were defined by the vibrant palette of its opening credits, quirky analytical innovations (later to become commonplace) and Richie Benaud's gentle reassurance that under the surface, not much had changed after all.
And it looks as though it's been a bit of a hit. The first day pulled in 1.1m viewers, more than double that which Sky managed for the previous series in Sri Lanka. In Parliament, MPs (not averse to a day out at Lords themselves) have long been lobbied to compel cricket governing bodies to incorporate more terrestrial TV in their broadcast deals. Julian Knight, Chair of the DCMS Committee, told the Telegraph that "it's been great to see test cricket on Channel 4 again, particularly as terrestrial is crucial to reaching as wide an audience as possible. I applaud cricket authorities for committing to more free-to-air cricket and I hope we see more of it in a year when the England team are playing more international cricket than ever."
But is Channel Four padding up again for an era-defining innings as the host of cricket? Unlikely. Reports suggest the channel is merely a nightwatchman, with both Sky Sports and BT turning down the option this time round, with the 4am timeslot unlikely to attract any more subscriptions. In reality, the money provided by subscription services (and the quality of coverage) has benefitted the game immeasurably over the past twenty-odd years. But with the BBC lined up to broadcast cricket again next year and the extended audience reach always a boon for potential sponsors, all eyes will be on its success.
One to watch
Lord Addington (Lib)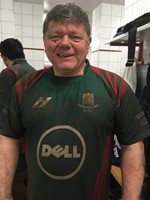 Lord Addington, a Liberal Democrat Peer, entered the House of Lords at the tender age of 22, becoming the youngest serving peer after taking his father's title in '82.
Since then, Lord Addington has certainly taken a keen interest in sport: currently a member of the National Plan for Sport and Recreation Committee, he has also been a member of the Lords Committee on Olympic and Paralympic Legacy (2013-14) and is Vice Chair of *five* sporting APPGs (Basketball, Commonwealth Games, Football, Olympic & Paralympic Games and Sport). He also happens to be the Vice Chair of the UK Sports Association. A far greater honour, however, is his role as playing captain of the Commons and Lords Rugby team.
On Wednesday afternoon in parliament, Lord Addington raised the prospects of boycotting the 2022 Winter Olympic Games in Beijing due to human rights abuses perpetrated in China. Peers of all political colours backed this sentiment, urging that government ministers should not attend the Winter Olympics if it does proceed as planned.
Good week / Bad week

Press conferences

 NFL fans of a nervous disposition
Look out for…
The Australian Open continues this week as Britain's Cameron Norrie prepares for a stern test in the third round against Rafael Nadal
The FIS Alpine World Ski Championships 2021, held in Cortina, Italy, runs from 7-21st February
In cricket, the second test between England and India starts on Saturday in Chennai
The Six Nations continues this weekend with England v Italy, Scotland v Wales and Ireland v France
In football, Man City v Tottenham, Arsenal v Leeds and Liverpool v Leicester are the pick of the games this weekend in the Premier League
DRD Partnership is a strategic communications consultancy focused on building value for our clients and protecting their reputations at moments of challenge and change. If you'd like to know more about us and our consultancy services, including our sports offering, please see our website: https://www.drdpartnership.com/ or drop us a line sport@drdpartnership.com. We'd love to hear from you!