The DRD Snapshot - 4 December 2020
4 Dec 2020
A DOSE OF HOPE – Covid Vaccine
Source: 10 Downing Street
THE WEEK THAT WAS
Here comes the cavalry. At just after 7am on Wednesday morning, the MHRA announced that it had approved the use of the Pfizer/BioN Tech Covid-19 vaccine in the UK, making us the first country to reach this milestone. The Prime Minister fronted a Downing Street briefing welcoming the news and praising the fast and thorough work of the MHRA; the Health Secretary, Matt Hancock, said during his statement to the commons that this was "a day to remember, in a year to forget"; while Education Secretary Gavin Williamson took jingoism to a new level by claiming that the vaccine's approval for UK use made us a "much better country" than our international peers – oh Gavin, give it a rest…
Minority support. Boris Johnson survived the biggest Conservative rebellion since the election over his new tiers system to prevent the spread of Coronavirus across England. The new, stricter, approach put the vast majority of the country in either tier 2 or tier 3, which was viewed as a lockdown in all but name for disgruntled tory MPs. In the end, no fewer than 54 Tory MPs broke the whip to vote against the government and a further 14 abstained. Labour leader Keir Starmer whipped his party to abstain on the vote which allowed the new measures to pass without a majority of MPs voting for them. Tier technicalities meant politicians and journalists spent a day arguing over whether a scotch egg counted as a substantial meal…
Pizza club. EU and UK representatives have been locked in intensive negotiations for week with no announcement on a deal as of yet. Fish is proving the most contentious part of the deal with the UK wanting to retain full control over its fisheries while the EU, and France in particular, demanding continued access to a percentage of the valuable fishing reserves around the UK. If a deal is to be done in time for approval in both the UK and EU parliaments, it will need to be done very soon. Encouragingly, late night deliveries of pizza were seen being taken into the negotiators on Wednesday night which could be a sign that we're getting there.
At D-odds. According to the FT, Labour leader Keir Starmer and Shadow Chancellor Anneliese Dodds are at loggerheads over how the UK's main opposition party should vote if Boris Johnson strikes a Brexit trade deal with the EU in the coming days. Starmer has made clear he would whip his MPs to back a deal, but Dodds wants Labour to abstain. The split goes deeper still. Apparently, Shadow Home Secretary Nick Thomas-Symonds, Shadow Foreign Secretary Lisa Nandy and Shadow Health Secretary Jonathan Ashworth, would back a deal as they're concerned about their former red wall constituents. On the other side are Shadow Trade Secretary Emily Thornberry, Shadow Chief Secretary to the Treasury Bridget Phillipson and Shadow Justice Secretary David Lammy. They're worried that voting for a deal would result in Labour sharing in the blame for any economic fallout.
THE WEEK TO COME
If not now, when? Lots of chatter overnight and into this morning about a possible Brexit deal being agreed during this weekend. Some insiders have been suggesting that the reporting of an 11th-hour breakdown in talks is the normal posturing that we have seen just before the white smoke emerges. With the Internal Market Bill returning to the Commons on Monday and further contentious clauses (breaking international law) expected to be included in the Finance Bill (due to be published on Tuesday if there is no deal) it would suggest this Sunday really is crunch point. But we have said that before, haven't we…
Christmas Cheer. Yesterday evening the Northern Ireland Executive confirmed that their lockdown will end next week, albeit with some restrictions to remain. From next Friday, all retail and hospitality will be allowed to reopen – which is good news for those cafes and restaurants that have been closed since mid-October. Bad news for 'wet pubs' (or 'boozers' as Jacob Rees-Mogg called them in the Commons yesterday) who will have to remain closed unless they are operating as restaurants. Or, to put it in the common parlance, that's tier 2 rules for Northern Ireland for the Christmas period. Sadly, for our Welsh friends, today is the day their new hospitality alcohol ban and 6pm curfew comes into force. A sorry day indeed.
Injecting hope into the arms of millions. The newly approved Pfizer/BionN Tech vaccine has made its way to UK shores and will be rolled out at the beginning of next week. Those in the very highest risk category (over 80 years old or care home staff) will be first in line to receive the jab which is expected to be administered in hospitals as they will have the refrigeration units needed to keep the jab at –70 degrees. The Oxford/AstraZeneca vaccine, which will hopefully get approval soon, does not need to be kept at such extreme temperatures which will make it easier to distribute across the country.
Green Goals. This morning, the Prime Minister announced a new ambitious target to reduce the UK's emissions by at least 68% by 2030, compared to 1990 levels. Known as the Nationally Determined Contribution (NDC) under the Paris Climate Agreement, the target commits the UK to cutting emissions at the fastest rate of any major economy to date. It also happens to be the first target set by the UK following its exit from the EU. On Saturday 12 December, the UK will co-host the Climate Ambition Summit, which will coincide with the fifth anniversary of the Paris Agreement.
WHAT YOU MIGHT HAVE MISSED
More bad news for Johnson. A survey by JL Partners found that of the 45 former 'red wall' seats that the Tories won last year, the chances of them holding onto them in 2024 are slim. In fact, according to the survey, they're on course to lose 36 of them. Yikes!
Given that these seats were the source of most Tory gains a year ago, they're viewed, by both sides, as extremely significant. The PM's own popularity rating has taken a small hit in those areas too but it's Home Secretary, Priti Patel, Chancellor of the Duchy of Lancaster, Michael Gove and former Number 10 aide, Dominic Cummings who are particularly unpopular. Something about mixed messages and trips to Barnard Castle didn't go down well… who knew!?
The breakdown of each seat is our Stat of the Week below.
IN DEPTH
One to Watch: Nadhim Zahawi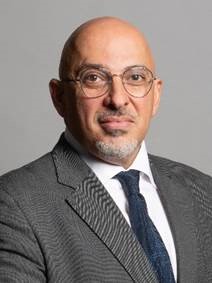 Constituency: Stratford-on-Avon
Party: Conservative
Majority: 19,972
Nadhim Zahawi MP is someone who's been around for a little while. Perhaps you've seen him make a Question Time appearance or two or speak in the Commons on behalf of his Stratford-on-Avon constituents. What's for certain is that, in recent years, Zahawi has gone from strength to strength from relatively obscure backbencher, to BEIS and now also COVID Vaccine Deployment Minister.
Zahawi was born in Baghdad in 1967 and at the age of nine he and his family fled to the UK from Iraq during Saddam Hussein's early years in power. He then attended independent schools in London before graduating from UCL with a BSc in Chemical Engineering.
He was elected as a Conservative councillor in Putney in the London Borough of Wandsworth, serving three terms from 1994 to 2006. He also ran Jeffrey Archer's unsuccessful campaign for Mayor of London in 1998, and came second to a Labour candidate when running for Erith and Thamesmead in the 1997 General Election. Zahawi was, however, more successful in his 2010 campaign in which he was elected to Parliament as the MP for Stratford-on-Avon.
Following a career as European Marketing Director for Smith & Brooks Ltd, Zahawi co-founded YouGov with Stephan Shakespeare, a former spokesperson for Jeffrey Archer. Zahawi was YouGov's CEO until 2010, when he was elected to Parliament.
Whilst Zahawi has relinquished various commercial interests since becoming a Minister, his 2015 registered interests included: non-exec director of the recruitment company SThree, Chief Strategy Officer of Gulf Keystone Ltd, an Iraqi oil company and he is the 50% shareholder of Zahawi and Zahawi Ltd.
The entrepreneurial Zahawi has also garnered a minor property empire over the years. In 2017, the Guardian reported he had spent no less than £25 million buying property around London for both personal and commercial use.
All those jobs and commercial interests make one wonder how Nadhim had any time left over to represent the good folk of Stratford-on-Avon!
All that being said, his rise through the political ranks has been immense. He made the seamless switch from Minister for Children and Families under Theresa May to Minister for Business and Industry in the Johnson administration last Summer. And then, last week, the thus-far career defining moment of Zahawi's political life was handed to him by the Prime Minister. Nadhim Zahawi will now oversee, and take responsibility for, the roll out of vaccines in his capacity as Minister for COVID Vaccine Deployment.
The UK has ordered the most vaccine doses of any Western European nation, and now, is the first European country to greenlight one of them. Could a successful vaccination programme give UK international relations what CapX describes as 'a shot in the arm'? And, if it were so, would Nadhim Zahawi be seen as the nation's saviour?
WORTH A READ
The Times – Tom Whipple's year in Covid: from Wuhan to lockdown to vaccine (Tom Whipple)
New Statesman – The year that shook the economy (George Eaton)
The Guardian – The Mystery of the Gatwick Drone (Samira Shackle)
The Times – Media risks drawing the wrong lessons from America's polling fiasco (Sir Lynton Crosby)
The Spectator – Can Boris win round his rebel MPs? (James Forsyth)
STAT OF THE WEEK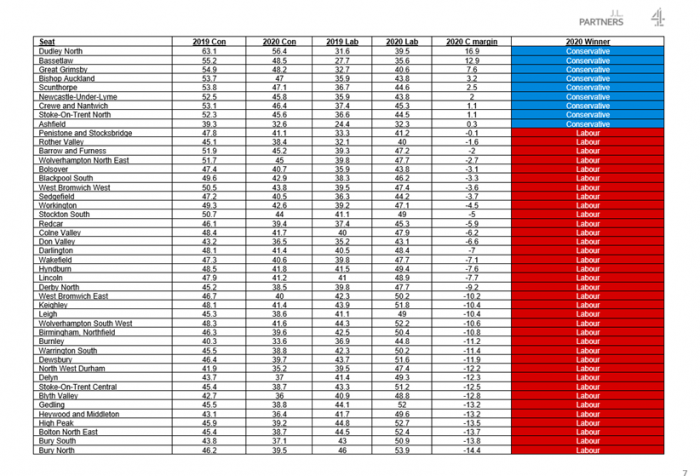 Is the Blue Wall crumbling already? The polling below suggests that the Conservatives would only hold 9 of the 45 seats they won from Labour in 2019 if there was an election now.
Source: JL Partners
DRD Partnership is a strategic communications consultancy focused on building value for our clients and protecting their reputations at moments of challenge and change. If you'd like to know more about us and our consultancy services, including our public affairs offering, please see our website: https://www.drdpartnership.com/ or drop us a line publicaffairs@drdpartnership.com. We'd love to hear from you.
covid vaccine, covid vaccine, covid vaccine, covid vaccine